Looking for an easy, fun New Year's Eve craft to do with the kids this year? Look no further! Kids of all ages will have fun putting together their very own New Year's Eve hats to wear as they ring in the new year!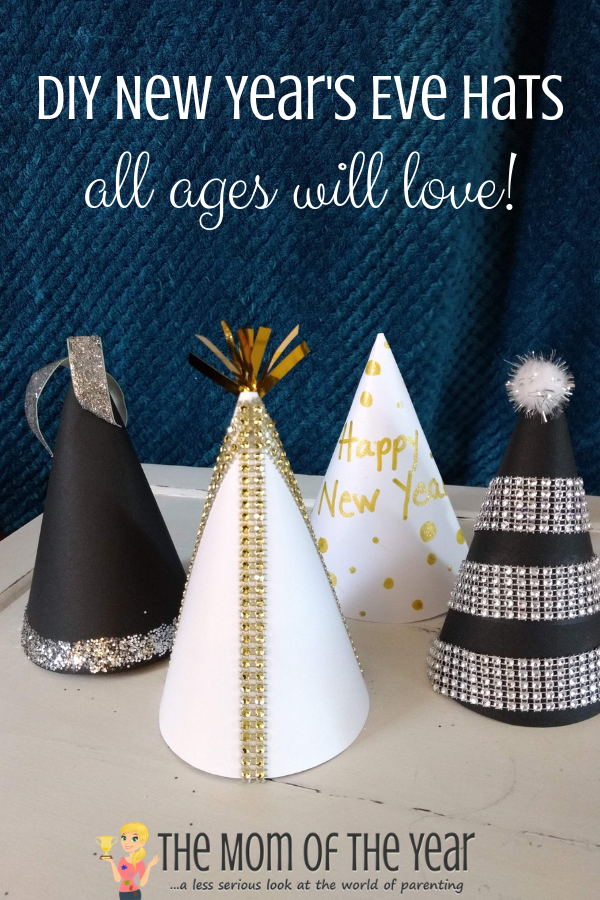 There are so many things to love about this craft. I love that it doubles as a craft and a party accessory. I also love this craft because it works for kids of all ages. Little kids can color their hats and use a glue stick to attach decorations. Older kids can trace and cut out the template, get a little more advanced with their decorations, and even assemble the hats on their own.
You can set this DIY craft up at your New Year's Eve party to keep the kids occupied with a fun activity or you can have the kids make their hat in preparation for the party. You can also put the kids in charge of making hats for the grown-ups at the party too! You'll save money on buying party hats and your kids will love choosing which hat to give each grown up.
If you are at all crafty, you may be able to create these hats with items you already have in your stash. All you need is an old party hat, cardstock, elastic, and items to use for decorating–pom poms, pipe cleaners, ribbon, markers and crayons, glitter, etc. Any craft item you have about!
For my hats, I did go to the store, because (truth told!) I love any excuse to go to the craft store. Plus I wanted to stay within certain color schemes: black and silver and gold and white. I didn't have a lot of gold and silver accessories about so I hit the store. Nothing quite says New Year's Eve like glitter and sparkles, but really, any colors and decorations will work on these hats.
How to Make Your New Year's Eve Hats
What you'll need to make your own New Year's Eve Party Hats:
A paper party hat (to serve as your template)
Cardstock (heavy cardstock will be more sturdy than construction paper)
Elastic
Accessories for decorating: markers, crayons, pom poms, ribbon, stickers etc…
How to make your own New Year's Eve Party Hats
Disassemble your party hat and remove the elastic. Now you have a perfect template for your party hat.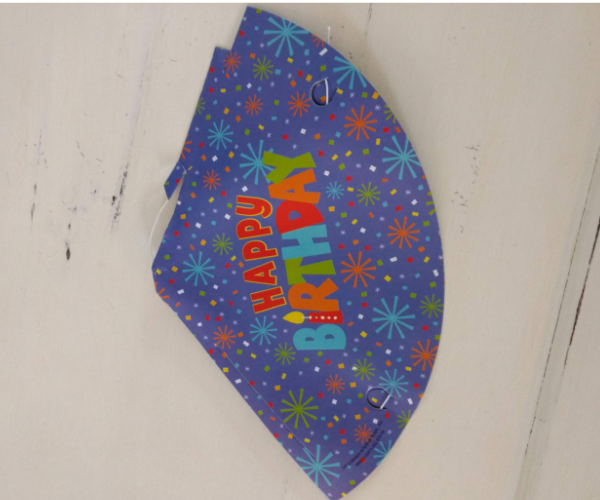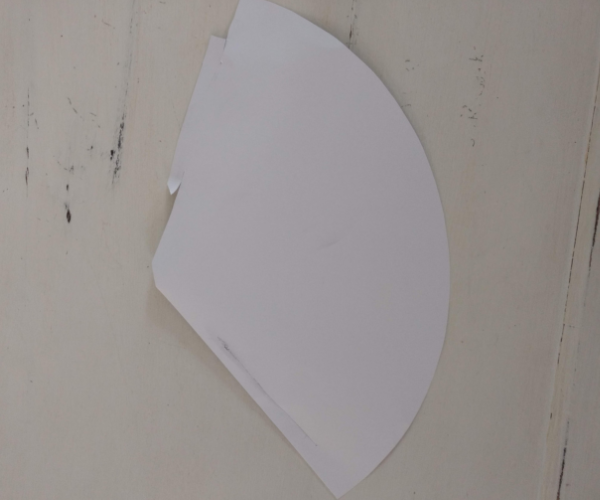 Simply trace onto a piece of cardstock and cut out. Be sure to cut out the slit and to cut in a little on each end of the tab, making it look just like the original party hat. If little ones will be working on this craft, cut out the hats out before they begin. Older children can cut out their own hats, but may need help cutting out the slit.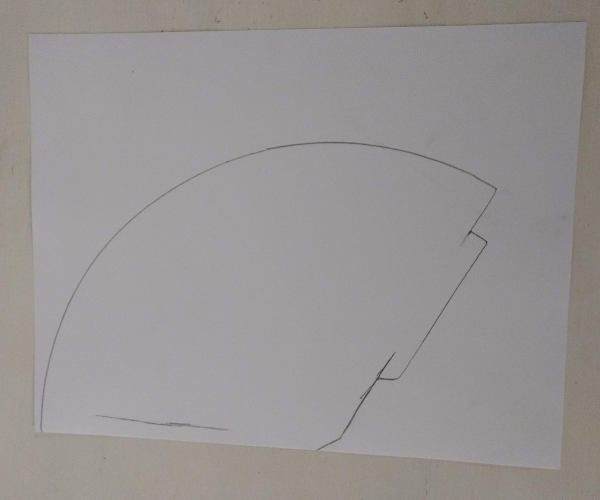 Decorate. You'll want to decorate your hat before you assemble it. For younger children, keep it simple. Markers, crayons, stamps, stickers, and things that can be attached with a glue stick will be good choices for little ones. For the older kids you can break out the glitter and items that will need to be attached with craft glue or even a glue gun.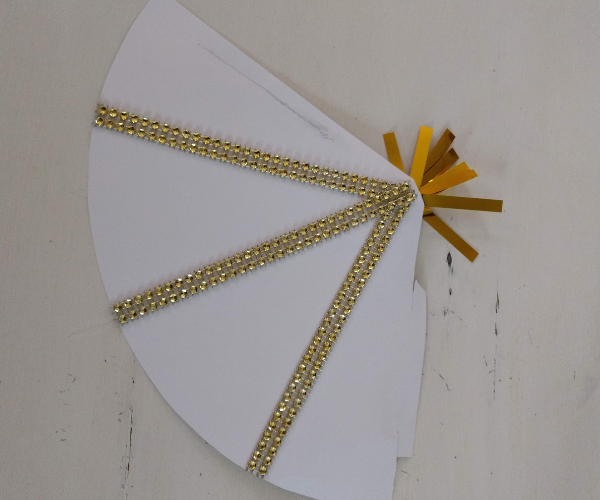 Assemble Hat. Once the hat is decorated and the glue has dried, it's time to put it together. Simply fold the hat around and slip the tab into the slit on the other side. Add a few pieces of tape to make the hat more secure.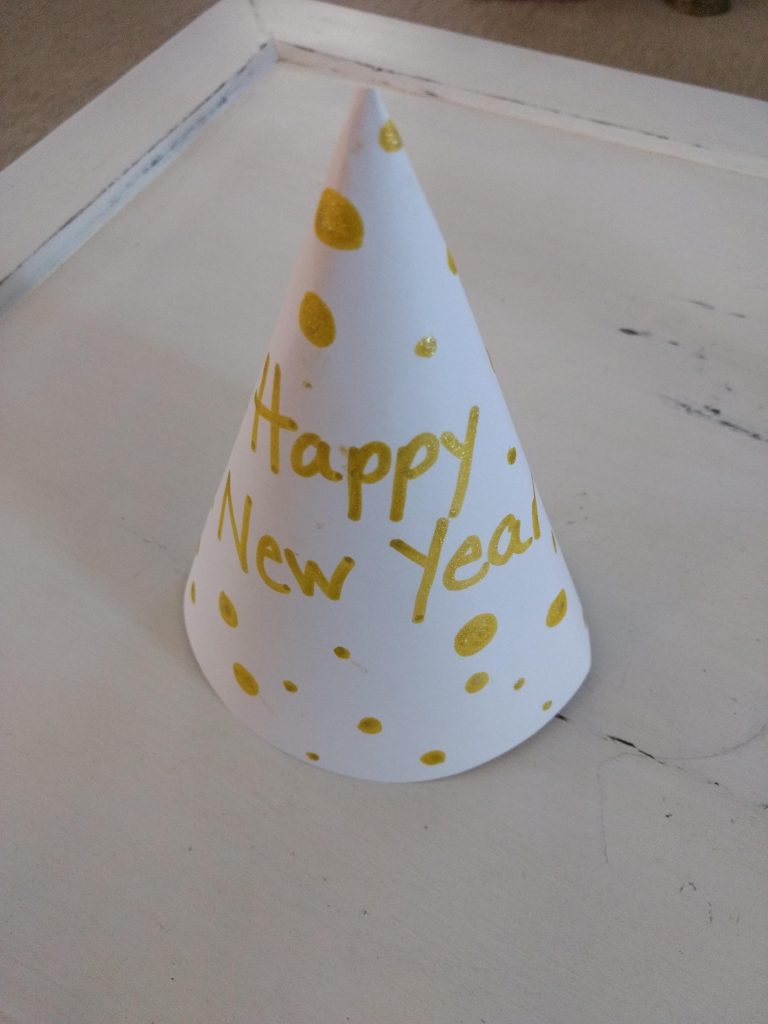 Attach Elastic. Tie a knot at each end of the elastic and attach to either side of the hat using a stapler. I didn't show this part because my stapler broke! Be sure to put the smooth side on the inside of the hat so it doesn't poke. You can also add a piece of scotch tape over the other side of the staple to keep kids from getting poked.
Things I'd have done differently when Making New Year's Eve Hats:
These party hats are just a little bit on the small side. For this project, I didn't really mind since the hats will be made by kids and for kids. But, if I were making hats for adults or older kids, I would definitely like for these to be a little larger. The solution would be to draw out the template and enlarge it using my copier. Then I'd follow the rest of the directions thereon.
There you have it! Simple and fun-to-make New Year's Eve Hats! Plus, now that you know how to make your own party hats, you and your kids can make them for birthdays and other special occasions. So be sure to hang on to the template! Happy Crafting!
The following two tabs change content below.
Anne is a mother of four, a 10 year old boy and 6 year old triplet girls. Always looking for a creative outlet, Anne sometimes hijacks her kids' parties, projects, and costumes to get her fix. (Even though they'd rather have their party at a moonbounce place and their costumes from a store). She blogs at onceuponamom.net where she writes funny and sometimes poignant posts in the hopes of lifting up other moms as they travel the chaotic, beautiful road of mothering.
Latest posts by Anne Metz (see all)