Lately, my son has decided that bath time is no longer acceptable.  At the simple mention of bath, he suddenly hides and begins a dramatic agony that only Broadway can recreate.  Well, this mama had enough and decided that if coaxing wasn't working, making it fun will!  It's no secret that millions of children and adults alike love bath bombs, but at over $6 each for natural brands, my budget balks.  I decided to try my hand at DIY bath bombs to see if they would help our bath time dilemma and sure enough, my son loved them!  Instead of having to fork over the expense every time he bathed, I found a fun, natural way to make surprise DIY bath bombs for him and bath time has been enjoyable ever since.  Follow along for an easy recipe that you can use for your kids or yourself.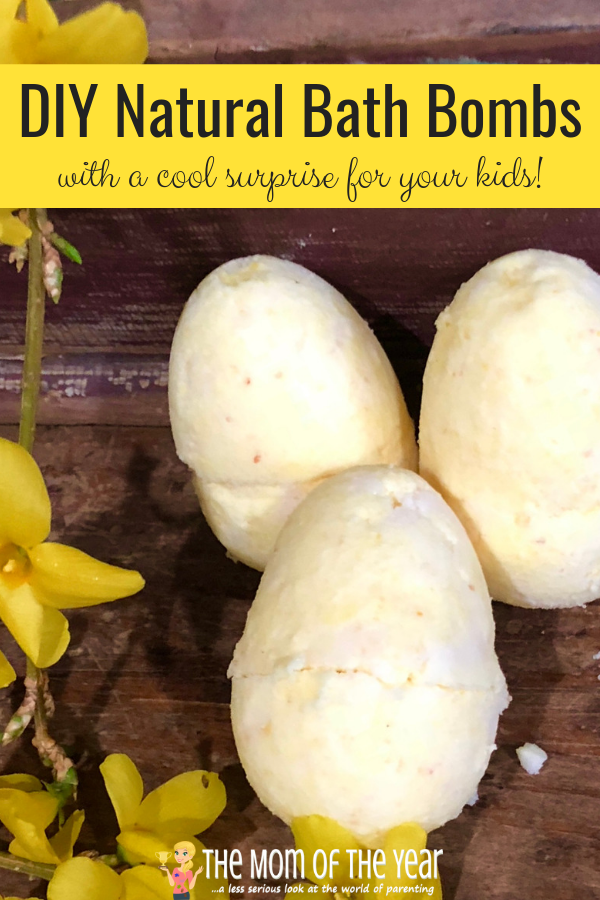 Natural DIY bath bombs–with a surprise!
What you need to make Natural DIY Bath Bombs
2 bowls (1 small, 1 medium)
a fork
measuring cups
measuring spoons
a mold (thrifty tip: leftover plastic Easter eggs are phenomenal!)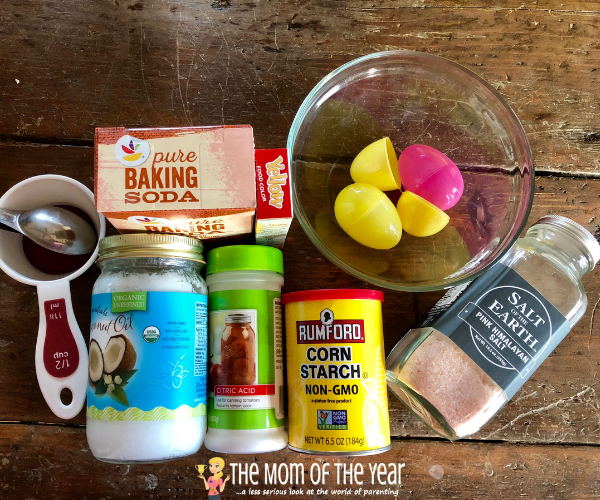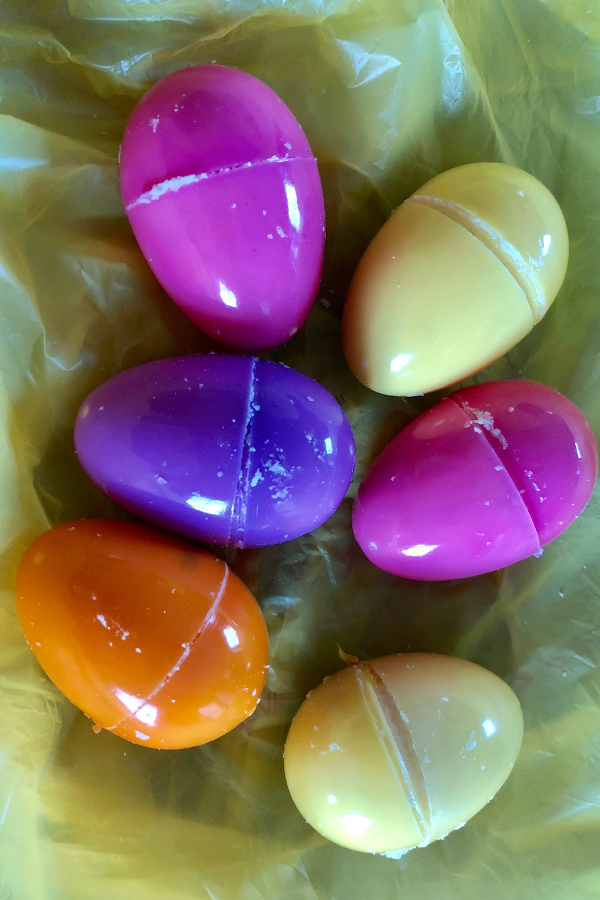 Ingredients:
½ cup cornstarch
1 cup baking soda
½ cup salt (epsom salts are best for baths but this recipe will work perfectly with sea salt as well)
½ cup citric acid (shopping tip- this is usually found in the canning section of a food store)
3 tablespoons oil (choose whichever oil you prefer but my favorite is coconut oil due to the many skin benefits it holds)
1 tablespoons water
Small surprises that will fit inside your mold
Optional– 2 drops food coloring and/or 3 drops essential oil
How to make Natural DIY Bath Bombs
Combine dry ingredients into medium bowl. Pour citric acid slowly as it is very fine and can cause coughing!
Combine wet ingredients in a bowl. If you are using coconut oil, melt the oil first then combine with water, optional food coloring, and essential oil.
Slowly pour wet ingredients into dry bowl. Continually stir dry mixture with a fork as you pour wet in otherwise, the citric acid will start to activate.
Stuff half of your mold. Using your hands, stuff half of your mold with the mixture.  Be sure to pack firmly for best results.
Add Surprise. Add your surprise in the middle of the mold and begin packing the other half before closing up the mold.  You may need to remove some of the mixture to fit the surprise and that is fine as long as it's still packed tightly.
Your natural bath bomb is complete! Let the bath bombs dry overnight in the mold and in the morning gently coax them out.  They are then complete and ready for bath time!
Bonus Mom win: I like to make some bath bombs just for myself!  It's no secret every mom deserves a quiet bath once in a while and a relaxing bath bomb does just the trick.  Add in flower petals, lavender, or even bath crystals to heighten the relaxing ambiance.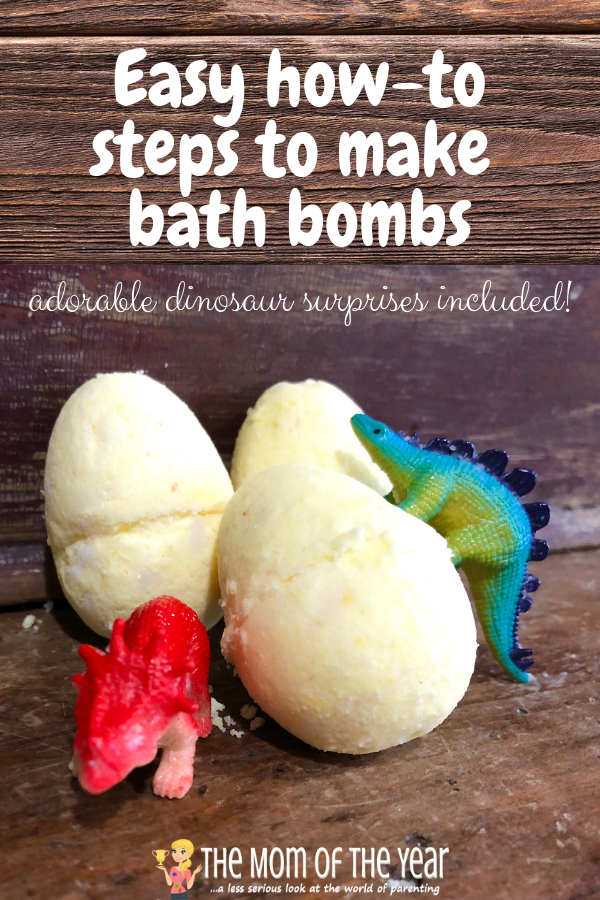 Making natural DIY bath bombs is so easy and inexpensive.  Not only are these surprise DIY bath bombs perfect for making bath time fun for kids, but the surprise can be altered to be used for mom as well.  Make a batch today and enjoy bath time again!
The following two tabs change content below.
Lindsay Houser
When Lindsay isn't fielding three-nager temper tantrums and scraping Play-Doh off the floor, her passions are the great outdoors, cooking, creating, and healthy, holistic living.
Latest posts by Lindsay Houser (see all)