***This post on The Music Shop Book Club Discussion contains affiliate links which if you choose to purchase through, I have the capacity to earn a small commission. All opinions always remain 100% my own. Thank you for supporting the work we do here at Mom of the Year!***
One of my favorite joys of reading is when I fall in love with a new-to-me author. After our neighborhood book club read The Unlikely Pilgrimage of Harold Fry, I quickly devoured the novel's counterpart, The Love Song of Miss Queenie Hennessy. In reading these two books, I became a solid goner for Rachel Joyce's writing style. Her easy, effortless way of allowing characters to reveal themselves while the story gently unfolds is gorgeous. It simultaneously feels as if you are within a calming lullaby while also eagerly anticipating the next part of the tale. Having become so enraptured with Joyce, I was delighted to learn she recently published a new title, The Music Shop. Carrie of Normal Level of Crazy, my fellow reading-crazed online book club partner is so cooly open to any new literary finds, she humored my new-found Joyce obsession as we selected it for last month's pick.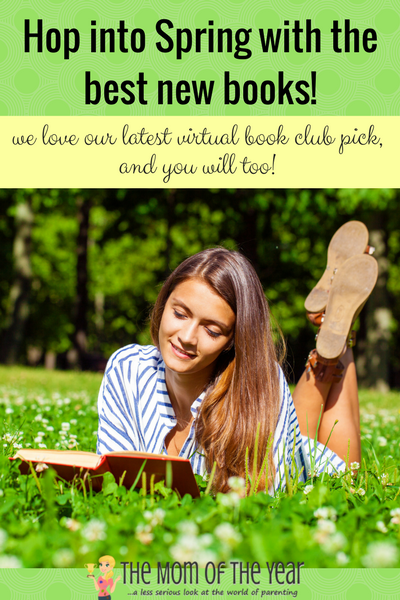 So what did we think? Read on to get the scoop, friends, and make sure to leave a comment below for a chance to win a copy of our April selection for FREE!
The Music Shop
In short, I loved this book! While I did not enjoy Perfect, the other novel Joyce wrote (read my Goodreads review to see why!), The Music Shop captured the beauty of her writing while offering the same hope and sweetness of the first two of her books I read. This book was creative and so very real. It touched on themes of love and loss, how time carries and both changes and doesn't change us, and how full of fallacies we are. On a larger social scale, The Music Shop explored effects of the modern economy on small business and choices for those displaced and unemployed. Another impressive work indeed from Joyce!
If you read it, please let us know what your thoughts are! And check out the questions below and chime in–we love hearing what others think!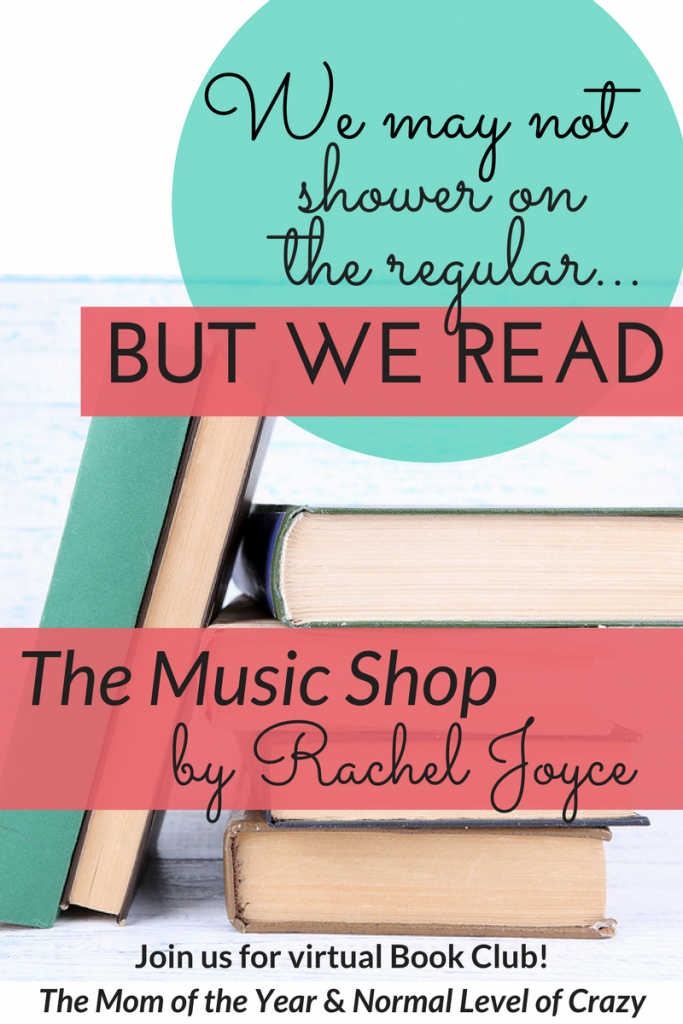 The Music Shop Book Club Discussion
Did you think Frank was right to cling to his commitment to vinyl albums? Why do you think he did so? I have known people like Frank. Whether their stubbornness was right or wrong was of no consequence–they knew their own truth and were sticking with it! The rightness came not in their choice itself, but their commitment to it, if that makes sense.
Which character in the book could you most relate to? Why? This is a hard question! I saw pieces of myself in most of the characters. Ilse's simultaneous hesitancy to progress or reach out coupled with her firmness of character is easy to understand in that it is easy to get settled in my ways while denying opportunities to grow–the unfamiliar is terrifying at times.
Have you ever experienced an "urban family" like Frank's group of friends? Yes! So much so. Without family living close, we've found ourselves falling into those around us for support, companionship and simply, to be a present witness to our lives. We are endlessly grateful for our friends and they have become as real as family.
How did Frank's past shape who he became? A lack of love and warmth in childhood taught him to rely on structure and rules (nothing but vinyl! Let no one in!) for survival. He learned from a young age to live in a cold world.
Did you know the truth of Ilse's situation before she revealed it? No! And I am likely completely clueless, but I was just as surprised as Frank to learn she didn't have a husband! Ilse, was so mysterious and complex, it seemed likely that her life situation was also mysterious and complex, while being completely real.
How have you seen the modernization of retail play out in your own community? Small shops seem to be closing all the time–how can they thrive when Amazon and Target are at the helm? Downtowns everywhere seem to shutting down.
Talk about the ending. Was it at all what you expected? What did you like or not like about it? Honestly, while I loved the book as a whole, I thought the ending was weird. Not the very ending, but the part before the book closed, in the shopping mall. While possible in today's age of social media, it still felt far-fetched. And perhaps I am discounting the power of music, but seemed odd that a song would "correct" the past 20 years…
Now that we've chatting The Music Shop, it's time to introduce our April book club pick, Educated: A Memoir by Tara Westover!
Tara Westover was seventeen the first time she set foot in a classroom. Born to survivalists in the mountains of Idaho, she prepared for the end of the world by stockpiling home-canned peaches and sleeping with her "head-for-the-hills" bag. In the summer she stewed herbs for her mother, a midwife and healer, and in the winter she salvaged metal in her father's junkyard.
Her father distrusted the medical establishment, so Tara never saw a doctor or nurse. Gashes and concussions, even burns from explosions, were all treated at home with herbalism. The family was so isolated from mainstream society that there was no one to ensure the children received an education, and no one to intervene when an older brother became violent.
When another brother got himself into college and came back with news of the world beyond the mountain, Tara decided to try a new kind of life. She taught herself enough mathematics, grammar, and science to take the ACT and was admitted to Brigham Young University. There, she studied psychology, politics, philosophy, and history, learning for the first time about pivotal world events like the Holocaust and the Civil Rights Movement. Her quest for knowledge transformed her, taking her over oceans and across continents, to Harvard and to Cambridge University. Only then would she wonder if she'd traveled too far, if there was still a way home.
Educated is an account of the struggle for self-invention. It is a tale of fierce family loyalty, and of the grief that comes from severing one's closest ties. With the acute insight that distinguishes all great writers, Westover has crafted a universal coming-of-age story that gets to the heart of what an education is and what it offers: the perspective to see one's life through new eyes, and the will to change it.
Sounds intriguing, doesn't it, friends?! Don't delay, grab a copy and read with us! And leave a comment on this post for your chance to win that copy for free! We're giving one away to one of you! As long as you are 18 or older and live in the Continental United States and leave your comment before 4/13/18 at 5:30am, you are eligible to win.
Thanks always for reading with us and sharing your thoughts! We LOVE reading books with all of you and can't wait to delve into our next pick! Happy reading!
The following two tabs change content below.
Meredith blogs at The Mom of the Year, where she dedicatedly earns her title one epic parenting fail at a time, offering quick, relatable laughs for fellow parents and all their empathizers. She has been part of several best-selling anthologies, featured on prominent sites such as Huffington Post, In the Powder Room and BlogHer, and loves her role as the Executive VP/Operations Manager of The BlogU Conference. When she's not breaking up fights over Legos and juice boxes, she remains fully committed to sharing a less serious look at the world of parenting.