This post contains affiliate links. This means if you buy something through a link in this post about the REAL DIY Leprechaun Trap, The Mom of the Year will make a small commission at no cost to you. This allows us to keep working hard to bring you content that will offer hope, heart, and humor along this bumpy road of parenthood!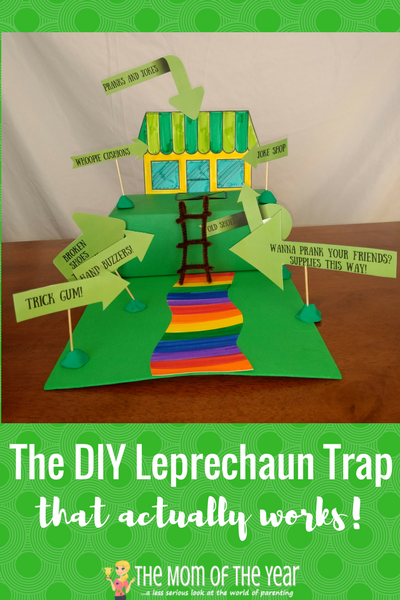 This leprechaun trap is no ordinary leprechaun trap. This one will actually catch leprechauns! Or so I hope. See, here's the reason no one has caught a leprechaun yet: people try to tempt leprechauns with gold, but this doesn't work because these little sprites already have all the gold they could ever want. What leprechauns really want are broken shoes and joke gifts.
Not following? Hear me out: My kids and I did some leprechaun research and learned our wee Irish friends love fixing shoes and playing practical jokes on people. We knew about the practical jokes because our milk magically turned green last St. Patty's Day! But the shoe cobbling hobby was news to us. So we decided to lure our leprechaun in this REAL deal leprechaun trap with what he really wants: shoes in need of repair, and gag gifts like hand buzzers and whoopie cushions!
Now that you have this scoop, it's time to make your own REAL DIY leprechaun trap to woo a little green friend on St. Patty's Day!
The REAL DIY Leprechaun Trap:
Supplies you'll need: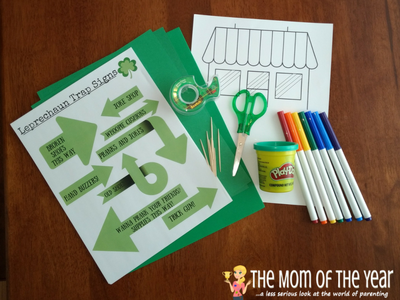 For the Trap: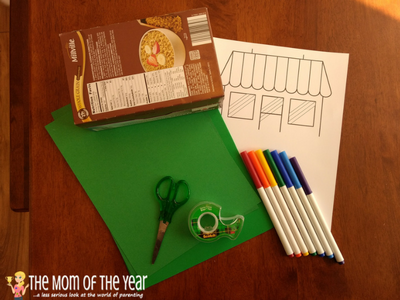 Cardboard Box (I chose an oatmeal box because that's what I had handy, but any box should do.)
Green Construction Paper or Cardstock
Scissors or Glue
Tape
Markers or Crayons
Store Front Printable (I found mine here and shrunk it down to a 5×7 so it would fit on top of the box I chose).
2 Pipe Cleaners for Ladder (not pictured)
For the Signs: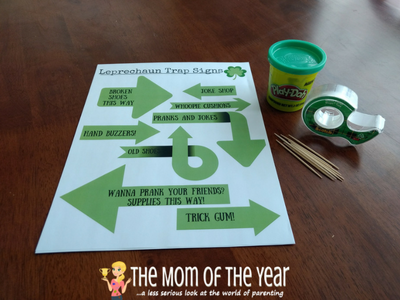 Leprechaun Sign Printable (printed on cardstock or glued to cardstock or construction paper).
Tape
How to make the leprechaun trap:
The trap:
First, cut a hole in the box to "trap" the leprechaun.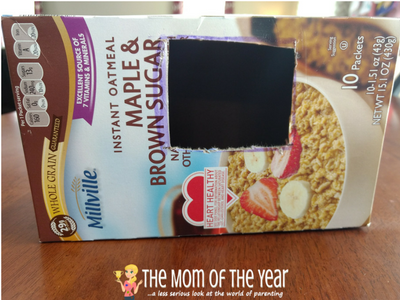 Cover the box (but don't tape yet!) with green cardstock. Take the paper off and trace where the "trap" section will be and cut slits into
that section. I flipped the paper over and drew a "welcome mat" on that section.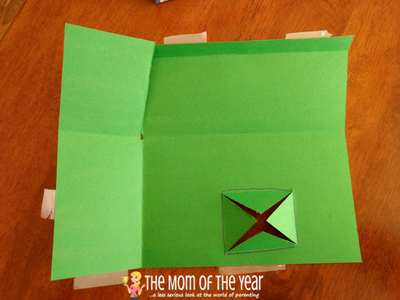 Now cover the box again, this time taping the paper onto the box.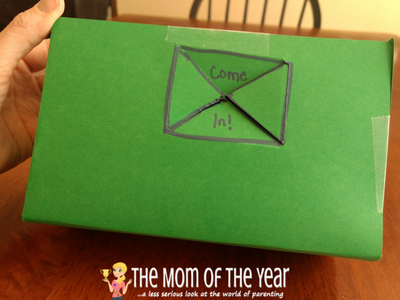 Cut out the pre-printed storefront and color it.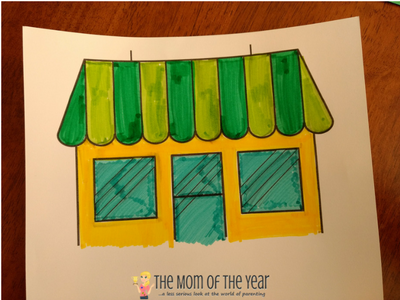 Tape the storefront to the back of the box. I used a few popsicle sticks I had leftover from our fairy garden project to help secure it and
stand more erectly.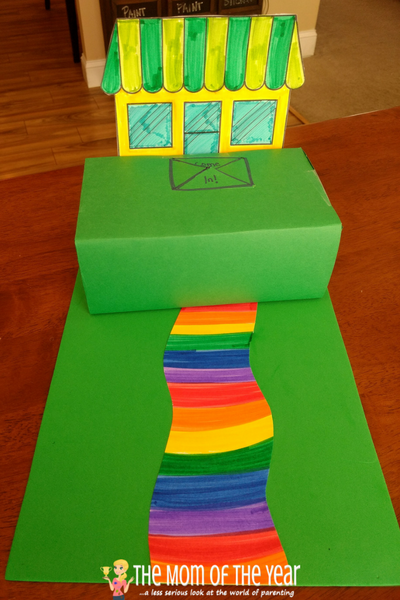 The walkway:
Used the other half of the storefront paper and roughly color in a rainbow pattern. This is a great time to teach your kids about the order of the colors of the rainbow! Who remembers Roy G. Biv?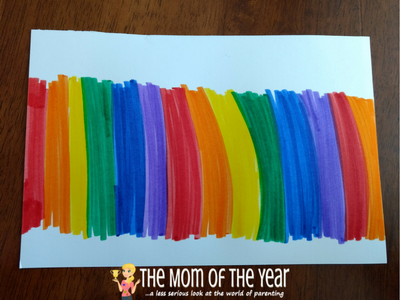 Then cut the pathway into a friendly, curvy shape to happily entice a leprechaun. I glued the rainbow path on a piece of green cardstock leading up to the trap.
The Signs:
Making the signs was our favorite part of this leprechaun trap project! Hopefully a little green prankster will be lured in with our promises of old, broken shoes, trick gum, hand buzzers, whoopie cushions and other items found in a joke shop/cobbler shop!
Use THIS FREE PRINTABLE to get all the signs you need for your leprechaun trap!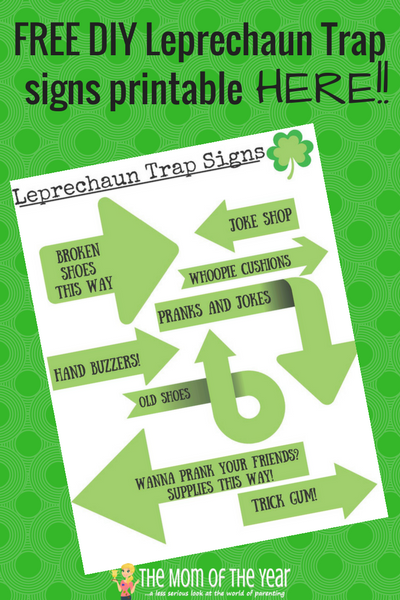 To assemble the signs, cut them out and tape them to toothpicks. Then secure them upright in a ball of playdough. You can hot glue the signs in place, or leave them free so your kids can move them around.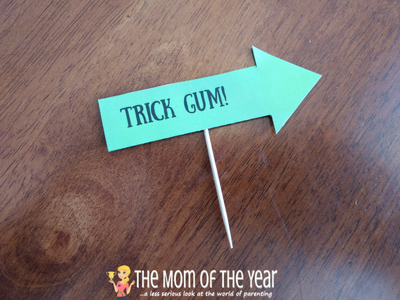 The Ladder:
At the last minute, I realized our leprechaun might need a little help getting into the joke shop so I quickly made a ladder using some pipe cleaner.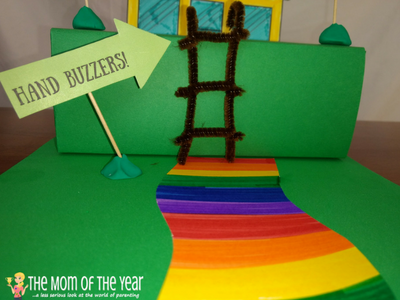 We are hoping a leprechaun sees our signs, follows the happy rainbow path, climbs up the ladder, heads to the "shop" and falls into our trap! Legend has it if we do catch a leprechaun, he will grant us three wishes. My kids are already making their list of wishes!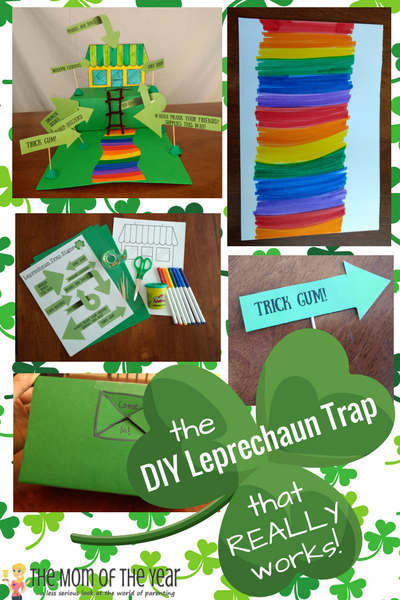 Here's hoping we all have lots of luck catching a leprechaun this St. Patty's Day! And I hope these signs help you reel him in!
The following two tabs change content below.
Anne is a mother of four, a 10 year old boy and 6 year old triplet girls. Always looking for a creative outlet, Anne sometimes hijacks her kids' parties, projects, and costumes to get her fix. (Even though they'd rather have their party at a moonbounce place and their costumes from a store). She blogs at onceuponamom.net where she writes funny and sometimes poignant posts in the hopes of lifting up other moms as they travel the chaotic, beautiful road of mothering.
Latest posts by Anne Metz (see all)