Who here loves these frigid winter temps and blustery cold winds? Three cheers for working hard to slog it out through this season with all our desperate attempts to keep warm! While I'll never chalk winter up as my favorite season by any stretch, my disenchantment is only pronounced by a nifty condition I picked up a while back: Raynaud's Syndrome.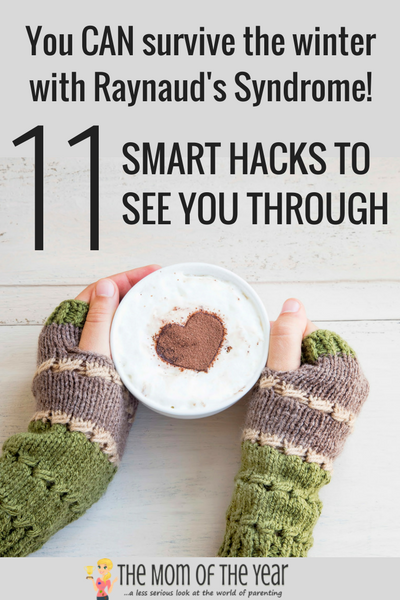 If you're not familiar with Raynaud's Syndrome, I've got the scoop. If you are, I'm so sorry, friend. I know what a beast it is. I'm here to share all the hacks and tricks I've found along the way for not only smartly surviving the times when this disease rears its ugly head, but also how to prevent attacks in the first place. And I'm doing it all from the perspective of a mom who struggled with Raynaud's Syndrome during that physically selfless and demanding time of life–the days of babies and young kids who required immediate hands-on attention, and lots of it.
Raynaud's Syndrome is a beast, but we can deal with it, and here's how!
What is Raynaud's Syndrome?
The Raynaud's Association explains, "If your fingertips, toes or any other extremity become painful when exposed to cold temperatures, you might be suffering from Raynaud's phenomenon…The disease causes an interruption of blood flow to the fingers, toes, nose, and/or ears when a spasm occurs in the blood vessels of these areas…Typically, the affected area turns white, then blue, then bright red over the course of the attack…The attacks may last from minutes to hours."  If you aren't familiar with the syndrome, pop over to this helpful site designed to raise awareness, support and understanding. You'll find lots of super information, including causes and prevalence rates (did you know "5-10 percent of all Americans suffer from Raynaud's" and that "women are nine times more likely to be affected"?).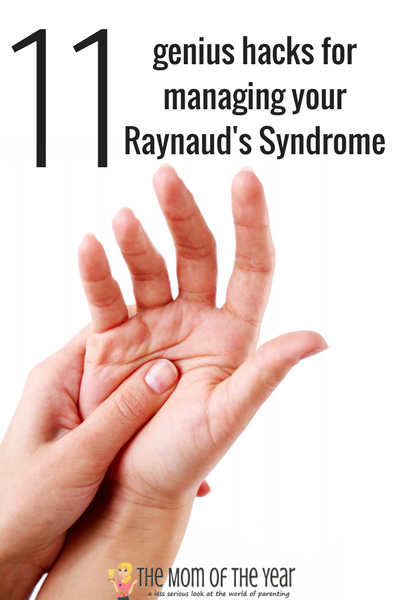 Many times people will say, "Oh yes! I've had that too–when your fingers go numb." I often get numb, white fingers (my circulation is poor in general), but my Raynaud's disease is something different. With numb fingers, I feel nothing. With Raynaud's, the pain is so acute, my fingers scream in pain. Told by several doctors that I have an extremely high pain threshold after nasty gos with a long-burst appendix and a horrific labor event of which I will spare you details, Raynaud's pain is most assuredly the worst pain I've experienced in my life. The sudden onset of excruciating throbbing makes breathing hard, keeping my temper challenging at best, and use of my hand impossible.
I will ever forget the day, about ten years ago, when I first knew something was drastically wrong with my hand. We had entered a restaurant with cold air-conditioning on, and I was rather suddenly crippled with terrific pain. I had no clue what was happening and struggled madly not to cry and curse like a sailor while creating a fantastic scene in public.
That attack was the first of countless others to follow, some more mild and manageable than others, some so severe I have vomited or fallen to the floor in pain. I am fortunate in that Raynaud's only affects my left hand ring and middle fingers. Only two fingers and that they are on my non-dominant hand! This allows me to freely use my right hand to continue many tasks of the day even when I am in the middle of a Raynaud's attack or working hard to prevent one in my affected hand.
Since that day of my first attack, I have come a long way and have learned so much about managing this disease. To be clear, I am not a medical professional by any stretch. Medications, with varying success levels, are an option for addressing the symptoms, however, I have chosen not to pursue this route for varying personal reasons (primarily, my mother died of liver cancer a few years ago, and reasonably or not, I remain unduly wary of any medications that may tax the liver). My knowledge of Raynaud's Syndrome is garnered only through personal experience with environmental management for over a decade, and via these means, I have sorted out a great deal in terms of functionally living with it.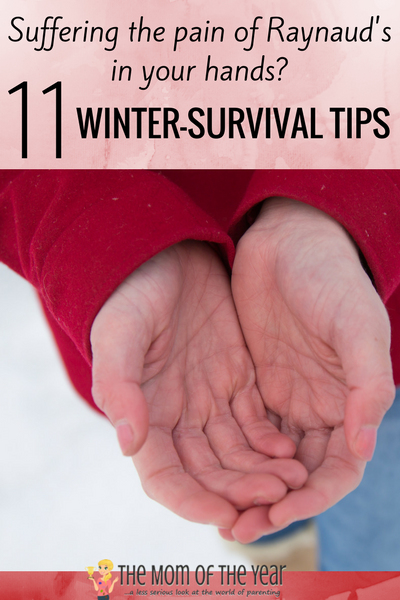 Reversing a Raynaud's Attack:
When you are in the midst of an attack, the pain accelerates rapidly, so it is essential to address any hint of symptoms immediately. As soon as I feel the first twinges of pain, I immediately do one or more of the following as able:
Hands-down, the best way to reverse an attack is to get your hand under a stream of warm water. This is also, unfortunately, one of the least accessible solutions depending on where you are and what you are doing. If you should have access to a faucet, turn the tap on warm (not hot, as if you heat your hand too hot, you will experience a rebound attack when your hand cools after being pulled away from the water). Hold your hand downward under the stream of water with your wrist facing you so the water stream directly hits your inner wrist. Allow the water to run over your wrist as you feel the pain abate. Continue doing so until the last twinge of pain disappears. If you are unable to wait this long (remember I mentioned things like needy kiddos above?), I have hacked this fix by pulling my hand from the water and immediately wrapping it tightly in a tea towel, so as not to allow any of the heat to escape. A tad inconvenient to walk around with your hand bundled in a towel, but it does work.
Similarly, hold your inner wrist in front of a stream of heat. This is my best fix in the car. As warm water isn't available, but a heater is, I hold my wrist directly in front of the air vent while waiting for the blood vessels to open and resume normal flow so the pain abates. You can aid this process by massaging and squeezing your hand and fingers if you are only affected by Raynaud's in one hand.
Lest you've no access to warm water or heat, you must use your own body heat as effectively as possible. The warmest places in your body are your armpits and your inner thighs. While it isn't publicly ideal to hang out with your hand shoved in these places, the pain is so severe, public graces tend to take a back seat. Also, aside from the squeezing and massaging of hand and fingers mentioned above, it is helpful to hold your arm downward pressed to your side while using your other hand to firmly stroke downward on your forearm, encouraging the blood flow to your fingers.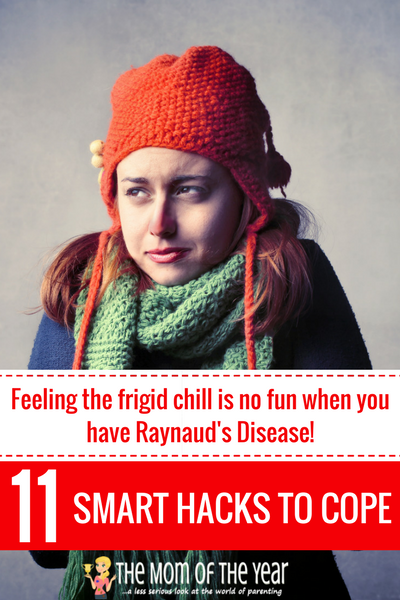 Preventing a Raynaud's Attack:
The easiest, simplest measure is to hold your hand close to your body. I walk with my arm tight along my side and when I am sitting down, I often sit with it tucked between my legs (politely, of course!). At night, I keep my arm straight down by my side, sleeping on that side to keep it warm. I often type with one hand, keeping my left-hand close to my body. Similary, I spend almost the entire winter with my left hand balled in a fist. Keeping the fingers close together and close to the palm keeps my affected fingers from an attack.
If you are doing something that doesn't allow you to keep your hand close, such as driving, cooking, or grocery shopping, a large heat pack around the neck helps tremendously. I have learned if you keep the core of your body warm and the blood flowing, you have a much better shot at preventing an attack. I no longer get manicures–having an attack while someone is painting your nails with fresh polish is awkward and painful! I now solely tend to my nails at home, with a heat pack around my neck for a pleasant experience.
Mittens only! Your days of gloves are over. Gloves separate the fingers thus allowing for cooling. Keep your fingers snuggled together in a mitten to prevent an attack. I have a regular knitted pair and also a heavy-duty down pair for when I must be outside for long stretches. Sometimes the weather is warm enough I only need to wear one on my left hand. It might look a tad odd, but it's all about keeping that hand toasty!
Grab a cuppa. When working on the computer or going about my day (even when hauling the trashcans out to curb!), I often hold a cup of tea/coffee/cocoa in my affected hand. The warmth not only toasties up your fingers, but brings your core temp up a bit, which can help blood flow, thus fending off attacks.
Dress warmly. Sounds obvious, but if you have Raynaud's Disease, this applies to you more than others. Keep your entire body warm and the blood flowing to stave off attacks. Even when exercising, I always start off in a sweatshirt over layers. As my body warms and the threat of an attack lessens, I peel off the layers.
Wear long long-sleeves. Sleeves that are long enough to cover at least part of your hand are super. And shirts with cut-out thumb holes are genius for keeping sleeves on your hands.
Be aware of any decrease in temperature. It isn't just stepping outside into cold weather; it's leaving a warm bed in the morning, moving into a draftier part of the house, entering an air-conditioned area, or hopping in a pool during the summer heat (

pool hack:

I wait until I am hot, then I get in until I feel my fingers start to twinge and get out. I then wait until all pain has subsided and get back in, and my body temp now having adjusted to the cooler water does not allow Raynaud's to re-attack my hands. Sweet! May sound complicated, but trust me–when you are desperate with young needy kids poolside, figuring out how to get in with them happily as ASAP is in everyone's best interests!).
Hand Warmers. I could write a book about hand warmers! I rely on these above all else to get me through the winter. I have tested and tried every imaginable type. Use these to preempt any decrease in temperature (see above). For example, before walking my kids to the bus in the morning, I pop one in my mitten and off we go, attack avoided! Hand warmers also work well tucked inside long-armed fingerless gloves or in the shirts with cut-out thumb holes mentioned above. I have also rigged up a hand-warmer holder using two wrist sweatbands (place them side-by-side on wrist and lower arm on the side of your affected hand and tuck the handwarmer inside against your wrist–a bit awkward, but it works!). All hand warmers keep their heat longer and better when inside something (i.e. sleeve, pocket, mitten). Now as to those different types of hand warmers I mentioned…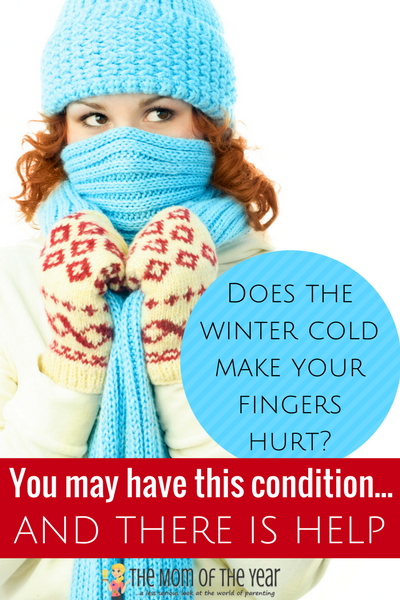 Now that I've filled you in on all of my tips, tricks, hacks, and fixes for preventing a Raynaud's attack and surviving one when it does happen, please tell me yours! This disease is often misunderstood and not discussed. I'm thankful for all we can do to help each other, raising support and awareness.
After battling Raynaud's Syndrome for over ten years, I am convinced that it is manageable. In those early days with young kids both requiring a tight handhold across icy grocery store parking lots, the pain was often so severe and frequent I felt entirely defeated. But now, after figuring out how best to ward off pain, I feel far more empowered and able to handle the winter threat Raynaud's poses. That's not to say, however, that I will ever enjoy this crazy winter chill!
The following two tabs change content below.
Meredith blogs at The Mom of the Year, where she dedicatedly earns her title one epic parenting fail at a time, offering quick, relatable laughs for fellow parents and all their empathizers. She has been part of several best-selling anthologies, featured on prominent sites such as Huffington Post, In the Powder Room and BlogHer, and loves her role as the Executive VP/Operations Manager of The BlogU Conference. When she's not breaking up fights over Legos and juice boxes, she remains fully committed to sharing a less serious look at the world of parenting.