I love the police department in my town! Not only do they send an officer to be a presence at our elementary school during drop off and pick up times, they also do things like volunteer to read to the students at our annual pajama story time event. In addition to caring for our kids, the police officers look after all of us in the community. Like that time I locked my keys in the car with the ignition running–well actually, those TWO times I locked my keys in the car with the ignition running–and they came to my rescue! I know the police are very busy, so the fact that they came to help me when they had no obligation to do so was amazing. The officer didn't make me feel dumb for
locking my keys in the car and was incredibly gracious and helpful. He didn't even give me a hard time when I handed him my newly expired license when he asked for my information! So I thought it time to show my appreciation to our wonderful police officers with a thank you gift basket.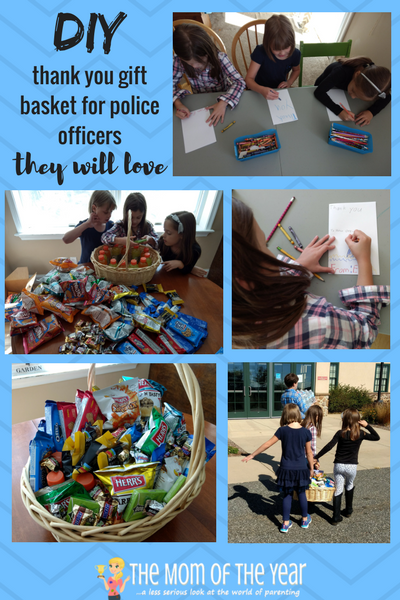 With all the money my local police have saved me in locksmith fees, I figured I should give back generously! The kids and I set out to make a basket of treats to drop off at the police station. We first hit the grocery store to pick up snacks for the officers. We got lots of individually wrapped treats so they could grab and go during their busy shifts. The treats we purchased turned out to be mostly junk food, but you could certainly make yours healthier.
Ideas for your thank you gift basket items:
water bottles
sports drinks
easy to grab fruit like oranges, apples, and bananas
granola bars
protein bars
packs of nuts or trail mix
individual bags of chips, crackers, and cookies
gum
candy
homemade treats
Don't forget a card in your thank you gift basket!
We also made some cards thanking the police for all they do for our school and community. My girls had lots of fun drawing pictures of the officers at school and even more fun drawing pictures of them successfully getting my minivan unlocked!
Delivering your thank you gift basket:
This is a great photo op, so you might want to call ahead to find the best time to stop by. We just dropped in after school one day and most of the on duty officers were out on calls. But the office staff and one officer who were there seemed thrilled to see the kiddos and say hello and were equally happy with all the goodies. They even gave the kids junior deputy sticker badges, water bottles, and bracelets!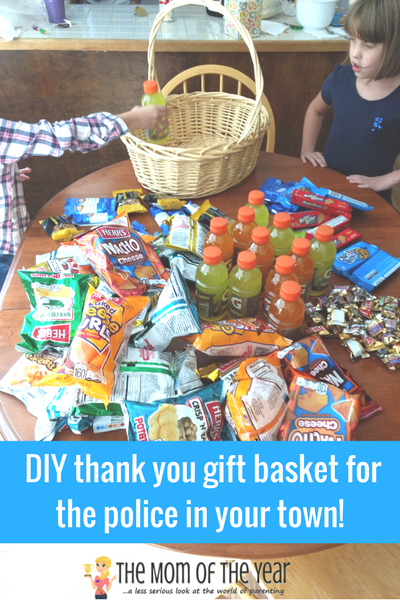 What my kids learned through this thank you gift basket project:
I hope that this activity taught my children to appreciate the police in our town. I also hope that they learned that while it's important to say thank you, it's also important to go the extra mile to show your thanks if you are able.
Cheers to crafting and giving your own thank you gift basket to the police officers in your town! With Thanksgiving on the horizon, it is the perfect time of year to share such sweet and important gratitude ofr all of their hard work!
The following two tabs change content below.
Anne is a mother of four, a 10 year old boy and 6 year old triplet girls. Always looking for a creative outlet, Anne sometimes hijacks her kids' parties, projects, and costumes to get her fix. (Even though they'd rather have their party at a moonbounce place and their costumes from a store). She blogs at onceuponamom.net where she writes funny and sometimes poignant posts in the hopes of lifting up other moms as they travel the chaotic, beautiful road of mothering.
Latest posts by Anne Metz (see all)