***Thank you to Hyundai Hope on Wheels for sponsoring this post so I could fill you in on the fantastic work they are doing to offer hope for pediatric cancer. All opinions are 100% my own.****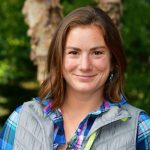 Please join me in welcoming Nicole as she shares her incredible experience participating in the Hyundai Hope on Wheels Celebration of Life Dinner in Philadelphia in support of offering hope for pediatric cancer research and awareness. Nicole is a stay-at-home mom to two boys, ages 5 and 7. She grew up in New York, and now calls Pennsylvania her home. Nicole enjoys practicing yoga and spending time outdoors with her family hiking, biking, and kayaking.
************************************************************************************
I had the honor of attending the Hyundai Hope on Wheels Celebration of Life Dinner in Philadelphia this week on behalf of the Mom of the Year blog. This was a beautiful, inspiring, emotional, and fun event to honor the Philadelphia area children battling cancer and recognize the doctors and researchers of The Children's Hospital of Philadelphia (CHOP).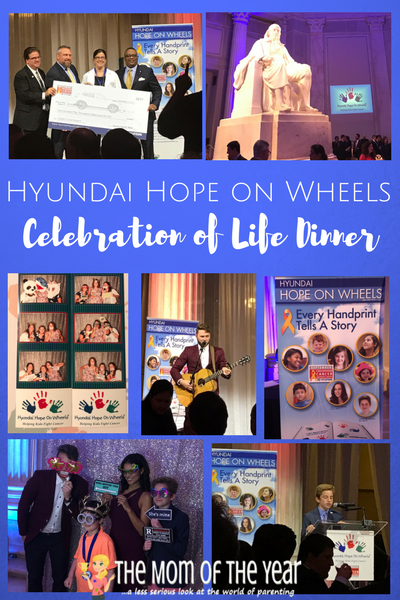 Held at the Franklin Institute in Philadelphia, we enjoyed a silly photo booth and science experiments with the Franklin Institute staff during the cocktail reception. A delicious dinner was served while the host, actress Jennifer Freeman, led us through the evening's awards and speeches. Luke Wade then serenaded the audience with a few beautiful songs. However, in my opinion, the real superstars of the evening were Ryan Darby, a 14-year old cancer survivor who shared his amazing story, as well as the pediatric oncology doctors and researchers at CHOP, who are working diligently on advancements in pediatric cancer research.
Pediatric cancer affects all of us
When I was asked to cover this event, I jumped at the opportunity. As a stay at home mom in the suburbs it's not often (ever!) that I enjoy a night out in Philadelphia. Once I read about the cause the event was supporting, I got even more excited about attending since pediatric cancer research is a cause near and dear to my heart. I still vividly remember the day we found out my seven year old cousin had a malignant brain tumor. Thankfully after several rounds of chemotherapy and radiation he went into remission and is still cancer-free at age 32.  Unfortunately the treatments left lasting damage on his body and his hearing has drastically deteriorated over the years.
Pediatric cancer also touched my life a little over five years ago when a dear friend lost her daughter to neuroblastoma just months before her third birthday. Watching this disease transform this little girl from a healthy, happy, precocious 18-month old to a frail and sick girl who spent most of her life in and out of the hospital re-emphasized how quickly lives can change from this invasive disease.
How Hyundai Hope on Wheels supports pediatric cancer research and awareness

Now as I follow a friend from high school as he posts updates on Facebook about his young daughter's fight against cancer, I know more must be done to stop this awful disease from affecting more families, and I'm thrilled to support Hyundai and its nonprofit organization, Hyundai Hope on Wheels. Every time a Hyundai is purchased, Hyundai and its U.S. dealers make a donation to Hyundai Hope on Wheels. In
September alone, Hyundai Hope on Wheels (HHOW) will award $8.5 million to hospitals across the country for their research initiatives, including over $400,000 to The Children's Hospital of Philadelphia. Since 1989, HHOW has been committed to finding a cure for childhood cancer and has awarded over $130 million in lifetime funding to pediatric cancer research in the U.S.
HHOW is working hard to raise awareness about pediatric cancer so life-saving research and new treatment therapies will become a reality and save lives. Currently less than 4% of federal research funding for cancer is designated for pediatric cancer, yet childhood cancer is the leading cause of death in children under the age of fifteen in the United States.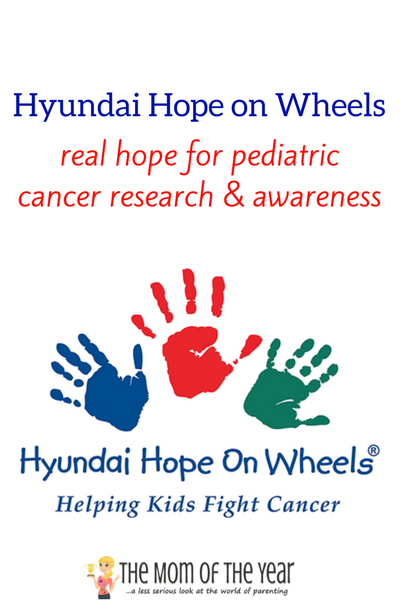 Staggering facts about pediatric cancer courtesy of Alex's Lemonade Stand Foundation:
One in 285 children in the U.S. will be diagnosed with cancer by the time they are 20 years old.
Every year, an estimated 250,000+ new cases of cancer affect children under the age of 20 worldwide. That's almost 700 new kids affected every day!
Every day, approximately 250 kids around the world die from cancer. 91,250 kids lose their life to cancer every year.
Two-thirds of childhood cancer patients will have long lasting chronic conditions from treatment.
Childhood cancer occurs regularly, randomly and spares no ethnic group; socioeconomic class; or geographic region. In the United States, the incidence of cancer among adolescents and young adults is increasing at a greater rate than any other age group, except those over 65 years.
At the Celebration of Life Dinner, the Hyundai Hope on Wheels representatives emphasized that awareness brings support, which enables research, which will ultimately lead to a cure. Even in this divided world, I know that a cure for cancer, especially pediatric cancer, is something we can all agree is needed. Thank you to Hyundai Hope on Wheels for making pediatric cancer research a priority!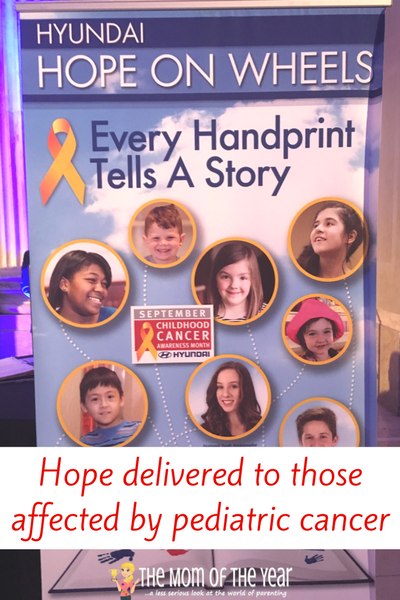 Be on the lookout for some new (tear-jerking!) commercials from Hyundai about this cause. Remember awareness can ultimately = a cure! #endchildhoodcancer
You can learn more by going to www.HyundaiHopeOnWheels.org, and visiting them on social media at Facebook.com/HyundaiHopeOnWheels and twitter.com/HopeOnWheels.
***Disclaimer:  I was invited to the Celebration of Life Dinner as a paid member of the media.  All opinions are my own.***
Photo Captions:
Franklin Institute
Jennifer Freeman and Luke Wade in the photo booth with 2 cancer survivors
Photo booth fun
Luke Wade performing
Presenting a check to a CHOP grant winner
Ryan Darby sharing his story
The following two tabs change content below.
Meredith blogs at The Mom of the Year, where she dedicatedly earns her title one epic parenting fail at a time, offering quick, relatable laughs for fellow parents and all their empathizers. She has been part of several best-selling anthologies, featured on prominent sites such as Huffington Post, In the Powder Room and BlogHer, and loves her role as the Executive VP/Operations Manager of The BlogU Conference. When she's not breaking up fights over Legos and juice boxes, she remains fully committed to sharing a less serious look at the world of parenting.