The holidays have begun and with that comes my favorite time of the year, fall! I can't get enough of autumn and the décor in my house shows my love for everything pumpkin and orange. Of all things fall, Halloween is by far my favorite. My children and I love to decorate our home and front porch but as décor can get pricey, we up-cycle and smartly decorate on a budget. A few years back, I vowed to myself and my wallet that I would never buy décor from anywhere other than the Dollar Store. While may seem tricky, you'll be surprised with what a few dollars and a few minutes can produce!  Here are five Halloween decor ideas for under $3 that are sure to spook your friends!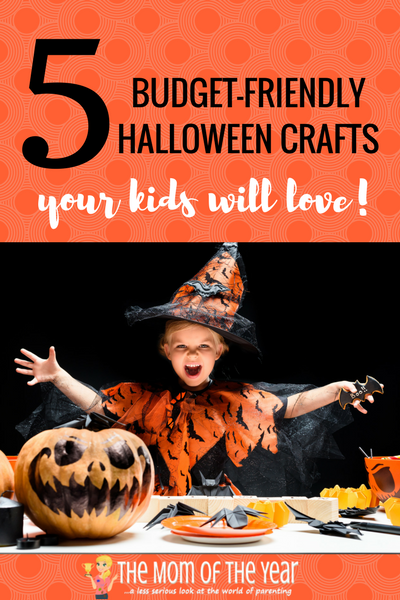 5 Dollar Store Halloween Décor Ideas You'll Love!:
Can Pumpkins. Don't recycle that can you just used, up-cycle it! Paint it as a pumpkin, witch, ghoul, or whatever you wish; your kids will have so much fun decorating it.  I like to punch holes in the can and place a small battery candle inside for added spooky effect.
Ghosts. These ghosts look so fun in your yard and are effortless and fun to make! Purchase white streamers and white poster board at the dollar store. Cut the poster board in half vertically and glue or tape streamers all along one edge. When that dries, wrap the poster board into a cylinder and glue it shut. Have your kids add spooky faces, and hang outside to blow in the wind so that they look as though they are flying!
Pumpkin Light. We have two lights outside our front door and every year we place a plastic pumpkin on the outside of the lights.  Simply buy a pumpkin trick or treat bucket and cut it to fit the outside of the light.  They give such a fun, festive glow each night and the trick-or-treaters love them!
Spooky Terrariums. Simply take an old vase, pitcher, or terrarium and add inside any spooky items that your kids wish!  Adding a small light can really increase the spook in the evenings, especially when hosting a Halloween party.
Jug Luminaries. For the month of October, we save our used milk jugs and line the walkway with ghost luminaries on Halloween night.  It's such a fun way for trick-or-treaters to approach our house and are so easy to make. Simply add sand and a small battery light inside the jug. Have your children use black construction paper or marker to make faces and once it turns dark out, your spooky ghost will glow!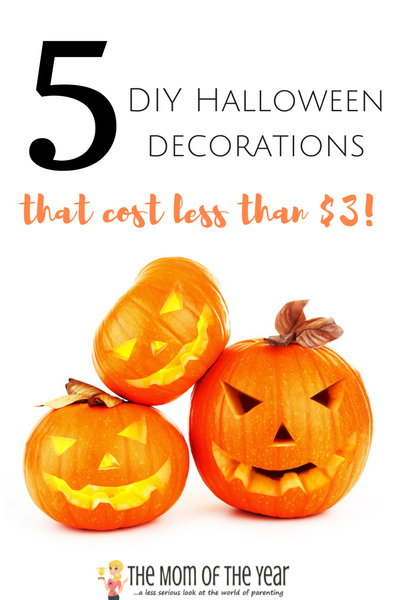 Decorating for the holidays doesn't have to be something that breaks the bank. Sometimes, the least expensive crafts can turn into the most memorable family fun that can be brought out of storage year after year. This autumn, save your hard earned money for costumes, the premium candy treats and hit the Dollar Store for some spooky and inexpensive Halloween décor!
The following two tabs change content below.
Lindsay Houser
When Lindsay isn't fielding three-nager temper tantrums and scraping Play-Doh off the floor, her passions are the great outdoors, cooking, creating, and healthy, holistic living.
Latest posts by Lindsay Houser (see all)