I fully enjoy most of my eccentricities.  And truth told?  I don't have enough energy to humor the notion of change.  That I can only sleep with purple ear plugs in every single night? I am a light sleeper. Stashing chapstick in my bra? Convenient.  And my stubborn refusal to take down last year's Christmas cards until I have time to update addresses in my book? This makes sense to me–even if they are still up and it's October.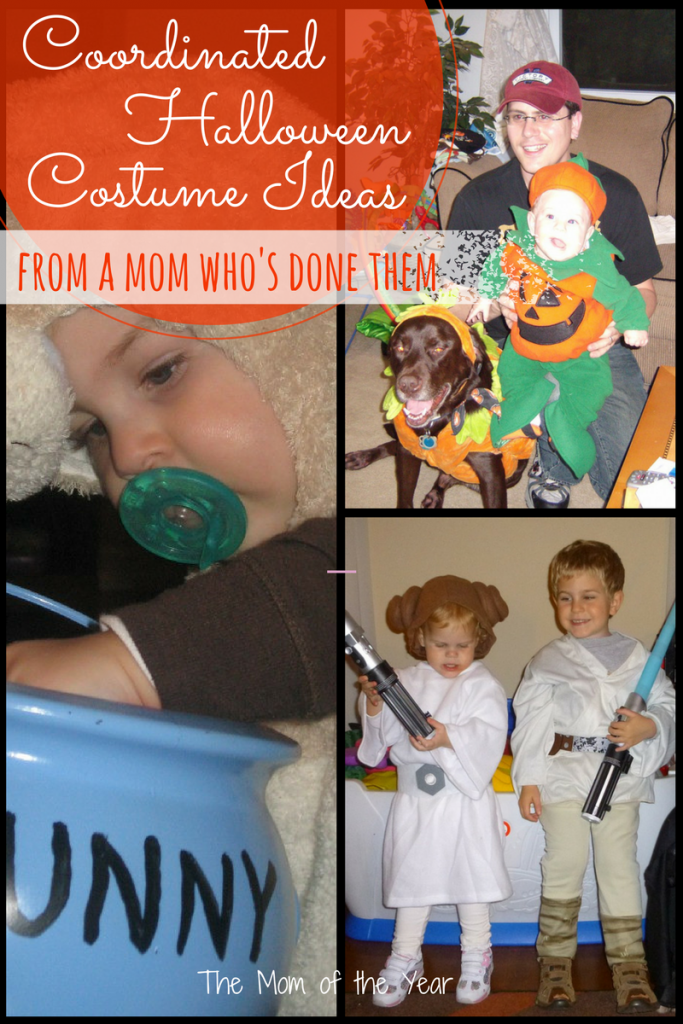 I like stuff the way I like it. And I like coordinated Halloween costumes.
I suppose it all started in college when my roomies and I decided to channel the Spice Girls as a group.  Yes, I'm that old.
Then I got married and we got a dog.  While this was really a bit of a dry spell, as he dressed up solo sans coordination with others (my obsession only extends to dressing others up; not myself apparently), I always made sure he embraced the holiday.  I squeezed the poor 70+ lb. pooch into an endless parade of XL costumes. This larger size was still too small for his frame, but I refused to recognize defeat and stuffed him in anyway.  Apparently the costume industry doesn't recognize the value of turning chocolate labs into Western cowboys.  They are wrong. 
Then…then it was my year.  I had had a child.  With my infant son AND my dog at the ready, it was finally time to let my coordinated Halloween costume fascination actualize.
The first year I went tame.  Pumpkins, but still pretty cute.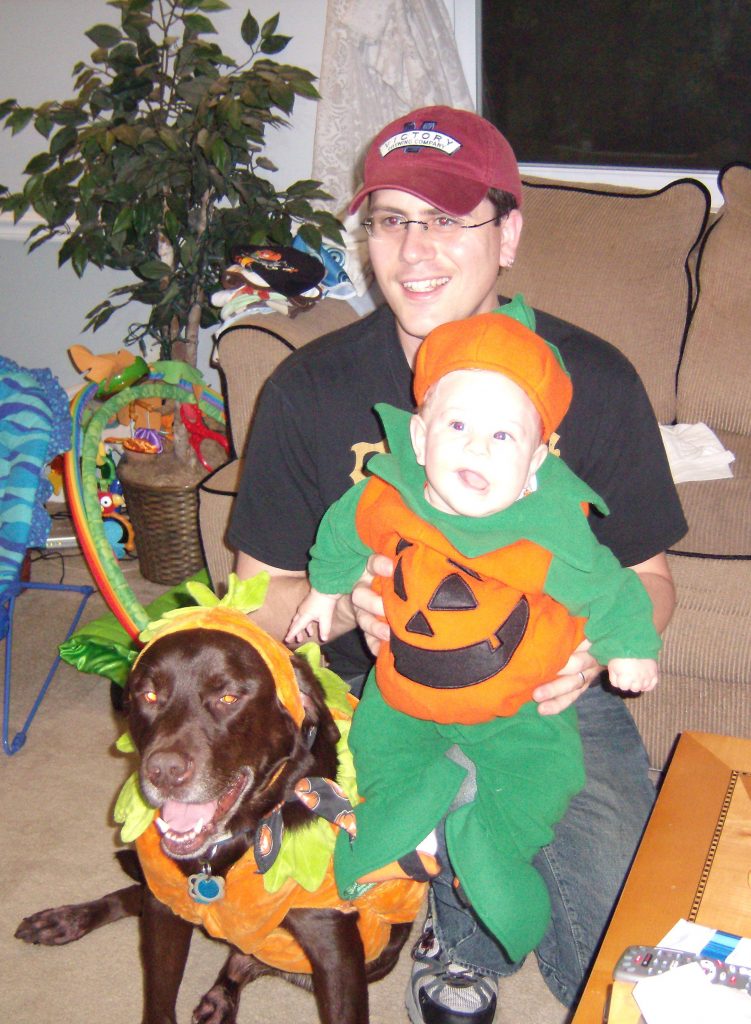 The second year I got a tad more creative.  A bear costume for my little guy, a bee suit for the pup, and a hand-painted honey pot for a treat basket? I could feel the momentum building!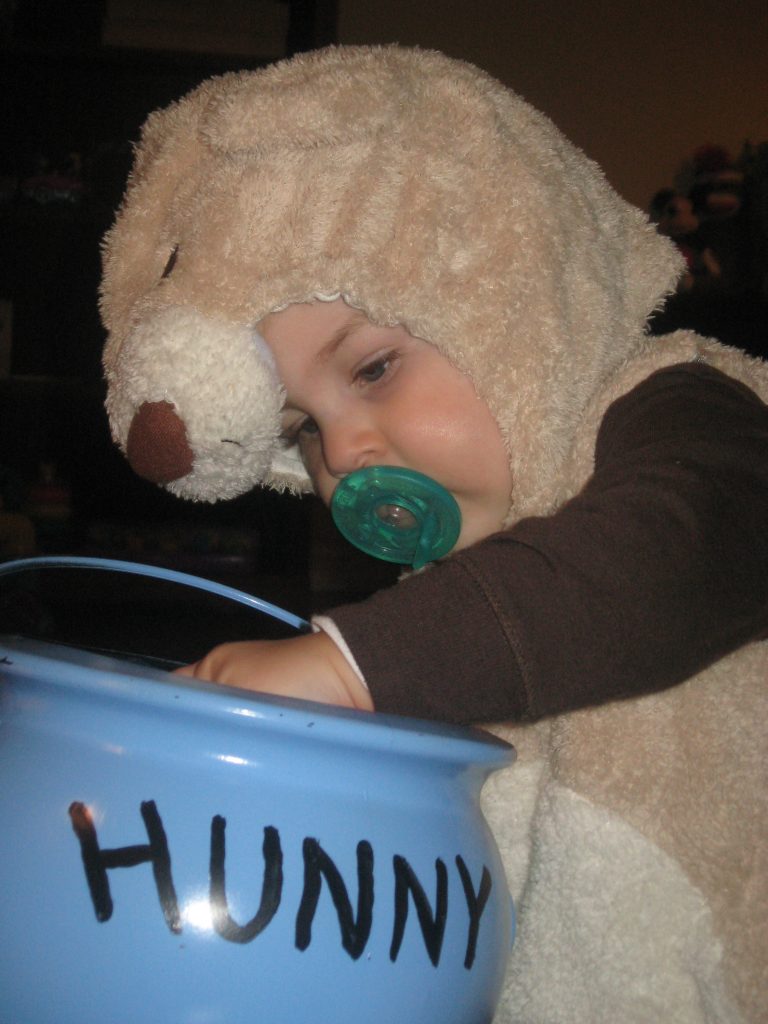 Then I got knocked up again.  While this was largely a blessing, it was a bit dicey in that my daughter wasn't due until mid-July. Any coordinated Halloween costume-planner worth her salt knows you must start strategizing months in advance.  I decided to play it safe since I wasn't sure of her gender: I secured matching monkey costumes in appropriate sizes well in advance for both kids.  The costumes had bananas sticking out of the pockets, so it only made sense that the dog would be well suited as a banana split.  The children, of course, rocked banana treat bags snagged on Pottery Barn clearance.
Year two of having two found us celebrating our Mickey and Minnie obsession–with the dog moonlighting as Goofy and adorable little matching treat bags found on Etsy.  (Yes, I'm crazy).
Last year was the first my husband solidly balked at my plans, "You can't keep doing this forever. They are going to want to pick their own costumes."  So I did it, readers–I pulled out all the stops and went for the Big One: "What if we did Luke, Leia and Darth Vader?"  His protestations immediately fell silent, very silent. It significantly helped that I had purchased the dog's Vader costume 1/2 off the year before in the event that the Star Wars route would be necessitated.
This year, I knew I was pushing it–REALLY pushing it.  My husband is right–they are outgrowing this.  Rapidly.  I am going to have to adopt cats in bulk or something to further the cause in future years.  But surely, I could eke out just one more year? In desperation, I forewent sleep, scanning the recesses of my mind for inspiration (not really, but it's always fun to sound a little dramatic, right?). Brilliance hit me! A win for everyone: Son–knight, Daughter–princess, Dog–dragon (okay, the dog might not be so thrilled).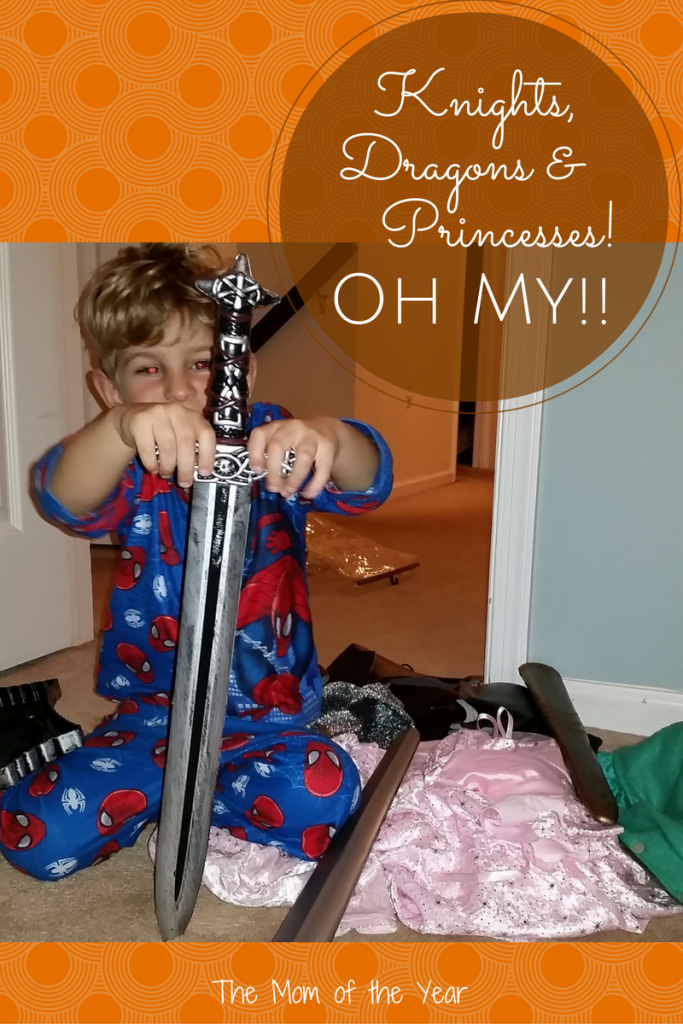 So glory with me, friends.  I think this is the last one, but I'm going for it, and I'm going for it big.  Tiara and sword at the ready, we're coming for you, Halloween 2014!
The following two tabs change content below.
Meredith blogs at The Mom of the Year, where she dedicatedly earns her title one epic parenting fail at a time, offering quick, relatable laughs for fellow parents and all their empathizers. She has been part of several best-selling anthologies, featured on prominent sites such as Huffington Post, In the Powder Room and BlogHer, and loves her role as the Executive VP/Operations Manager of The BlogU Conference. When she's not breaking up fights over Legos and juice boxes, she remains fully committed to sharing a less serious look at the world of parenting.