***Thanks to ACME Markets for sponsoring this post so I could scoop you on cold and cough season survival hacks that win!***
Raise your hand if you love having sick kiddos! What's that? No one does? Go figure 😉 We've had some pretty brutal rounds of sick seasons in our house, so this year I'm gearing up proactively. Want to gird your own home against being felled by nasty germs? Grab these cold and cough season survival hacks and consider yourself ready to tackle whatever the season brings!
Cold and cough season survival hacks
Get your daily dose of sunshine. Even thought it's getting cold outside, taking a moment to snag some fresh air and sun boosts not only is good for your health, it boosts your mood too!
 Exercise. Whether you bundle up and rack up some steps outside or go the indoor route, it is so important to keep our bodies moving–again for our mental health as well.
Eat well, really well. If you are fueling up on healthy foods like the new O Organics® products at ACME Markets, your body stands a better shot at fending off sick bugs. The great part? Eating well really does not have to cost a fortune–the entire O Organics® was priced comparably, if not cheaper, than the same product in other brands.
Encourage your kids to "own" their own health. As my kids get older, my job is not simply to make good choices for them, but to encourage them to make their own good choices (i.e. go for the apple slices vs. potato chips in the lunch line or ask their friend to head out for a bike ride vs. a video game date). I appreciate how ACME Markets integrates their O Organics® products throughout the store versus housing them all in one section. This makes it easy for kids to compare similar foods and prices at the same time. My son is super-into studying prices, and it was a cool find to see that O Organics® apple juice was cheaper than other non-organic apple juices on the same shelf!
Whip up a batch of chicken soup and keep it in the freezer. When I am sick, I always want chicken soup! But who wants to cook when they are feeling yucky? I make a HUGE pot of this classic (see recipe below!) at the beginning of the season, then freeze it in smaller portions so I can easily heat it up a batch whenever illness touches down in our home.
Stock other sick-friendly staples in your pantry. We always have bread on hand, but were running low on my husband's honey, so I bought some O Organics® Honey, Chai Tea and Strawberry Perserves so I can serve some toast and tea with that chicken soup for a nice pamper-me meal.
Have the medicine at the ready. Weary of late night runs to the pharmacy for nighttime cough medicine or discovering last-minute I'm out of the nasal decongestant I use to keep my allergies in check, I grabbed a bunch of ACME Markets' Signature Care™ products at my last shopping trip. These products are available in the Philadelphia and Philly suburb areas exclusively at ACME Markets and are just as effective as national name brands with the same active ingredients and so affordable that if we end up not using them this year, no sweat! I'll be thrilled we stayed healthy, and I'd far rather be prepared.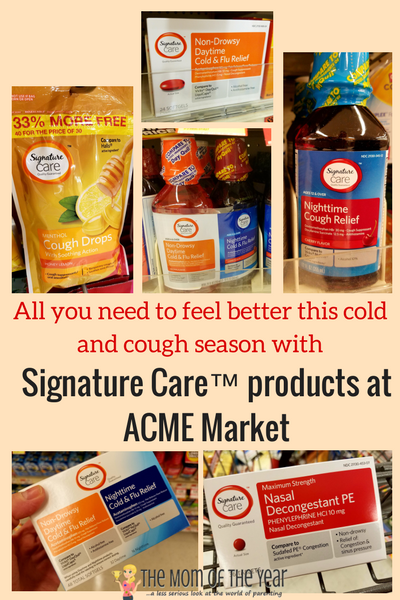 You can grab Signature Care™ products with their 100% satisfaction guaranteed or your money back promise, and the entire O Organics®  line at all Albertsons Companies family of stores, including Albertsons, Safeway, ACME Markets, Jewel-Osco, Vons, Pavilions, Randalls, Tom Thumb, Shaw's, Star Market, United Supermarkets, Market Street, Albertsons Market and Carrs/Safeway.
The Easiest (Delicious, Healthy and Kid-Friendly) Homemade Chicken Noodle Recipe Ever:
Place a whole chicken in a stockpot and fill pot with water until just covering the chicken. Bring water to a boil, then reduce heat to simmering and cook for 1.5 hrs.
Remove the chicken from the pot and separate all the meat from the skin and bones. Return meat to the water in the pot, let cool slightly and then place entire pot in refridgerator overnight.
Skim fat from surface of water, then reheat chicken and water until boiling.
Add noodles (the O Organics® Penne Pasta worked so well for this!).

Optional:

add salt/pepper to taste, corn, carrots, and/or celery.
Cook until pasta is done and any vegetables you added are tender.
Done! See, isn't it so easy?? 
Check out this other fab stay-healthy recipe–my kids LOVE sweet potatoes, so this is a huge win on our dinner table!:
Now that you've done all that shopping and cooking, take a minute to pat yourself on the back and relax–winter bugs can throw their worst at us, but we've got it in hand with these cold and cough season survival hacks, mamas!
This is a sponsored post written by me on behalf of ACME Markets.
The following two tabs change content below.
Meredith blogs at The Mom of the Year, where she dedicatedly earns her title one epic parenting fail at a time, offering quick, relatable laughs for fellow parents and all their empathizers. She has been part of several best-selling anthologies, featured on prominent sites such as Huffington Post, In the Powder Room and BlogHer, and loves her role as the Executive VP/Operations Manager of The BlogU Conference. When she's not breaking up fights over Legos and juice boxes, she remains fully committed to sharing a less serious look at the world of parenting.