Happy August! Can you believe we are in the last month of the fun already, friends? I hope your summer has been full of all the good things a summer should be full of, and I hope amidst the chaotic fun you are finding time to turn those pages! Personally, my moments sneaking away with a book have been my sanity-saving grace–not that my kid-filled days require any sanity-saving, of course 😉 We're here to chat up last month's read in this Hunger Book Club Discussion and then introduce our August book–with a copy of it up for grabs to on one of you. Read on below for the whole scoop!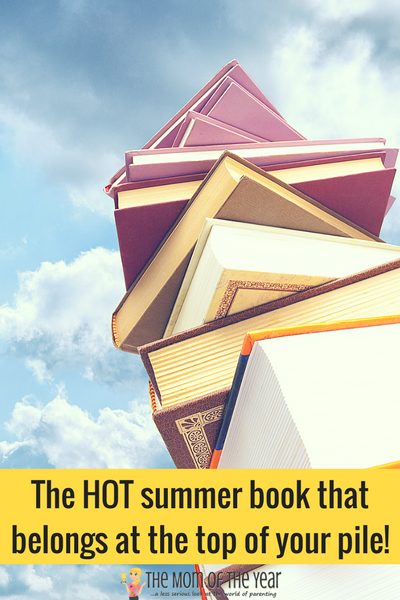 Hunger Book Club Discussion:
What was your gut-reaction to Hunger: A Memoir of (My) Body by Roxane Gay? I didn't like it–at all. Part of this is style preference: I'm not partial to Gay's repetive, looping mini-essay approach to sharing her story. While I tend to favor more orderly, linear tales (I am so boring!), I appreciate Gay's experience was neither orderly or linear, so perhaps this recounting was exactly how it should be. And when would a tale about a woman's painful struggle in this world be anything less than difficult to read?
Was Gay's experience at all relatable? How so? It most definitely was relatable. I have always struggled with my weight. Gay differeniates early on the difference between those who are overweight and those who have a significant obesity challenge. While I haven't experienced the depth of her struggle, I have walked closely with those who have and can appreciate the endlessly defeating, consuming battle that pairs with excessive weight. I can relate to the constant comparision to those around me, being judged, and perhaps worst of all, the feeling of being "less than".
What was your primary take-away from the book? Aside from a raised consciousness of the supreme value of withholding judgement on others around us, the truth of how very connected body, mind, and experience are resonates loudly. Had Gay not experienced trauma at such a young age, she might not have used her body as protection and thus not later experienced all the concurrent emotional chaos which led her to further destructive choices, followed by continued emotional turmoil which encouraged her body armor to remain in tact. It is not so easy, nor realistic, to separate one life stress from another. Components of our lives don't exist in singularity but rather become what they are in heavy context. When seeking balance, we do well to address the whole.
Gay talks at length about unwelcome comments from others and her dislike of casual physical touch. If you were to meet Gay, what would you say to her/how would you introduce yourself? No hugs! (she made that clear!). No clue how uncouth I might be if I were to meet up with this author, but I'd like to imagine that I would say something simply along the lines of: "Thank you for sharing your story and I'm so sorry for your pain."
What populations do you think might have similar experiences to those who are extremely overweight? I think the primary differeniation of the overweight population to those with other physcial conditions is that so many believe weight to be a choice and thus pass judgement. So while the obsese might experience the isolation of those who have other physical limitations, such as those who are blind or deaf, I imagine they all experience the societal judgement passed on to those with behavioral-related conditions (alcoholics, criminals, etc.). In this way, they are dually challenged.
If you could ask Roxane Gay one question upon meeting her, what would it be? What gives you joy or, more prosaically stated, what keeps you going when it would be so much easier to quit? Gay has a depth of strength that comes from somewhere–and I so very much admire it.
**********************************************
Time for our August pick! As this book was only released this week, I've heard few reviews and am not sure what to expect, but…it sounds super-interesting, no? 😉 Let's dig in to The Cottingley Secrett by Hazel Gaynor! And we are giving a copy away to one of you! Leave a comment on this blog post before 8/11/17 at 5:30am EST and as long as you are 18 or older and live in the Continental U.S., you are eligible to win the free copy.
"The Cottingley Secret tells the tale of two girls who somehow convince the world that magic exists. An artful weaving of old legends with new realities, this tale invites the reader to wonder: could it be true?" — Kate Alcott, New York Times bestselling author of The Dressmaker
One of BookBub's Most-Anticipated Books of Summer 2017! 
The New York Times bestselling author of The Girl Who Came Home turns the clock back one hundred years to a time when two young girls from Cottingley, Yorkshire, convinced the world that they had done the impossible and photographed fairies in their garden. Now, in her newest novel, international bestseller Hazel Gaynor reimagines their story.
1917… It was inexplicable, impossible, but it had to be true—didn't it? When two young cousins, Frances Griffiths and Elsie Wright from Cottingley, England, claim to have photographed fairies at the bottom of the garden, their parents are astonished. But when one of the great novelists of the time, Sir Arthur Conan Doyle, becomes convinced of the photographs' authenticity, the girls become a national sensation, their discovery offering hope to those longing for something to believe in amid a world ravaged by war. Frances and Elsie will hide their secret for many decades. But Frances longs for the truth to be told.
One hundred years later… When Olivia Kavanagh finds an old manuscript in her late grandfather's bookshop she becomes fascinated by the story it tells of two young girls who mystified the world. But it is the discovery of an old photograph that leads her to realize how the fairy girls' lives intertwine with hers, connecting past to present, and blurring her understanding of what is real and what is imagined. As she begins to understand why a nation once believed in fairies, can Olivia find a way to believe in herself?
***************************************************
As always, thank you so much for hopping in our Hunger Book Club Discussion reading with us, and please know how very much we appreciate all of your comments, questions, and input! Enjoy the rest of your summer–and all the reading it holds!
The following two tabs change content below.
Meredith blogs at The Mom of the Year, where she dedicatedly earns her title one epic parenting fail at a time, offering quick, relatable laughs for fellow parents and all their empathizers. She has been part of several best-selling anthologies, featured on prominent sites such as Huffington Post, In the Powder Room and BlogHer, and loves her role as the Executive VP/Operations Manager of The BlogU Conference. When she's not breaking up fights over Legos and juice boxes, she remains fully committed to sharing a less serious look at the world of parenting.