Placing your child's needs before your own comes naturally to parents, and you're happy to do it. However, forgoing "me time" to keep your kiddos entertained and happy is not sustainable, and may lead to serious accidents like lighting your kitchen on fire. Penciling in some self-pampering is good for you and for your kids, who will benefit from a more relaxed and balanced parent.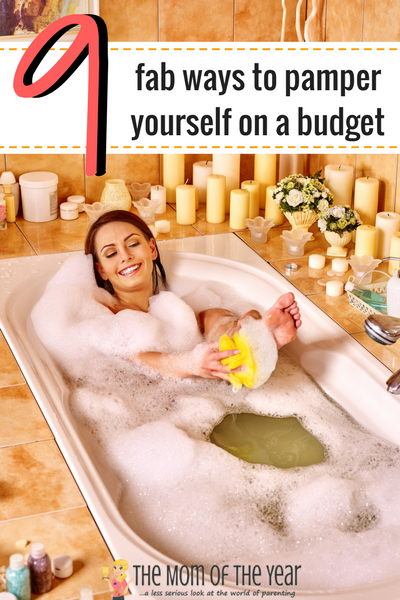 Self-care comes at a price, however, and budget-strapped families understandably have a hard time justifying $100+ spa days or $1,000+ weekend getaways. Thankfully, there are several ways you can relax and treat yourself without burdening your bank account. While pampering yourself likely brings to mind DIY beauty treatments, you're not limited to hair masks and hot showers. Consider these out-of-the-box ideas for your next "me time" opportunity.
Go to the movies. It may seem gauche to visit a movie theater solo, but consider how wonderful it is not to share the popcorn, or compromise on the drink or snack because you're sharing it with someone else. What's more, you can choose whatever movie you want to see, however corny, romantic or violent it is (hey, no judging!). To cut costs, make plans for your me-movie-date during your theater's discount day (usually Monday or Tuesday) to take advantage of heavily-discounted tickets. Regal Cinemas also offers $2 off popcorn on Mondays and $2 off candy on Tuesdays to Regal Crown members, so plan accordingly.
Get your car cleaned. When was the last time you looked at the backseat of your car and didn't see partial Cheerios and runaway Legos? How glorious would it be to climb into your vehicle and have it be as sparkly clean as it was when you first bought it? Groupon often features vouchers for 40% to 60% off car detailing and cleaning packages so you don't have to pay full price for this service.
Make a coffee date with yourself. Instead of ordering coffee to go, request a ceramic mug and stick around for a while. Tuck yourself into a corner of the shop and catch up on your favorite magazine, book or Pinterest boards while eavesdropping on other patrons' conversations. If the noise from the coffee shop bothers you, bring your headphones and listen to music or a podcast while you browse.
Buy a new outfit. How you feel about your appearance impacts your mood, so buying a new outfit can help boost your self-confidence. Since clothing ranges in price from cheap to exorbitant, look for ways to cut costs at your favorite store. You can find Banana Republic Coupons & Promo Codes for 2017 at Coupon Sherpa, for example, as well as deals and sales information for other top retailers. Take your time and look for pieces that will fill gaps in your wardrobe and are versatile (so you can wear them more!).
Treat your friends to brunch. Invite a friend or two to your favorite brunch spot — preferably one that serves bottomless mimosas — and laugh away the mid-morning while munching on your favorite breakfast foods. To cut costs, you can suggest dining family-style and order a few dishes for everyone to share.
Go to the gym. This may sound like a terrible idea, but consider this: you can spend 20 minutes on the elliptical and spend the remaining 40 minutes of your precious hour away reading magazines in the steam room. Plus, that bit of exercise will help release endorphins and boost your mood, which is the whole point of self-care!
Purchase your favorite pint. For the ultimate indulgence, pick up your favorite pint of ice cream during your next grocery run. Set aside 30 minutes to read a book or watch your favorite show with a bowl of deliciousness as your viewing snack. Since your kids will no doubt want a bite, make sure they're occupied so you can truly have the time and indulgence to yourself!
Unplug. Getting lost in your phone apps or playing just one more round of your favorite Kindle word game may seem like self-care, but it's far less beneficial than you think. This is especially true if you compare yourself to the highlight reel that is social media. Instead of browsing your Facebook feed for 20 minutes, take a break from technology and read a book, take a walk or call a friend or family member.
Take a nap. Sleep is the ultimate treat for exhausted mothers, but there's often too much to do (and that pesky Mom Guilt) to justify taking a nap. That's why it must become part of your self-care routine! Even if you don't sleep for 20 or 30 minutes, the simple act of lying down, stretching out and taking deep breaths can do wonders to calm the mind, refocus your energy and contribute to a better you.
And make sure to get the most from your rest time: learn more about quality sleep and get the tools you need at Sleepedia–this is a super resource site!
First image credit: depositphotos.com, Image ID:71714497, Copyright:poznyakov
The following two tabs change content below.
Meredith blogs at The Mom of the Year, where she dedicatedly earns her title one epic parenting fail at a time, offering quick, relatable laughs for fellow parents and all their empathizers. She has been part of several best-selling anthologies, featured on prominent sites such as Huffington Post, In the Powder Room and BlogHer, and loves her role as the Executive VP/Operations Manager of The BlogU Conference. When she's not breaking up fights over Legos and juice boxes, she remains fully committed to sharing a less serious look at the world of parenting.