Goodness knows as parents we've got a ton of responsibilties in raising our kiddos on this earth! Somewhere in between feeding them and generally keeping them alive, we need to sneak in some of those important lessons–like the value of money money and how to effectively manage it. We have chatted here before about tips and tricks for teaching kids financial smarts, and what a perfect fit to follow up this discussion by recommending the hot new book that hits stands today, Make Your Kid a Money Genius (Even if You're Not) by Beth Kobliner.
Make Your Kid a Money Genius (Even If You're Not) is a clear, step-by-step guide to help parents of all income levels teach their kids of all ages how to be smart about money. You can well-trust the information: Beth Kobliner, a personal finance commentator and bestselling author wrote it after doing lots of psychology, child development, and behavioral economics research. But no need to be intimidated–the tone of the book remains friendsly and casual while referencing all this scientific information.
What will I find in Make Your Kid a Money Genius (Even if You're Not)?
This book is shows parents how to help their kids develop important characteristics like a strong work ethic, self-control and perseverance. Instilling healthy money habits in our kids now can help them lead a financially stable life in the future–one without debt!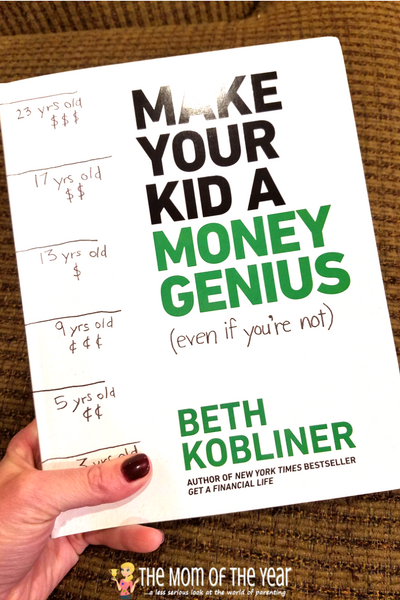 You'll also find some surprises as a bunch of commonly held beliefs about how to develop good financial habits turn out to be wrong–check out this list!:
Caving to your preschooler's demands at the checkout line could make him more likely to misuse credit cards as an adult.
Giving your kids an allowance might actually be a step in the wrong direction.
Opening a brokerage account to teach your teen about the stock market is a mistake.
Doling out a wad of cash can be a great parenting move.
Bribing your kid for A's is a waste of time (and money).
Letting your adult kid move back home is a smart idea…s o long as you both have a plan.
Encouraging your 16-year-old to open an IRA is not as crazy as it sounds.
Paying for household chores may turn your kid into a slacker.
Talking about paying for college with your 14-year-old may seem premature. It's not.
Co-signing a credit card for your kid is always a bad idea.
Make Your Kid a Money Genius (Even if You're Not) is structured so parents can easily read the whole book or just skip to the sections that most interest them. Each chapter focuses on a specific financial topic and is then split up into information by age group (Toddler, Elementary, Middle, etc) so us busy parents can easily find the information they need.
When and where can I get Make Your Kid a Money Genius (Even if You're Not)?
The book is released TODAY, February 7, 2017. Grab it at Amazon, Barnes & Noble, IndieBound or Booksamillion. You'll also find Make Your Kid a Money Genius (Even if You're Not) at most large retailers or local bookstores.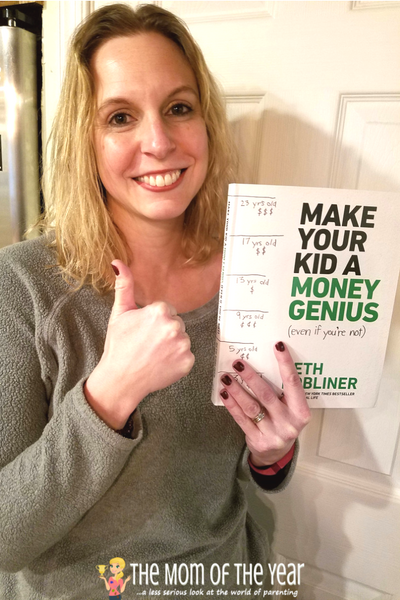 Now that you have the whole scoop on this book, parents, it's time to grab it! Let's pony up and own this responsible parenting gig by teaching our kids the right way to approach money matters with Make Your Kid a Money Genius (Even if You're Not). A valuable life lesson for the win!
First image credit: depositphotos.com, image ID:42907861, copyright:iagodina
The following two tabs change content below.
Meredith blogs at The Mom of the Year, where she dedicatedly earns her title one epic parenting fail at a time, offering quick, relatable laughs for fellow parents and all their empathizers. She has been part of several best-selling anthologies, featured on prominent sites such as Huffington Post, In the Powder Room and BlogHer, and loves her role as the Executive VP/Operations Manager of The BlogU Conference. When she's not breaking up fights over Legos and juice boxes, she remains fully committed to sharing a less serious look at the world of parenting.