This year my son officially started preschool and with that comes my biggest nemesis…germs. Every week he comes home with a new cold and kindly shares it with the rest of our family. When it comes to sicknesses, I am a large proponent of treating and pre-treating them with natural remedies. I have read up on many different herbs and it is fascinating how something grown in nature can really help your immune system.
While I have our sickness remedies down pat, something I have never had to think about is lice…until now. Apparently there is a "super lice" ravaging schools everywhere and I know I can't be alone in saying I have a huge irrational fear of lice. I'd rather shave my head and burn my house than deal with those little creepy crawlers!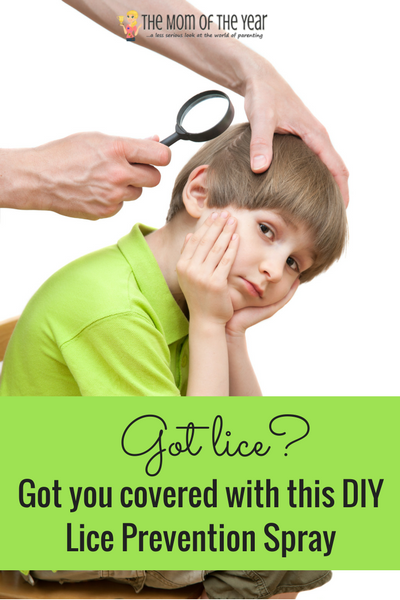 BUT…before I take drastic measures, I concocted a DIY lice prevention spray solution to spritz on my son's hair before school to help prevent lice ever hitching a ride with him. He has this "surfer vibe" going on with hair that he refuses to cut so the fear of lice is looming! To spare myself from this fear, I made a DIY lice prevention spray solution with only 3 ingredients.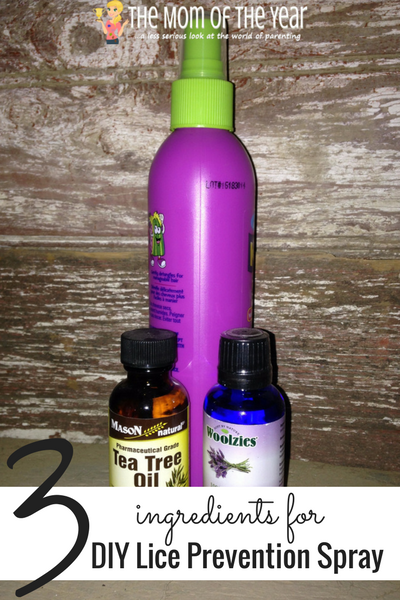 3 Ingredient DIY Lice Prevention Spray
There are 3 things you need to make this spray; water, tea tree oil, and lavender oil.
Step 1: Purchase a spray bottle from the dollar store or use a clean empty one from something else you've used. If you have a girl, you can also use a bottle of detangler spray! That way you are not only detangling all those knots but preventing lice at the same time.
Step 2: Fill the bottle most of the way with water (or if using detangler, just dump a tiny bit out)
Step 3: Add in 4 drops of tea tree oil for every 4 oz of fluid
Step 4: Add in 3 drops of lavender oil for every 4oz of fluid
Step 5: Shake every time before using!
Tea tree is a highly versatile oil that is widely known for its antiseptic properties and ability to kill parasites! This is exactly why it is an essential to combat and avoid lice.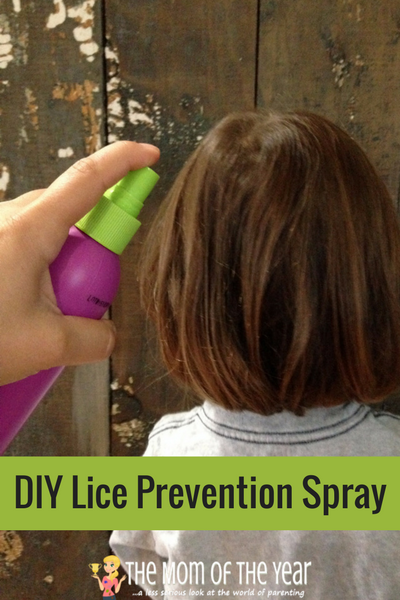 So you ended up getting lice…now what?
My family has been fortunate enough to not have to deal with lice but with kids in school, it's bound to come around. I am hesitant with the idea of slathering chemicals on my child's head, especially with these new "super lice" that are immune to some chemicals!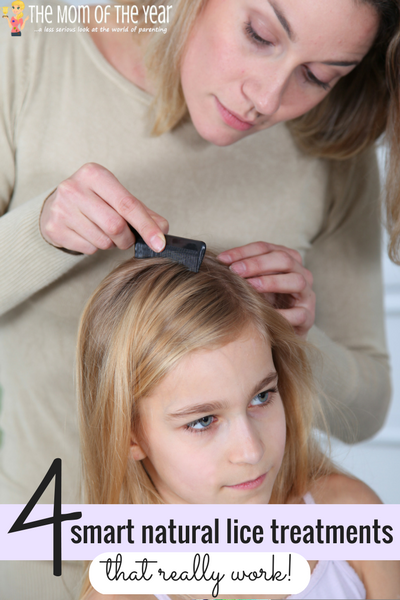 Natural alternatives to battling lice:
Vinegar Rinse. Mix vinegar and water half and half, along with some tea tree oil (1 teaspoon per ounce) and rinse your child's hair twice a week to discourage nits from hatching.
Mayonnaise. Sounds gross right? Apparently though since mayo is so thick, if you smother it on your child's head and leave on overnight with a shower cap, it will suffocate any lice. Continue to do it throughout the week.
Oil soak. Much like the mayonnaise, soak your child's head in any oil (olive, almond, coconut, ect) and leave sit overnight to suffocate the lice.
The best way, and most alarming I may add, is to pick through your child's hair with a lice comb and make sure to get each and every louse and nit. Although tedious, it should be done daily to be sure none hatched that you missed.
You can also combine any of these treatments together to make it even more effective!
Is anyone else itching their head right now?! Hopefully this preventative spray can keep those nasty bugs away from your house. If not, before resorting to shaving everyone's heads, try out these natural solutions!
*Disclaimer: I am not a medical professional, please ask your doctor for their advice on lice prevention and treatment.*
First image credit: depositphotos.com, Image ID:64057929, Copyright:anrymoscow 
Last image credit: depositphotos.com, Image ID:6698733, Copyright:Goodluz
The following two tabs change content below.
Lindsay Houser
When Lindsay isn't fielding three-nager temper tantrums and scraping Play-Doh off the floor, her passions are the great outdoors, cooking, creating, and healthy, holistic living.
Latest posts by Lindsay Houser (see all)