Since my kiddos are still pretty young, they have been mostly on the receiving end during the holidays, but this year, I decided take advantage of a teachable opportunity to help them learn how fun giving can be too! We sat down and together, the kids and I came up with a few ideas for some simple and fun DIY holiday gifts for them to make and give to family this year.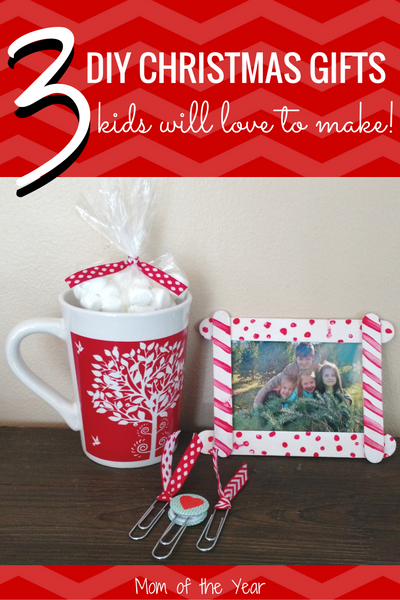 The best part? Each one of these ideas can be made for under $1.50! Yup, that's right. Go ahead and watch your budget smile and relax. This year, the gift-giving isn't going to break the bank!
3 Easy and Cheap DIY Holiday Gifts Kids Will Love to Make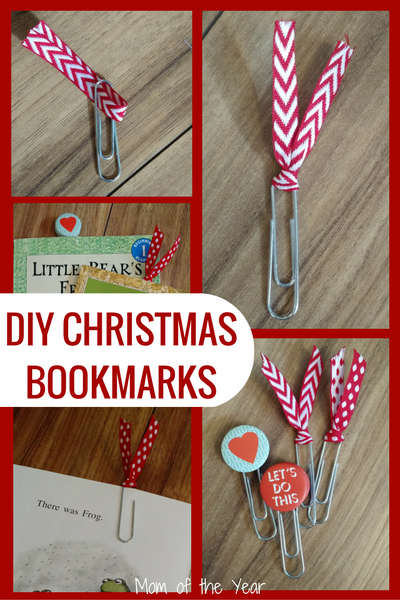 Bookmarks
Reading is a big deal in my family! My first born is an avid reader; he can spend hours lost in a book and his little sisters are eager to follow suit. They are all beginner readers, but are venturing into the world of easy chapter books. As a reader myself, I can't tell you how much I enjoy watching my kid reading and truly enjoying it. The downside to this is finding loads of books, open and face down, all over my house! "I didn't want to loose my page, Mommy," is the adorable reply I hear every time I find a book!
So what better gift, than bookmarks for them to give each other! They are great gifts for beginner readers all the way to grandparents. Plus they are cheap and easy to make.
For our bookmarks, we snagged a pack of paper clips at the dollar store. While there we grabbed some ribbon and stickers for embellishment. For the first look, we looped a piece of small holiday ribbon around the top of the paper clip and voila, an adorable bookmark for well under a dollar!
Then we added a sticker to either side of a paperclip for another style. You could also cut out images from last year's holiday cards and attach them to the paper clip with double sided tape.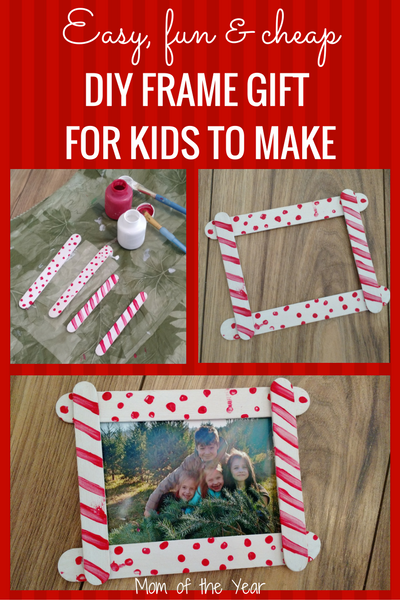 Picture Frame
If your kids like pulling out the paints, glue, and glitter, a picture frame is a super gift for them to make. For this project, you will need popsicle sticks, paint, glue and any other extras you'd like to add to the frames like stickers, pom poms, or glitter.
My kiddos made this frame by painting their popsicle sticks with stripes and polka dots in candy cane colors. They glued the sticks together and taped in a picture of them picking out this year's Christmas tree. We decided to glue magnets to the back of our picture frame, but you can also glue a loop of fabric on the back to make your frame a tree ornament.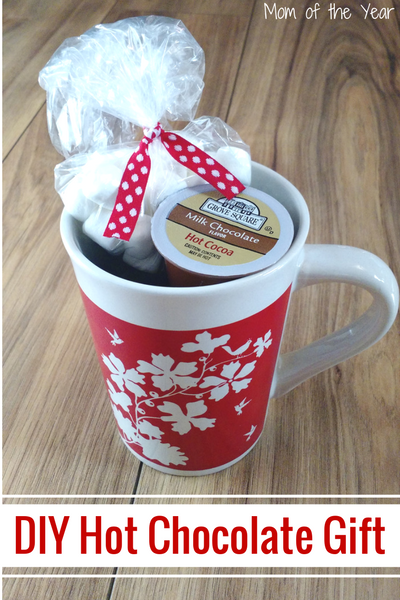 Hot Chocolate Gift
Although my girls love crafting with glitter and sparkles, my son does not! A hot chocolate gift is a great and delicious gift that your non-crafting kid can make. To make this we simple bought a festive mug and filled with a single serving of hot chocolate and a sandwich baggie filled with marshmallows and tied with a festive bow. My son loved being able to pick out which mug he liked the best. To keep the gift a reasonable price, we hit the dollar store again! If your gift recipient isn't a hot chocolate fan, you can fill the mug with a few tea bags and honey or maybe some holiday treats like chocolates or candy canes.
What easy DIY holiday gifts will your kids be be making and giving this holiday season? I'd love to hear your family's ideas! It's time to start saving some serious cash by getting our crafting and gifting on, friends!
The following two tabs change content below.
Anne is a mother of four, a 10 year old boy and 6 year old triplet girls. Always looking for a creative outlet, Anne sometimes hijacks her kids' parties, projects, and costumes to get her fix. (Even though they'd rather have their party at a moonbounce place and their costumes from a store). She blogs at onceuponamom.net where she writes funny and sometimes poignant posts in the hopes of lifting up other moms as they travel the chaotic, beautiful road of mothering.
Latest posts by Anne Metz (see all)