We love doing family campfire dinner nights around here. If it's not the dead cold of winter, you can often find us cuddled up around the fire enjoying the evening. The convenience of having a family date in your own backyard can't be beat! Plus, it's something all four of us genuinely enjoy, and it's a low-cost way to spend quality time together outdoors. Even better, if you use these time-proven hacks to make the night flow smoothly, the stress of managing the evening clears out and makes room for lots of fun and special memories!
10 hacks for an easy family campfire dinner night:
Keep the menu simple. It might sound boring, but we know what we like, and my kids like knowing they can look forward to the same treats every time we do a campfire dinner, so we always stick to hot dogs, smores, popcorn and maybe some veggies or fruit we have in the kitchen.
Organize in the kitchen and carry everything down on trays. This is my favorite hack, because after I figured it out, doing a campfire dinner became so much easier! I typically put all the hot dog items on one tray, and the smores items on another. That way we can easily carry the specific items we need right out to the fire whenever we are ready to use them.
Set up a camp table as a supplies station. This helps keep the area right around the fire tidy (i.e. less kids stepping on ketchup-covered plates!). It also prevents animals, mainly our food-crazed chocolate lab, from nosing into the food stash.
Use disposable items. Outside is dirty and marshmallow-sticky fingers don't help. We burn our paper plates and napkins in the fire, but it's easiest to just toss plasticware and wipes at the end of the night. Bonus tip: Buy the heavy-duty plates! With getting bumped around by being outside and around kids, it's worth it. Plus, the heavier plates serve well as assembly surfaces for smores and hotdogs!
Be prepared. Speaking of wipes and trash, I always carry out a case of wipes and a bag for trash. If you want to make it really nifty, grab this easy wipes dispenser and one of these cool disposable trash cans (opening up the plastic bag to toss stuff can be tricky with messy hands). And make sure to take time to set up all the campfire dinner tools you will need around the fire before getting started.
Fill up plastic water bottles for each family member. Campfire dinner foods make you thirsty, so you'll need lots of water! Anything you put in a cup is bound to get spilled, plus it's nice for everyone to have their own water bottle to stash beside their chair.
Get the kids to help. They help us carry everything down and are responsible for putting items and trays back on the table after we use them.
Set a tradition. After we're done eating we have a silly tradition where they put on a show for us using "props" from the garage (or check this cute prop set–my kids would be so creative with this!). While they practice, Mom and Dad get to kick back and enjoy some downtime. If performing isn't your kids' thing, no sweat–find a game or something that is fun for your family and look forward to doing it after every campfire dinner.
Family story time! After the performance is over, we all sit around the campfire and play story-down-the-lane. The kids ADORE this idea. One of them starts it, one continues it, Mom chimes in, and then Dad ends the tale. Or maybe we'll loop through each family member a few times.
Keep clean-up light. We carry in all the food at the end of the night, but the chairs and the table can wait until morning. For now, go cozy up in bed and enjoy that warm fuzzy feeling of having just spent a special night with your family!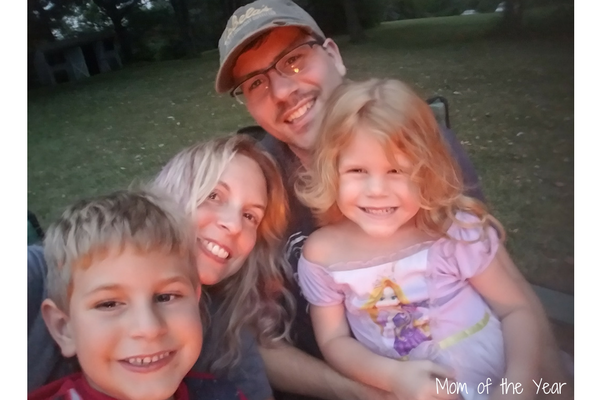 Your next family night? Consider the plans set! Use these easy hacks to make your campfire dinner a smooth success and get ready to relax fireside, friends.
****************************************************************
For the full list of products that will help make your campfire dinner night a win, check out the idea board I curated on Wayfair–it includes everything you'll need for a super family evening!
 ****************************************************************
Recipe for campfire popcorn: Add a 1/2 cup of kernels and 1 Tbsp. of coconut oil to the popper and shake gently over the fire until popping slows down. Allow to cool and pour out onto plates, salting to preference. Easy-peasy and yum!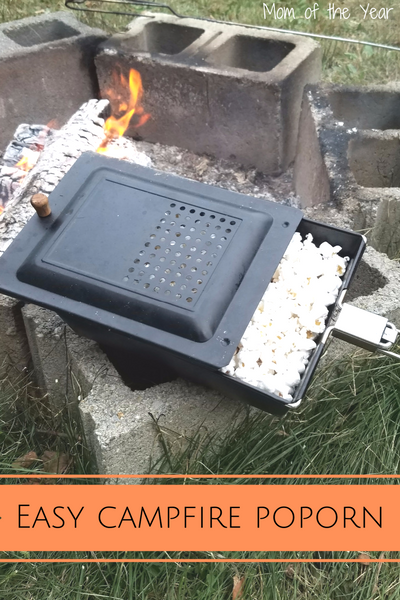 ****************************************************************
For more fall fun inspiration, grab some of these fantastic free Halloween printables from Wayfair!
The following two tabs change content below.
Meredith blogs at The Mom of the Year, where she dedicatedly earns her title one epic parenting fail at a time, offering quick, relatable laughs for fellow parents and all their empathizers. She has been part of several best-selling anthologies, featured on prominent sites such as Huffington Post, In the Powder Room and BlogHer, and loves her role as the Executive VP/Operations Manager of The BlogU Conference. When she's not breaking up fights over Legos and juice boxes, she remains fully committed to sharing a less serious look at the world of parenting.