Friends! It is two months until THE Big Day! And I don't mean Black Friday, as much as I adore my bargain-scooping holiday. Nope, on November 25, 2016, Netflix is rolling out the long-awaited, much dreamed about return of our beloved Gilmore Girls with the release of four new episodes. I know. I'm crying tears of joy in my coffee coffee coffee too!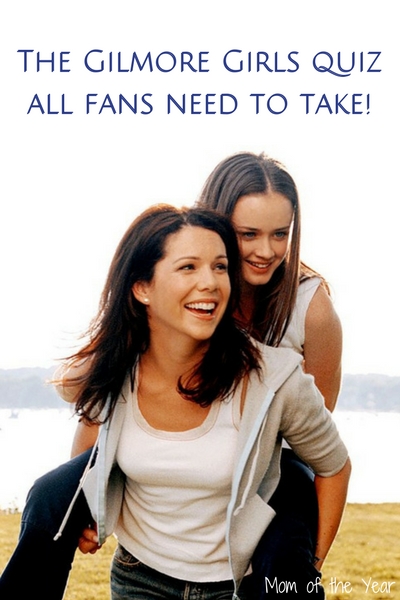 We LOVE our Gilmore Girls around these parts, so we decided to share a nifty treat with fellow superfans–an original, well researched (oh darn, such a sacrifice to have to rewatch old episodes for "work") Gilmore Girls quiz designed to test how well you really know our girls. Grab a pen and paper and enjoy!
Gilmore Girls Quiz for the Superfans:
What year was Stars Hollow founded?
What is Maury and Babette's cat's name?
What do Rory & Lorelai name Luke's tool box?
Who does Emily's dress maker, Miss Saline, think Rory looks like?
How many Lorelais are there?
How many yellow daisies does Max propose to Lorelai with?
Who sings the theme song?
Where does Rory stay when she stays out all night after her school dance?
What color does Lorelai paint Luke's diner?
Emily and Lorelai dress in what outfits for the Chilton mother/daughter booster club fundraiser?
What does Luke give Lorelai for a wedding gift?
What does Luke carry in his wallet since the first time he met Lorelai?
Where does Jess work when he's supposed to be at school?
Where does Lane get proposed to?
What is Luke's daughter's name?
How does Luke discover he is a father?
How many Thanksgivings do Lorelai and Rory attend in Season 3?
Who does Dean marry?
What does Lorelei name her dog?
What movie does Lorelai, Luke, Rory and Dean see on a double date at the Black-White-Read Bookstore Theater?
What is the theme to Liz and TJ's wedding?
When do Lorelai and Luke first kiss?
What are the names of Sookie's children?
How old was Lorelai when she had Rory?
After Rory & Paris get drunk on Founder's Day punch, what does Lorelai feed them?
In the series finale, who throws Rory a graduation party?
Why does Stars Hollow have the knittathon?
How does Lane get to her baby shower?
What do Emily and Richard give Rory as a Chilton graduation gift?
What karaoke song does Lorelai sing to Luke?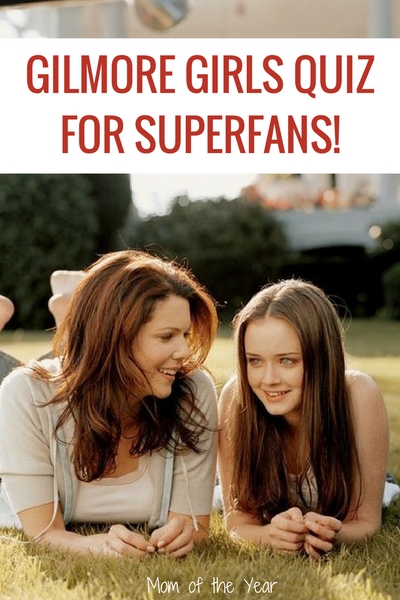 Answers to the Gilmore Girls Quiz!
1779
Cinnamon
Burt
Audrey Hepburn
3
1000
Carole King
Miss Patty's dance studio
Green
Red suits
A huppa
The Scorpio horoscope she wrote and gave him, "You will meet an annoying woman today, give her coffee and she will go away"
Walmart
Luke's diner
April Nardini
April's science fair project
4
Lindsay
Paul Anka
Pippi Longstocking
Renaissance
At the Dragonfly Inn opening
Martha and Davie
16
Tacos and fries
Luke
To save the Muddy River Bridge
They roll her in her bed to Miss Patty's, because she is on bed rest
A car (a Prius)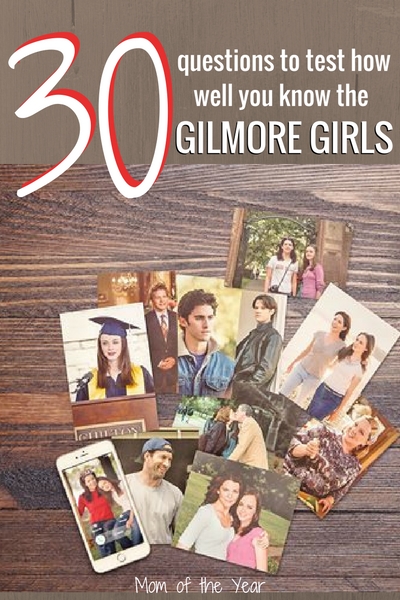 What your Gilmore Girls Quiz score means:
Tally 'em up and let's see what kind of Gilmore Girls fan you really are!
0-9 correct: I don't want to say I'm ashamed to be associated with you, but…Listen, we can fix this. Go order the whole series now or queue it up on Netflix and get watching. Abandon all other life activities in pursuit of this noble goal. After you run through it 17 times or so, pop back in and then give this quiz a real go!
10-19 correct: I get it–some time has passed since you've hung out with the girls, Maybe silly things like kids and life got in the way. No worries, it's just time for a tune-up. Declare a Mommy break–your four year old can totally handle cooking dinner, right? Priorities. And get excited, because our reunion with the girls is coming!
20-30 correct: You are my people. Welcome. We are going home, friends. Home to the wonderful world of Stars Hollow and our gals. Let the countdown begin and I'll meet you on the couch on 11/25!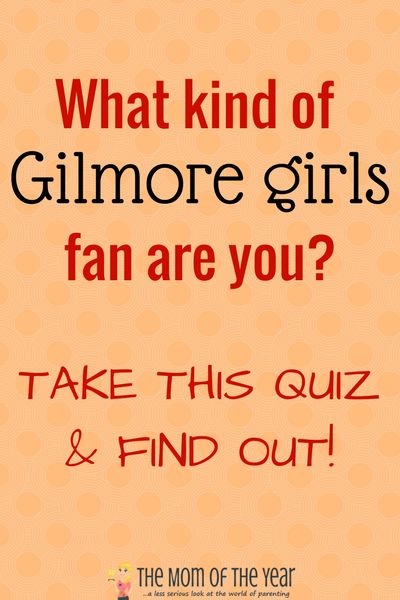 Fun Gilmore Girls quiz bonus question:
Amy Sherman-Palladino reports that she knew what these four words from the very start of the show–but WE don't know what they are. Make your guess as to what these words are are in the comments below. If we discover in 2 months that you were right, we've got a very special Gilmore Girls treat (seriously, it's sweet!) coming your way!
*****************************************************
And a final question about what REALLY matters: #TeamDean, #TeamJess, or #TeamLogan?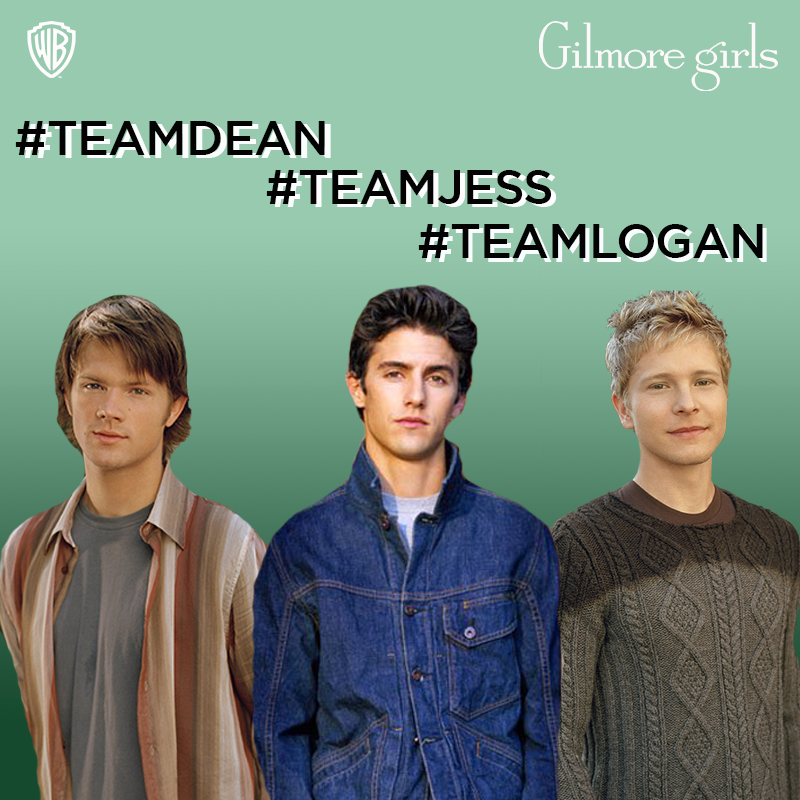 While rumor has it that Lorelei is solidly established with Luke, we hear that Rory's love is still up in the air. True story, until last week, when rewatching Season 6, Episode 8 while tackling our family's laundry mountain, I was a solid #TeamDean. Now with fresh eyes, I have become completely, whole-heartedly #TeamJess. The beauty of Rory and Jess became very clear, and I'm raising my pompoms as I cheer on our favorite bad boy. But who are YOU rooting for? Scoop us!
We're on the brink of an epic era, friends. Gilmore Girls is COMING BACK. Let's ring it in with effusive glee together!
The following two tabs change content below.
Dawn Koller
Dawn Koller is a part time event planner and mother of three. Her children are 12, 8, and 6 years old. She understands the busy schedules of three children and is learning the ins and out of having a child in middle school. She has worked part time since having her children and spends most of her free time volunteering at their schools. She enjoys kayaking and cooking. If she was a better singer, her dream would be to perform on broadway. Dawn has been a part of MOTY in the back ground for 2 years. She has consulted on the ins and outs of parenthood and wrote a guest blog. She works part time managing the social media of the blog and enjoys reading all the comments that the viewers have. Dawn is thrilled to be a part of such a positive and real aspect of motherhood; The Mom of the Year helps bring smiles to all the moms, (and dads) who love this beautiful gift of parenthood.
Latest posts by Dawn Koller (see all)