We are in the thick of produce season, moms! Every year at this time I tickled to grab fresh, local produce and eat delicious vegetables grown in my hometown. If you followed along with my tutorial on how to build a raised garden bed at the beginning of summer, you may already have an abundance of fresh veggies right in your backyard. If you don't have a green thumb or the space to plant a garden, don't fret! Remember in how I said it took quite a few years for my gardening skills to get their act together? In the meantime, every year I would join a CSA and as a matter of fact, I still do it!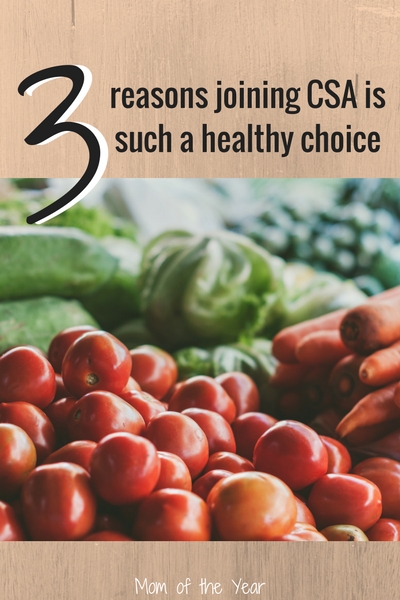 Just what is a CSA?
A CSA stands for Community Supported Agriculture and is a fantastic way for residents to all join together to support a local farm, and in turn get an overflowing box of their produce every month! Many farms do either a full share CSA (meaning a full box every week) or a half share CSA (meaning either a box every other week or a half size box every week). To get an idea of what will work for your family, a full share can easily feed a family of five every week and a half share is aimed more towards three people. Prices vary by farm but I have found that it is very comparable to going to your local grocery store and buying organic vegetables.
What comes in a CSA box?
A box will come full of in-season vegetables and sometimes fruit, every week it will vary depending on what is in season. Sometimes you will even get vegetables you have never cooked before! This makes it fun for the whole family to try new foods. Also, some vegetables have a long growing season, like zucchini, so you can have fun experimenting each week with different ways to cook them!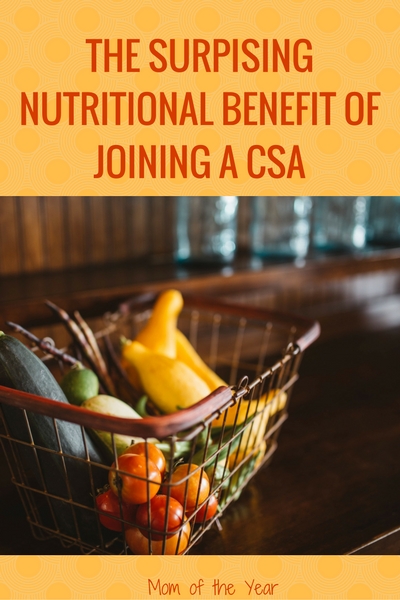 Why should I join a CSA?
Other than having your own garden, you really cannot get any fresher than a CSA. Did you know in many grocery stores, fruit and vegetables are picked before they are fully ripe since they have a long journey and wait on the shelf ahead of them? Picking fruit and vegetables before they are ripe actually lessens their potential nutritional content and with picky kids that decide two bites of "green stuff" is enough, I need as much nutrition packed into a bite as possible!
In addition, helping to support a local farm is invaluable, especially when farming is becoming harder to sustain due to so much outsourcing for our food.
The chance for your family to taste new and different vegetables throughout the growing season is a fantastic way to grow your meal repertoire and reap the different benefits a variety of produce offers.
Where can I find a local CSA?
It's simple! Head over to www.Localharvest.org to find out what farms near you offer this marvelous program.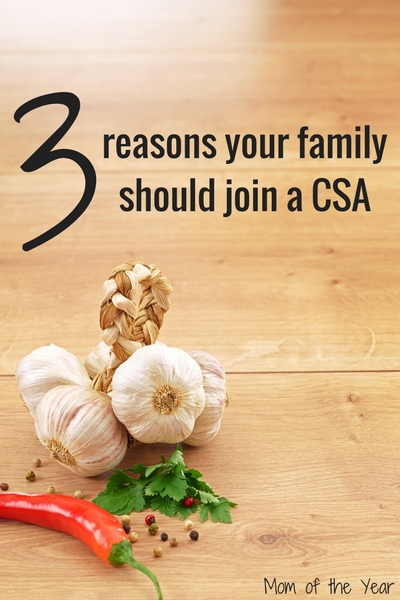 In a world of quicker and cheaper is better, it is priceless to be able to help farms continue their traditions of growing real, local food, so that generations to come can always have access to fresh produce. I don't know about you, but I never want my grandkids asking me "Grandma, what was a farm like?" Joining a CSA is exciting for your whole family to partake in and if you're lucky maybe it will even convince your kids to eat their vegetables! If not, you can always just keep bribing them with popsicles like me 😉
Give a local farm your support and join a CSA, friends!
***Last image credit: depositphotos.com, image ID:48942675, copyright:aa-w***
The following two tabs change content below.
Lindsay Houser
When Lindsay isn't fielding three-nager temper tantrums and scraping Play-Doh off the floor, her passions are the great outdoors, cooking, creating, and healthy, holistic living.
Latest posts by Lindsay Houser (see all)