Now that's been a couple of months since I planted my raised bed garden, I am up to my ears in fresh vegetables and herbs! This makes my wallet content because it means I can dry and store my herbs and never have to buy them at the store throughout the year. With so many herbs, I needed different ways to store them so that I'm not overwhelmed. I found five fantastic ways to preserve herbs for the entire year!
There is a little more than just cutting your herbs if you want to store them. Make sure there are no brown or wilted leaves as those stems have less nutrients. Also, plants exhaust more energy and nutrients in the sun so be sure to cut your herbs before the sun gets to them the day of harvesting. When cutting an herb, cut close to the ground if cutting the whole stalk, or if cutting leaves, cut close to the stem so the plant can heal after cutting.
Ready for the 5 fantastic ways to preserve herbs for the entire year?
Drying
There are 2 easy ways to dry herbs, the oven, or air drying. If using the oven, place the herbs without overlapping on a cookie sheet with parchment paper. Bake at 250 until the herbs lose their bright color and feel crispy (this should take about 20 minutes depending on your oven). If air drying, tie a bunch of herbs together and hang upside down in your kitchen. In about 3-5 days they should be dry. Once dry, crumble the herbs and store in old herb containers or Ziploc bags so they are easy to access for the rest of the year!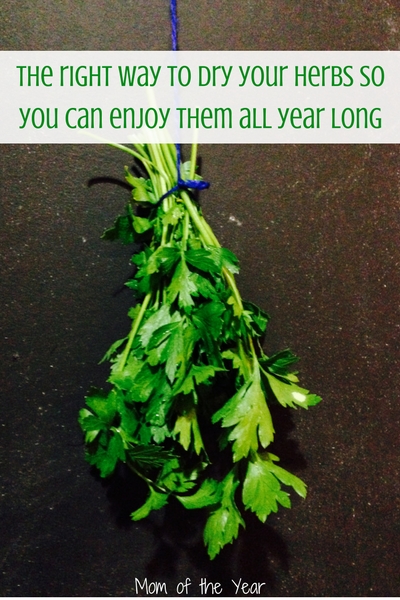 Freezing
If you prefer fresh to dry herbs in your meals even during the winter, there is still a way! Finely chop your herbs, place in an ice cube tray, fill with water and freeze! The ice will keep the herbs nice and green and it is simple to pop out an ice cube and add to any pan or pot! I like to make an herb medley so I don't have 6 different ice cube trays taking up space (I need that space for ice cream!). Have fun experimenting with what herbs to freeze together for something your family will love!
Butter
Is it just me or does herb butter sound like something on a fancy restaurant menu? Melt butter and add in whatever finely chopped herbs you prefer. My favorite blend is rosemary, sage, and parsley, but have fun experimenting! Once everything is mixed, pour into ice cube trays and freeze. To save room in your freezer, once the butter freezes, pop out and put all of the cubes back in the freezer in a labeled Ziploc.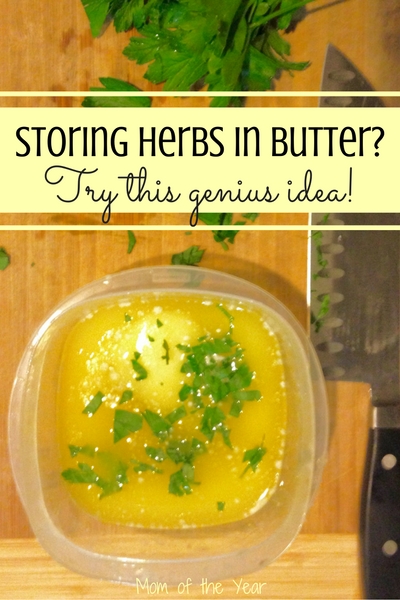 Oil
Maybe it's the Italian in me but nothing is better than a loaf of bread with dipping oil. Simply buy a bottle of Extra Virgin Olive Oil, crumble your dried herbs, and put them inside the bottle to medley flavors over time.
Salt
Another easy seasoning to make with your herbs is seasoned salt. Buy a bottle of sea salt, crumble your dried herbs and mix together. That's it! If you want your salt to be even more mixed together, you can put everything in a food processor and pulse. I personally don't (because that means more dishes) and it still tastes wonderful!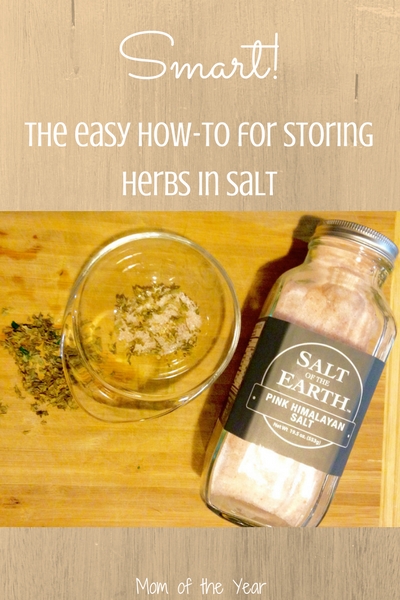 These five easy ways to preserve herbs leaves only one question…which will you try first? Growing herbs is so easy to do, you'll never have to buy them at the store again!
The following two tabs change content below.
Lindsay Houser
When Lindsay isn't fielding three-nager temper tantrums and scraping Play-Doh off the floor, her passions are the great outdoors, cooking, creating, and healthy, holistic living.
Latest posts by Lindsay Houser (see all)