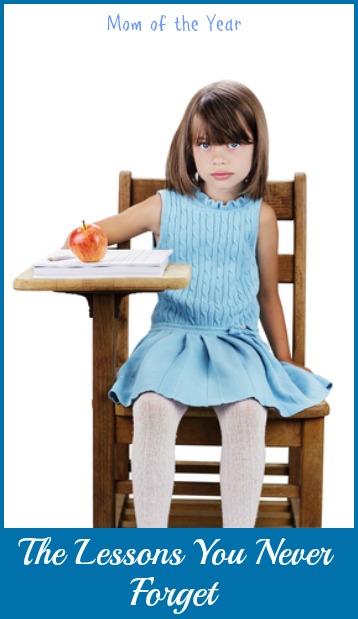 I'm very happy and grateful to once again have Kathy Radigan of My Dishwasher's Possessed! as a guest blogger, this time with a post written especially for Mom of the Year.
As most of you know my son has been having some challenges in first grade. Back in the 70's, Kathy had her own difficulties with the same grade. That she still remembers it is a testament to how those early memories can stay and influence us even as adults. I thought it would be fabulous if she shared what she learned from that time and how she has used it to help her own three children deal with their learning differences.  
Forty-five years ago I was in the first grade and miserable. I was accustomed to grown-ups who really liked me, but my teacher was the first adult who didn't seem to care for me at all. She was an older woman who had no patience with my being slower than the other kids at cutting, drawing, and packing up my bag. I was also usually the last one to zip my coat, and I needed help tying my shoelaces.
The fact that I could express myself easily with a vocabulary more suited to an adult than a five-year-old did not impress her. She had no problem scolding me in front of the class, which I'm sure did nothing to help me move or learn faster. I was a quirky kid, and I was used to feeling different. But I had never once felt dumb or even bad about walking to the beat of different drummer. That was starting to change. For the first time in my life, I was miserable and really started to feel stupid.
Each night when I said my prayers, I asked God to help me.
Then one day I was sitting in class and the principal came in and told me and another kid to get our things because we were being moved to another classroom. I think class size was the reason we were given.
Wow, my Sunday school teacher was right. God really does listen to our prayers. This was great!
I was moved to a class with a much younger teacher who never got mad at me when I didn't understand something. She would just explain it again. I started to read and was able to finish my work in a timely manner. I was happy once again. Life was good.
Years later I learned the story behind what happened. My first teacher used the "R" word to describe me to my parents and went through a laundry list of things that were wrong with me. It was her feeling that I should not be in the first grade and should be tested to see if I should even be in a regular school at all.
My parents spoke with my pediatrician and my kindergarten teacher, who both reassured them that I was a bright and creative child. They both chalked up some of my issues to the fact that I had a late October birthday and was one of the younger kids in the class. My parents had the school test me, and they were told that I had a high IQ and should be fine to continue first grade. It was assumed that my teacher was just not right for me, and that if I was in a different environment, I would do much better. Once I was with the new teacher, everything improved.
Through the years, I continued to have problems with school. The feeling of being stupid never really left me. It seemed no matter how hard I worked, I could not always see the results of my efforts. When I was 14 it was finally discovered that I was dyslexic.
My first-grade teacher was not right about me. But she was not entirely wrong either. She did see something wrong. She just did not have the knowledge or skill to really help me.
More than 25 years after that first-grade experience, I became a mom. At times when professionals or teachers told me something about one of my kids that was hard to hear or didn't ring true, I have remembered my first-grade teacher. Yes, she was right to think that something was wrong. She saw a problem that no one else had identified,  but her solution was way off.
When it comes to my kids, and I'm dealing with the professionals and experts, I have to have enough sense and humility to pay heed to their training and skill and know how it might help my children. As I parent, my job is to recognize when one of the pros may have tried to reach beyond their level of expertise and failed to grasp what makes my child so special. This has turned out to be one of the best lessons I could have ever learned and for that I'm grateful to my first grade teacher whose name I can no longer remember.
Kathy Radigan is a writer, blogger, social media addict, mom to three, wife to one and owner of a possessed appliance. She posts a weekly essay each Sunday on her blog, My dishwasher's possessed! Kathy is the author of the viral post An Open Letter to My Teenage Son About Drinking. She is a Huffington Post blogger and a frequent contributor to What the Flicka and Scary Mommy.. Her work has also been featured on, Yahoo, Elephant Journal, What to Expect,and other online publications. Kathy lives outside New York City with her family. You can follow her on Facebook, Twitter and Google +
The following two tabs change content below.
Meredith blogs at The Mom of the Year, where she dedicatedly earns her title one epic parenting fail at a time, offering quick, relatable laughs for fellow parents and all their empathizers. She has been part of several best-selling anthologies, featured on prominent sites such as Huffington Post, In the Powder Room and BlogHer, and loves her role as the Executive VP/Operations Manager of The BlogU Conference. When she's not breaking up fights over Legos and juice boxes, she remains fully committed to sharing a less serious look at the world of parenting.