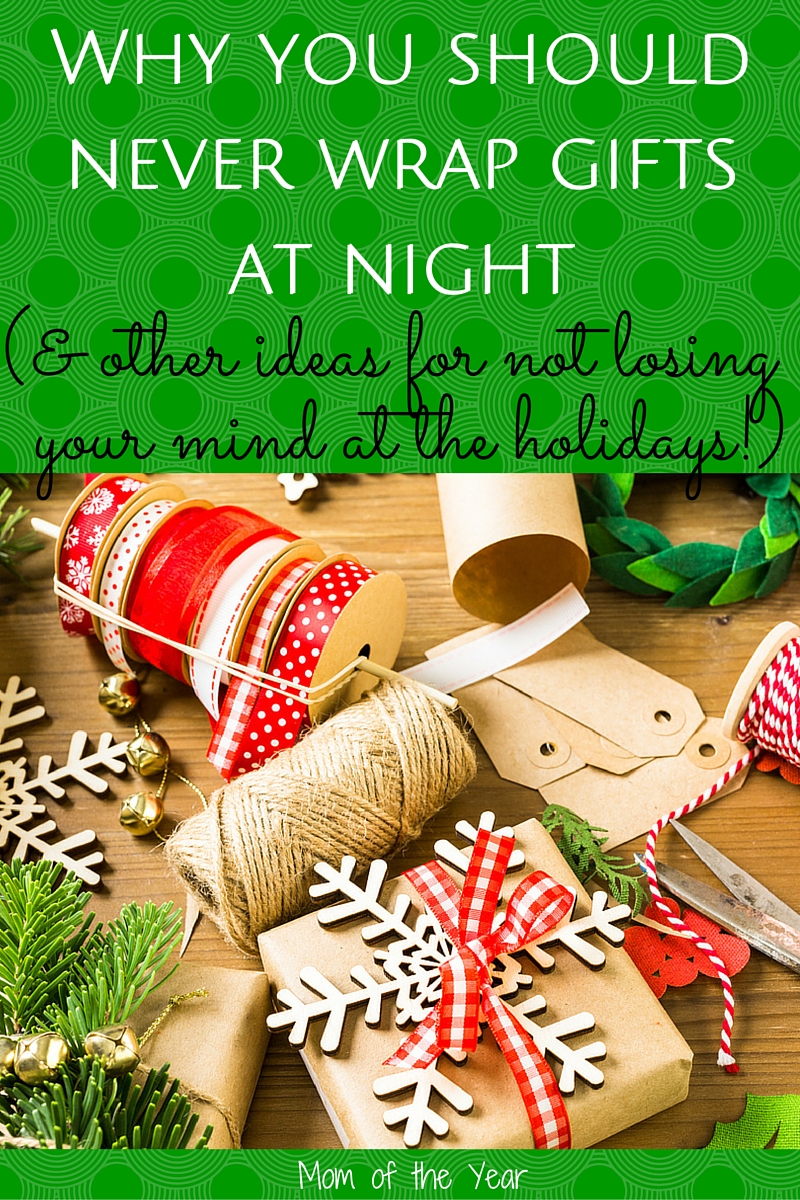 It was a relatively calm, peaceful night. The kids were nestled all snug in their beds, and my husband was snoring away while I silently cursed my way through a pile of Christmas gifts with a cheap roll of wrapping paper and some unruly Scotch tape that I was pretty sure hated me.
Truth told, I find this whole Winter's Eve season to be a tad on the stressful side. The boatload of extra work assignments, 1st grade spelling tests that refuse to quit, the sharp drop in temps, a general hysteria of class parties, and oh, ALL THINGS CHRISTMAS, most notably a Christmas tree that definitely hates me even if the Scotch tape doesn't.
But you know, there I was taking one for the team in the wee hours of the night, finishing up the wrapping, getting ready to cozy in bed, and generally minding my own business, when IT happened. My nose started bleeding. Now, while I'm not typically prone to nosebleeds, I'd already had a few this season, so it should be noted that at first, my reaction was of the calm, logical sort. I stuck a tissue in my nose and continued fussing over my nighttime ritual.
Yet it didn't stop. I started getting a little antsy.
And it still didn't stop. I had to put my book down because I was unable to focus on the words as the initial waves of panic rolled in.
I shifted position, squeezed harder and focused on breathing slowly. It still didn't stop.
And then I freaked out. I felt hot, dizzy and as if I needed to crawl out of my own skin. I've had this extreme reaction before a few times in my life when something weird was happening with my body (like giving birth, for example). My mother long-ago noted from that I might do well to rule out a career in the medical field as I "didn't handle blood well." She was right.
I looked at my peacefully sleeping husband, hesitated for a minute, and then thought, "No, he would want to be with me in my last minutes."
He did not.
He moaned a grouchy moan, and I only shook him harder, "Jared, I understand you are tired, but I AM DYING. You will have to wake up."
As he finally righted himself to a sitting position, I explained. "My nose is bleeding severely and it won't stop."
"You woke me up for a nosebleed?"
"It is NOT JUST A NOSEBLEED, JARED! There is something seriously wrong." My eyes welled up and the first tears started to fall. "I think it's a tumor…," I whispered.
I chose not to look at his face as I grabbed for fresh Kleenex. I'm sure the blow of the news was crushing to him, as he remained utterly silent.
"You are going to have to deal with this. I can't breathe right any more. Call 911."
"It's a nosebleed."
My tears turned to wails, "You might at least have some compassion!" I choked on a sob, grabbing his arm, "You'll tell the children I loved them?"
He audibly rolled his eyes (this can be done), and shifted over bedside me, "What can I do?"
"I need a vomit bucket," I tragically pleaded.
"Your nose is bleeding and you need a vomit bucket?" He was baffled.
Now I was getting annoyed, on top of trying to die, which is a very tricky combination to execute calmly, "THEY'RE RELATED, JARED."
He procured the vomit bucket and quietly sat down beside me.
"You could at least rub my back while I die."
He gave me The Look and began patting my back. And there, together, we bravely fought through the sad reality of my imminent, sudden death.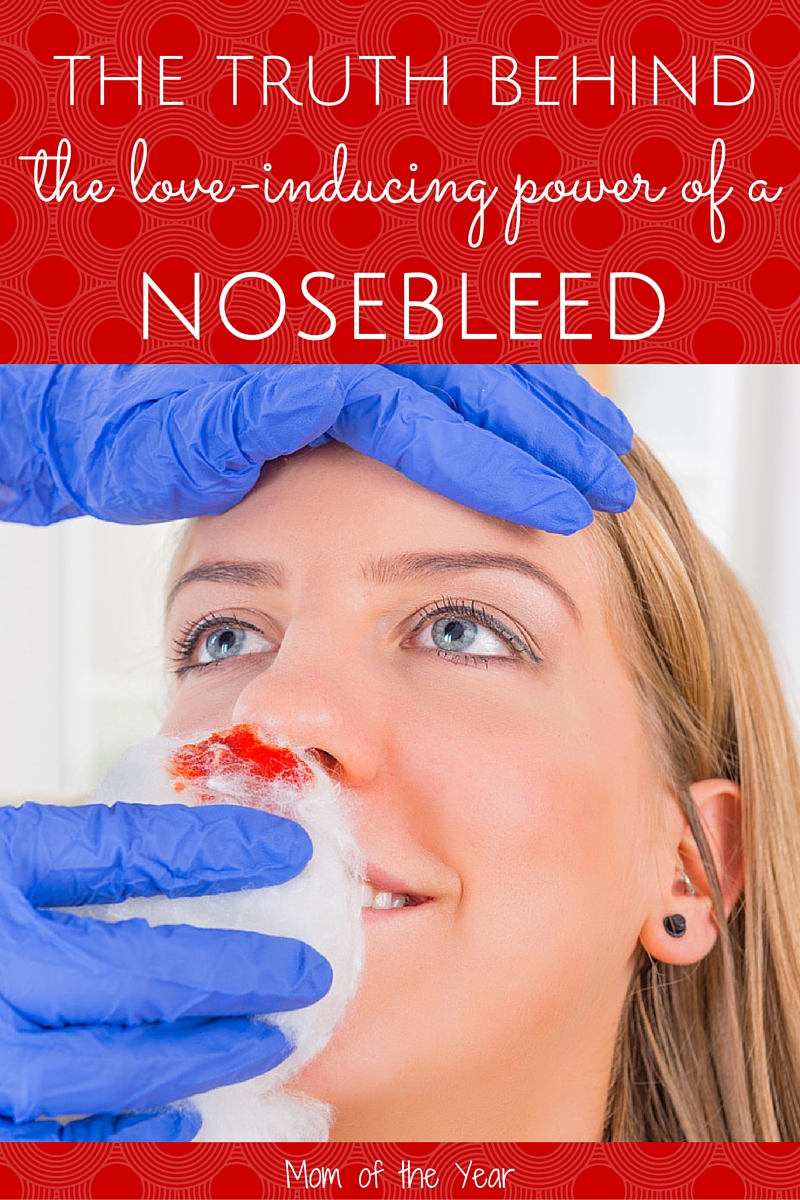 Until my nose finally stopped bleeding. Which, as it turns out, it did. And so the horrific threat of death passed.
As my husband crawled back under the covers, he muttered, "I can't believe you woke me up for a nosebleed."
And this, ladies, this is supreme example of when pulling out our Trump Card. Our one all-powerful, never-fading trump card is always appropriate, "AND I BIRTHED YOUR CHILDREN. YOU'RE WELCOME, JARED. Now please stop talking, I'd like to go to sleep."
Humpff…MEN! 
I can't say the next morning my husband was especially chatty, but I'm pretty sure it's just because he was stoked to go to work and own the gossip for the day with the story of his wife's Near Death Experience. I get that. NDE survival tales are boss.
I'd like to report that the entire Nosebleed Scenario of December 2015 took us to a new level as a couple, but really all I feel certain of is that wrapping gifts late at night leads to problems. Like grouchy Scotch tape, lack of sleep, and nosebleeds. It is therefore my official recommendation that late-night wrapping be avoided at all costs.
May the peace and joy of the season be yours, friends.
*In medical terms, it's called a vasovagal syncope, or sudden drop in blood pressure, common after exposure to a trigger, such as the sight of blood. I'm very proud that I know this term, as I have been calling it the wrong thing for years. I looked it up exclusively for this post to impress not only you, but so I can now say to my husband, "You HAVE to help me. I am having a VASOVAGAL SYNCOPE. It's a MEDICAL CONDITION, JARED!" #TheMoreYouKnow
First image credit: depositphotos.com, Image ID:92459188, Copyright:urban_light
Second image credit: depositophotos.com, Image ID:41215167, Copyright:Amaviael
The following two tabs change content below.
Meredith blogs at The Mom of the Year, where she dedicatedly earns her title one epic parenting fail at a time, offering quick, relatable laughs for fellow parents and all their empathizers. She has been part of several best-selling anthologies, featured on prominent sites such as Huffington Post, In the Powder Room and BlogHer, and loves her role as the Executive VP/Operations Manager of The BlogU Conference. When she's not breaking up fights over Legos and juice boxes, she remains fully committed to sharing a less serious look at the world of parenting.