I'm so glad I get to tell you about the funny new movie Daddy's Home on my blog – it's a perfect match for me and my family. You see, Daddy's Home is about two dads working hard to wow their kids, but fantastically blundering it up as they go. And as far as parenting fails, I like to think I corner the market a bit (it IS part of my shtick you know, "earning my [Mom of the Year] title one parenting fail at a time"). Needless to say, I can empathize with the guys in this film.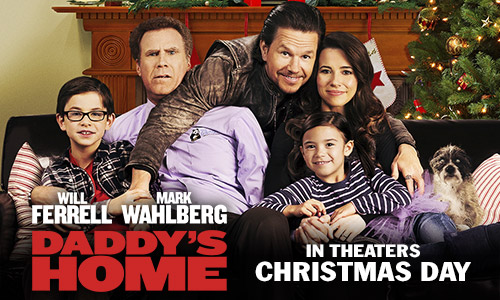 Daddy's Home hits the big screen Christmas Day and follows a mild-mannered radio executive (Will Ferrell–love him!) who strives to become the best step dad to his wife's two children, but complications ensue when their freewheeling and freeloading real father (Mark Wahlberg–eye candy AND funny guy? Double score!) arrives, forcing him to compete for the affection of the kids.
Check out the official trailer:

You want to watch now, right? I know, it looks hilarious! And the the thing is, it's just so darn relatable, no?
True things that have happened while I was trying to do something cool for with my kids:
This past summer my daughter asked me to "fly the stroller down the hill". While she was in it. The part I miscalculated? I was supposed to hold on to the stroller and run with it. As she went perilously sailing free-form down the hill into a grove of trees (NO HARM CAME TO MY CHILD AS A RESULT OF MY STUPIDITY, rest assured), my son stood at the top of the hill with me, shaking his head, saying, "I don't think this was such a good idea, Mom." He's six.
Last year I decided to "spruce up our Christmas tree a bit" while my husband was at work. This happened: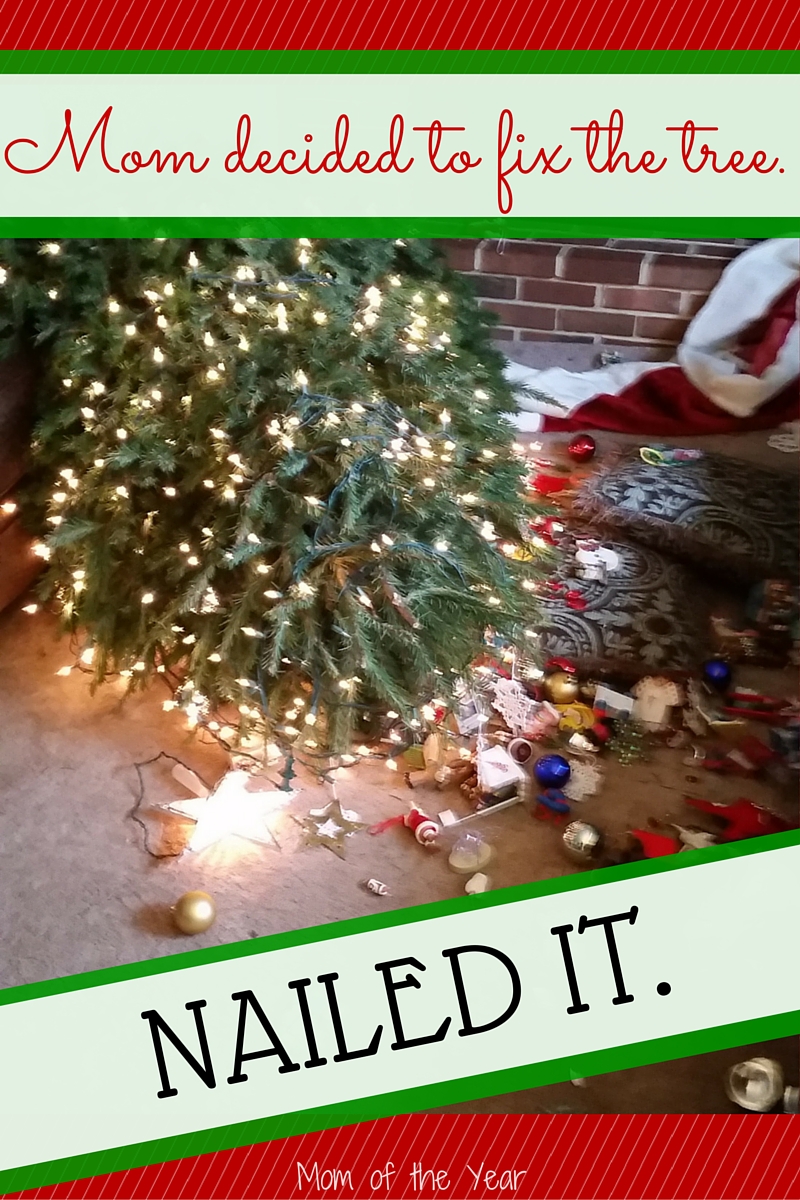 When my son was eight months old, I decided to take him out for a night of shopping and dinner. I'll spare you the long tale, but it ended with him locked in the car, me hysterically calling 911 and the entire local Amish fire department—true story–racing into the parking lot on NOT ONE, BUT TWO FIRE TRUCKS–to free my child from his Honda Civic cage. The entire time? My son looked out the window at me and giggled.
Trying hard this holiday season and flubbing it up a bit? That's the name of the game with parenthood–we keep giving it our all, and then pressing on, even when when we get it wrong. Screaming first visits to Santa included!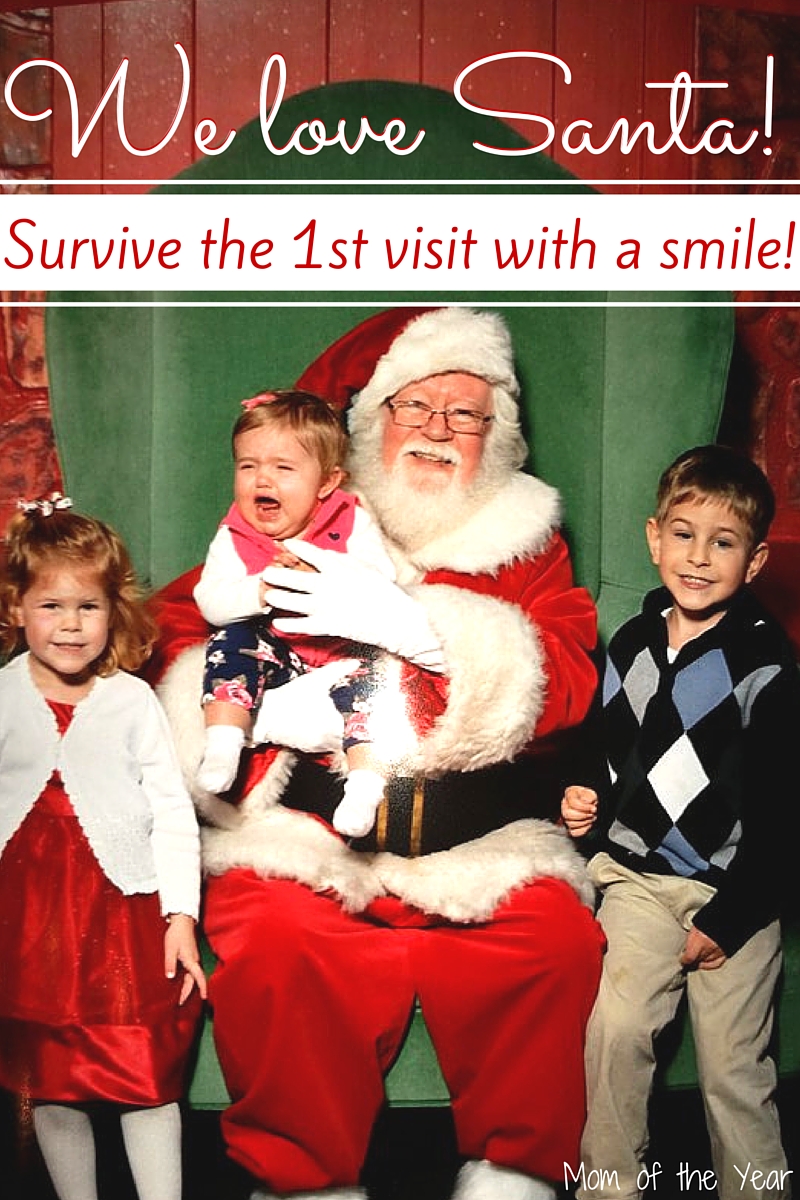 And I'm not the only screw-up in our household. My husband tried hard to help my daughter fancy up one morning in a pretty dress-up outfit. Again, I'll spare you the details, but after about 20 minutes into a good effort gone horribly awry when both of their stubborn personalities were "shining", my son looked across the breakfast table at me, and whispered, "Mom, you and I will just stay here and be the normal ones…"
The kids somehow always know, don't they?
See, we're parents and we're human, so we're going to mess up. But we love them so we're also going to keep trying our best. And that is the good effort.
And that's what the dads in Daddy's Home, in their own unique ways, do for their kids in the movie. Go applaud their attempts, laugh at their gaffes, and feel the touch of sweet heart behind it. This fab film will be in theaters nationwide on Christmas Day, so celebrate the day, then go catch the family-friendly flick at your local theater with the whole gang. With the star-studded cast including Will Ferrell, Mark Wahlberg and Linda Cardellini, Daddy's Home is sure to be a hit!
Follow along with the film on its social channels and official website for updates and to get in on the excitement. Daddy's Home is on Instagram, Facebook, and Twitter. You can also check in with the hashtag #DaddysHome to get in on the fun.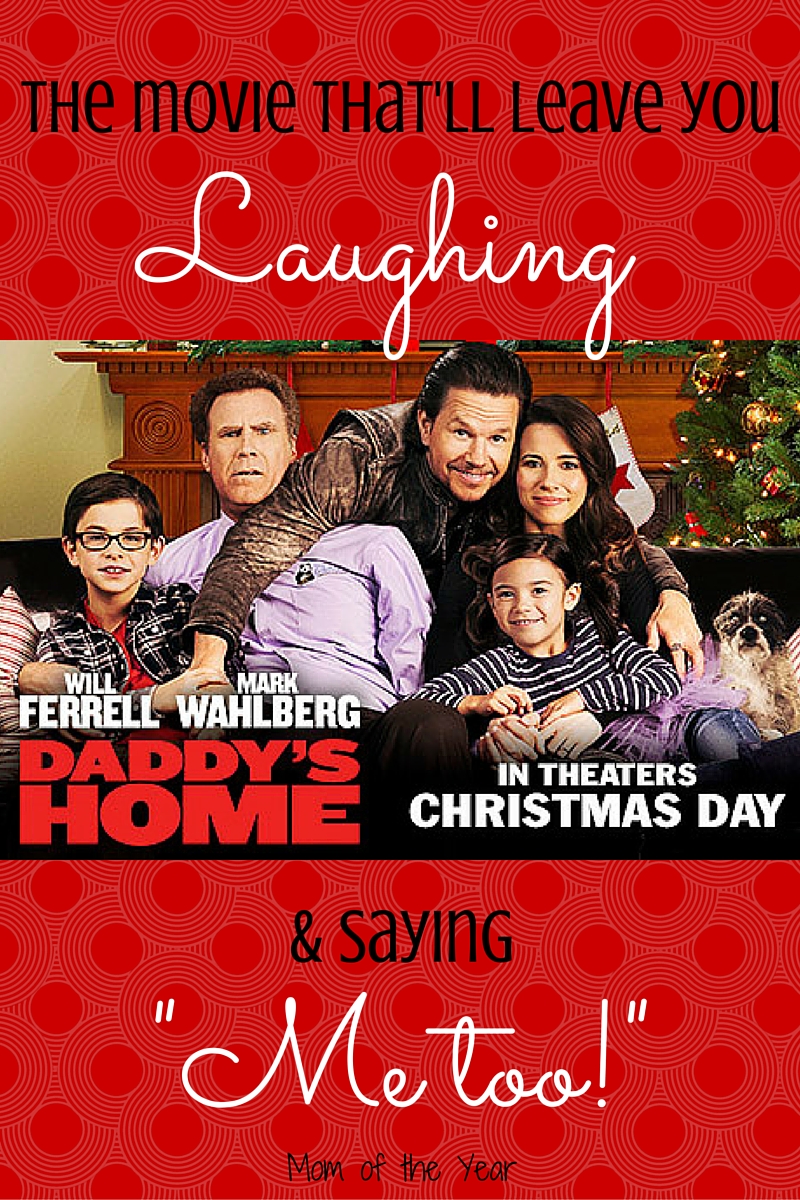 This movie is the "every parent's" movie. It knows the messiness of families and all the fantastic ways we miss the mark daily. It celebrates the hysterical moments along the way and cheers on our good effort to keep loving those kids as best as we can. Full of hysterical fun, and too-relatable parenting fails, you will LOVE THIS! Go get the inside scoop and catch the release day details you need!
It helps us know we aren't the only ones royally botching it all up. Go catch Daddy's Home, friends!
****This blog post is part of a paid SocialMoms and Daddy's Home blogging program. The opinions and ideas expressed here are my own.****
Post a comment below about your hilarious holiday "disaster" for a chance to win $50!
The following two tabs change content below.
Meredith blogs at The Mom of the Year, where she dedicatedly earns her title one epic parenting fail at a time, offering quick, relatable laughs for fellow parents and all their empathizers. She has been part of several best-selling anthologies, featured on prominent sites such as Huffington Post, In the Powder Room and BlogHer, and loves her role as the Executive VP/Operations Manager of The BlogU Conference. When she's not breaking up fights over Legos and juice boxes, she remains fully committed to sharing a less serious look at the world of parenting.