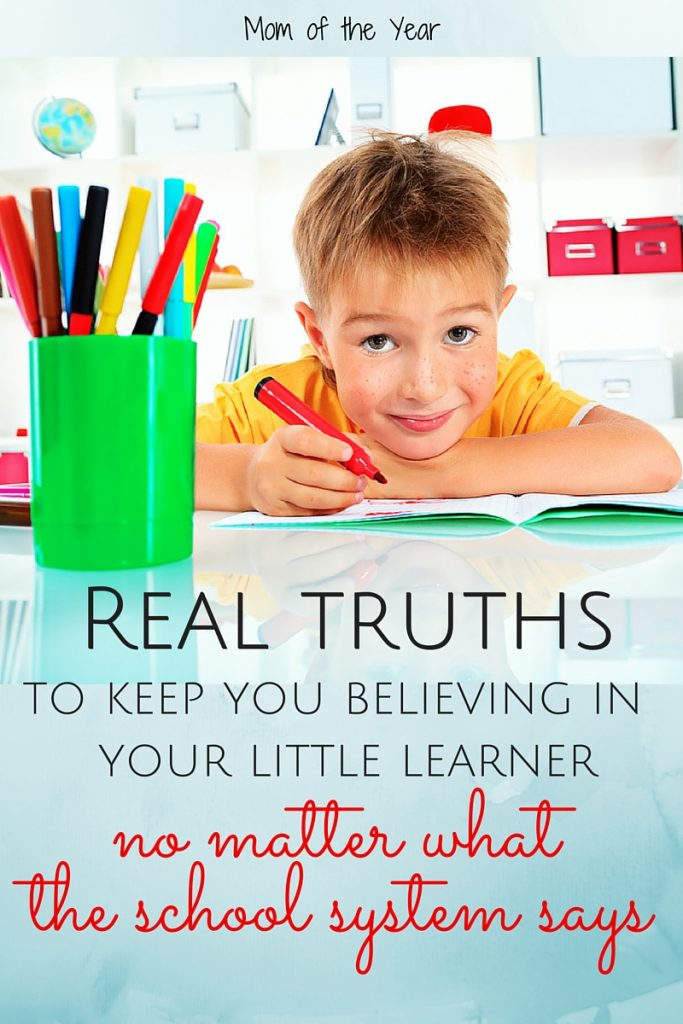 Once upon a time, long about a year ago, I looked at my son, and I thought he was perfect.
Full of flaws within in his perfection, of course. That annoying stubborness (he obviously gets from his father), his overcautious fear of the world, and the fact no matter what he eats he manages to get all over his shirt, but…he was perfect in that he was mine, and was exactly the way God created him to be.
And then I sent him off to school, the place I assumed to be full of positive growth and learning experiences. The place where he would figure out things like how salute the flag, remember to put his smock on before art class, and generally interact with his peers in the larger world.
Since we live in a lovely school district, with wonderful schools, and have encountered nothing but talented, smart, caring teachers and professionals, my assumption has largely proven true. School has been a positive experience for not only my son, who loves going each day, but for our whole family.
Except for one dark undercurrent that is symptomatic of our American schools system at large: the hard, painful part I wrote about this Spring–the part in which my son is presented as a problem to be fixed.
A few months later and the start of a new school year? This mama's heart is still hearing the words, "He isn't normal." It still tears me, crushes me in a way I would never have understood before things like IEPs and "special needs" became not something other kids had, but something my kid had.
After my first phone call with his sweet teacher when she discussed "social concerns" she saw during recess, I hung up the phone and sobbed as my heart broke in a way it never before had, over yet another concern to add to the growing list. You see, last year, after much middle-of-the-night sleeplessness, the support of some incredibly boss friends, and the overwhelming response of readers to my first post about my son's struggles (seriously, THANK YOU), I managed to wrap my head around the truths that he had serious attention issues and was woefully "behind" with his reading and writing skills. But still, hearing now that he was preferring to playing alone and avoiding the other children, rattled, shook, and shocked me just as much as the initial news that he was having difficulties in school.
Why did it shock me? Because I will always think he is "normal". In regard to his social skills, I know he loves laughing and playing with other children. I know he is kind and shares toys. I know he has good friends and how they delight in often hanging out together. He is a socialized and social child. But even if I didn't know these things, I'm never going to label my child "abnormal".
Because I will always believe he is perfect as he is. Because that's my job. God created my son. And he created me to be his mother. Believing in him is my job.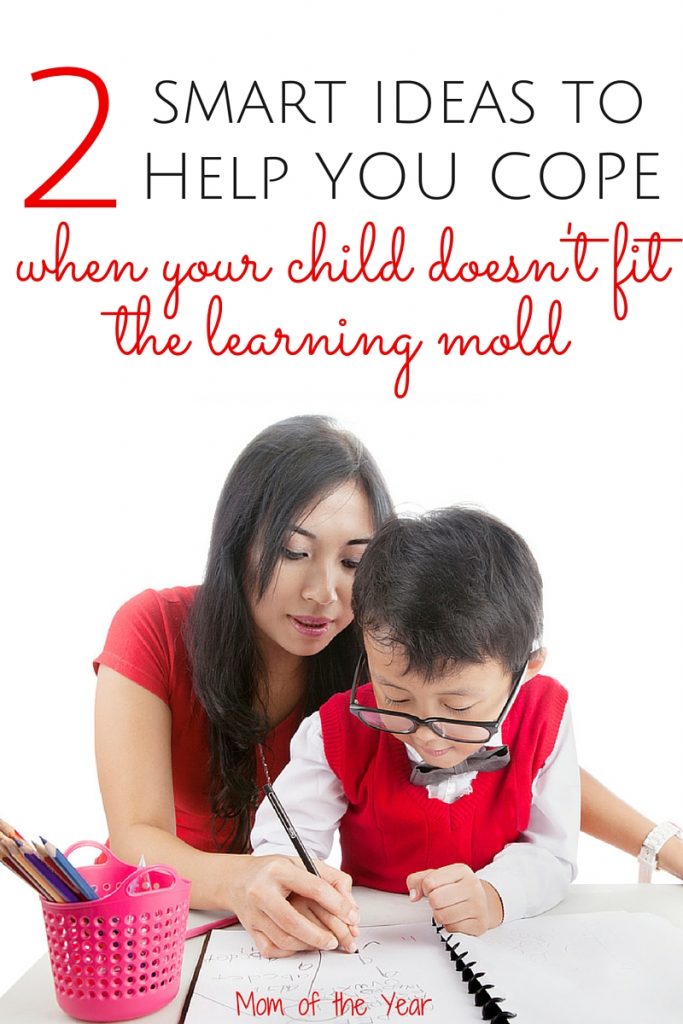 And if I'm going to do this job well, I'm going to have to get a bit smarter about it. My growth in better addressing the situation since the Spring has been twofold:
1) I have learned, and learned well that in today's school system any difference in a child from the prescribed standard mold is not only noticed, it is understood to be something that must be addressed.
For example, when I was in school, if your handwriting was messy or you couldn't complete each assignment within 10 minutes, at worst, you got a bad grade. Today, you get a team of specialists and an individualized learning plan. Not calling for better or worse on the extra attention, just understanding that it's a different world, one in which deviations get A LOT of attention.
So my child's in good company with a whole bunch of deviants who aren't ideally living the "norm". The non-A list crowd is growing in numbers daily. Give it up for the new popular crowd.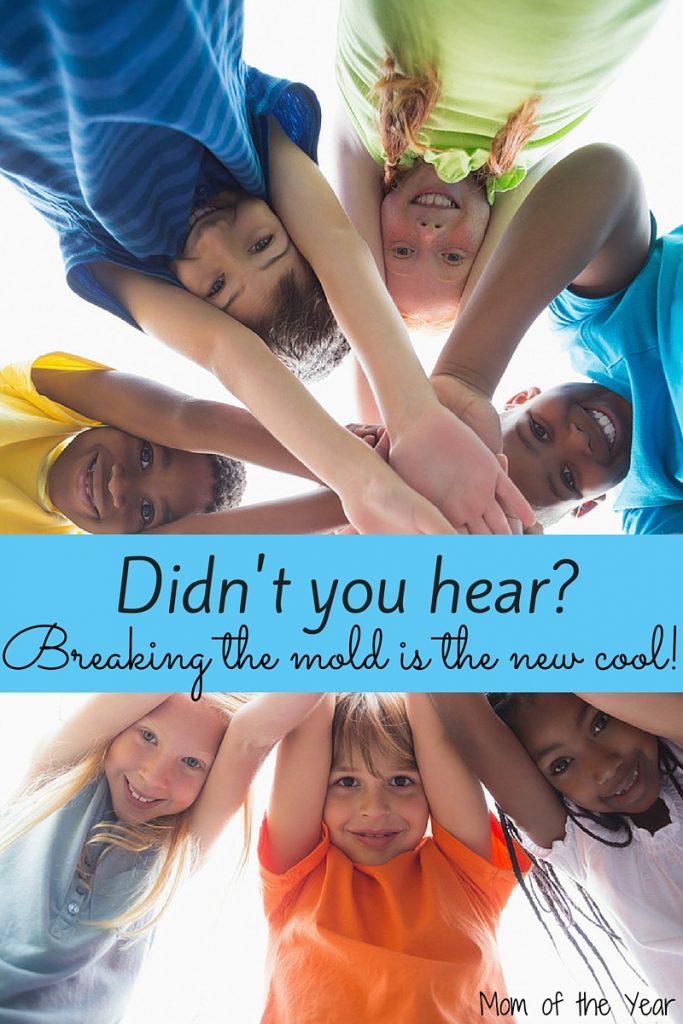 2) I have the power to handle the situation as I see fit.
The are other schooling options. They are far from our current radar, but if our discomfort with the situation escalates, it's nice to know we have available choices.
There will be a team of people around that initial IEP meeting next week, and I will be one of them. And it's darn sure I'm going to make my voice heard.
I can choose to understand the situation. I can grasp that while my son is slow to read, he excels at math; I can know that he is a brilliant individual who is strong in some areas and not others. I can know that, like me, he needs alone time, and that in a jam-packed day, he is not displaying a permanent antisocial behavioral characteristic at recess by playing solo, he is using his sole 15 minute break to decompress before meeting a demanding afternoon.
I can make sure that he knows that above all, I love him just as he is. Wholly, passionately, and with pure joy in whom he has been created to be, whatever that might look like.
So a year ago, I looked at my son, and I thought he was perfect. Then a whole bunch of people told me a whole bunch of stuff. And now I still look at him and still think he is perfect.
And I'll believe that forever and always.
For a related discussion on the value and quantity of the homework assignments our children are given, check out this smart video on VProud.
First image credit: depositphotos.com, image ID:17057441, copyright:prometeus
Second image credit: depositphotos.com, image ID:51608975, copyright:Wavebreakmedia
Third image credit: depositphotos.com, image ID:12808311, copyright:realinemedia
The following two tabs change content below.
Meredith blogs at The Mom of the Year, where she dedicatedly earns her title one epic parenting fail at a time, offering quick, relatable laughs for fellow parents and all their empathizers. She has been part of several best-selling anthologies, featured on prominent sites such as Huffington Post, In the Powder Room and BlogHer, and loves her role as the Executive VP/Operations Manager of The BlogU Conference. When she's not breaking up fights over Legos and juice boxes, she remains fully committed to sharing a less serious look at the world of parenting.