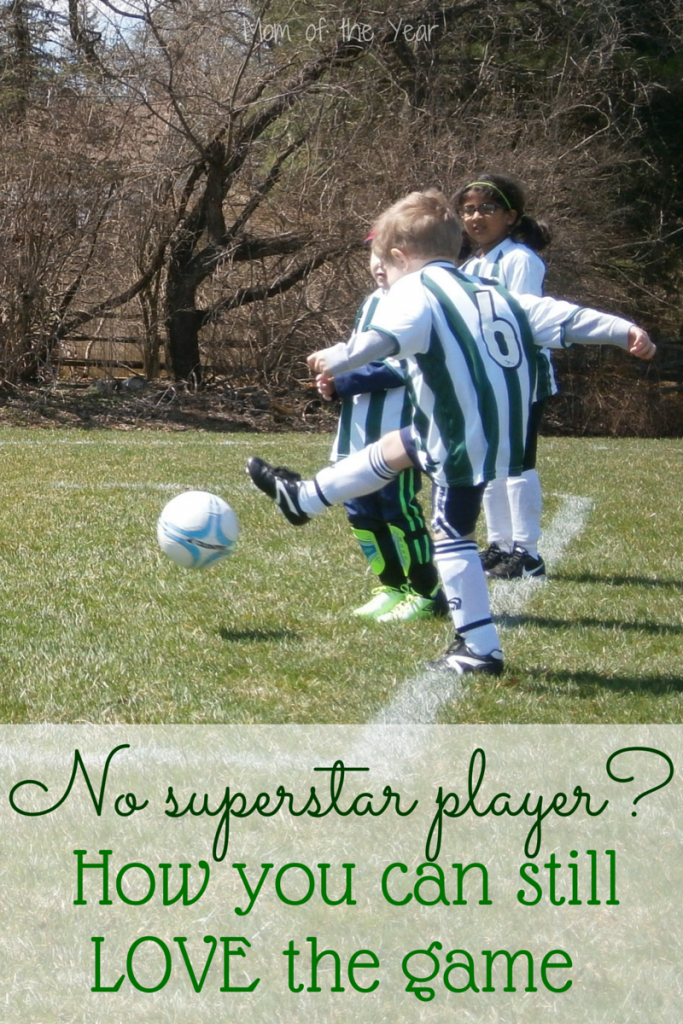 Hello, I'd like to introduce you to the Green Plane Shark Attacks. Lest your nerves quake in fear over the ferocity of this name, rest easy. This is merely what my 5 year old son's soccer team calls themselves. As best as I can figure, the coach gave up on reaching a consensus and allowed each of the four players who showed up to the second practice to throw a word into the mix.
It works. Rather perfectly, actually, as the team themselves is quite a mix.
You see, we were terrified of this whole soccer jazz. I shared honestly about our son's attention struggles last week. We were pretty darn certain his general out-to-lunchness would transfer to the soccer field.
Living in an area where soccer is no joke with travel teams, indoor leagues and private coaching being standard fare, we had more than a little angst that hopping in on the game for fun might not be well received. People around here play, and they play like they mean it.
I'm shocked that I managed to get myself to his first game without a sedative of strong sorts. After a very confused mess of lawn chairs, awkward hellos to fellow team parents, and an abundance of occupying snacks provided to my younger daughter, one of the coaches blew a whistle and we were off.
Off in the sense that the ball was sent rolling on the field while most of the Green Plane Shark Attacks ran as a herd in the opposite direction while staring intently at the clouds. Praise God.
Praise God that my son was not the only one that had not been raised on a steady diet of intense soccer tutorials beginning with in utero drills.
Praise God that the other parents didn't throw things at us while uttering cruel comments under their breath. My friend once told me a story of how her non-superstar son was subjected to some nasty remarks and I've never forgotten it.
Praise God that there were at least two other little dudes who were as hopeless as my son so we didn't feel like we alone were keeping the team from The World Cup qualification.
Praise God also that there are a few gifted players (namely, the two girls on the team) who score goals once in a while to keep the general, prevailing Bad News Bears-esque defeat to overtake their games.
We put our son in soccer because he asked to play. We keep him in soccer because he loves it. He delights in each practice and game.
I'll be straight: I have no idea what he sees in it (other than the trees on the edge of the field and the edge of his jersey he's constantly chewing on). But…but he likes it. He's happy.
There will come a day when enjoying sports for sports-sake isn't enough. Probably next year, when the field gets larger and the on-field coach hand-holding steps back. But for today, it's so much fun for him.
For today, it's so much fun for us. That first panic-inducing game? The most laughs I've had on a Saturday in ages. Cheering our son and his teammates while encouraging them to stop lying down on the field and stand upright? It really doesn't get any better, friends. It's basically the most fun you can have as a parent–ever.
We were recently chatting with a cool friend who coaches a high school community league. He spoke of his passion of his game for its sustainability. Let's face it. Not every player is going to go pro. Allowing kids a safe space to play while exercising and soaking up some fresh air? Instilling a value for this is a healthy, realistic way to care for our children into their adulthood.
Our personal future with soccer looks grim; mostly because our son is not only not a serious player, but not even a player who checks in come game time. But for this one season that I feared, the season over which I nervously, repeatedly tugged on my hair, I am so thankful.
I am thankful to know that we aren't the only ones in our community who have kids who just want to run around and play soccer sans any veritable skills.
I am thankful to know that adults working with far older children see value in joining a sports league solely for the intent of exercise and being active outside.
I am thankful to know that my husband and I can show up, watch our child fail, and still take tremendous pride in who he was created to be.
I love my son. I love the vigor and enthusiasm he throws into his soccer. I love the beautiful way in which he fails and then still laughs and delights in the game he is playing.
Because it is a game, you know. A game meant for fun and for playing.
Happy soccer, friends. Here's hoping you find a game to play in your corner of the world, however it looks.
Second image credit: depositphotos.com, image ID:24811879, copyright:diego_cervo
The following two tabs change content below.
Meredith blogs at The Mom of the Year, where she dedicatedly earns her title one epic parenting fail at a time, offering quick, relatable laughs for fellow parents and all their empathizers. She has been part of several best-selling anthologies, featured on prominent sites such as Huffington Post, In the Powder Room and BlogHer, and loves her role as the Executive VP/Operations Manager of The BlogU Conference. When she's not breaking up fights over Legos and juice boxes, she remains fully committed to sharing a less serious look at the world of parenting.