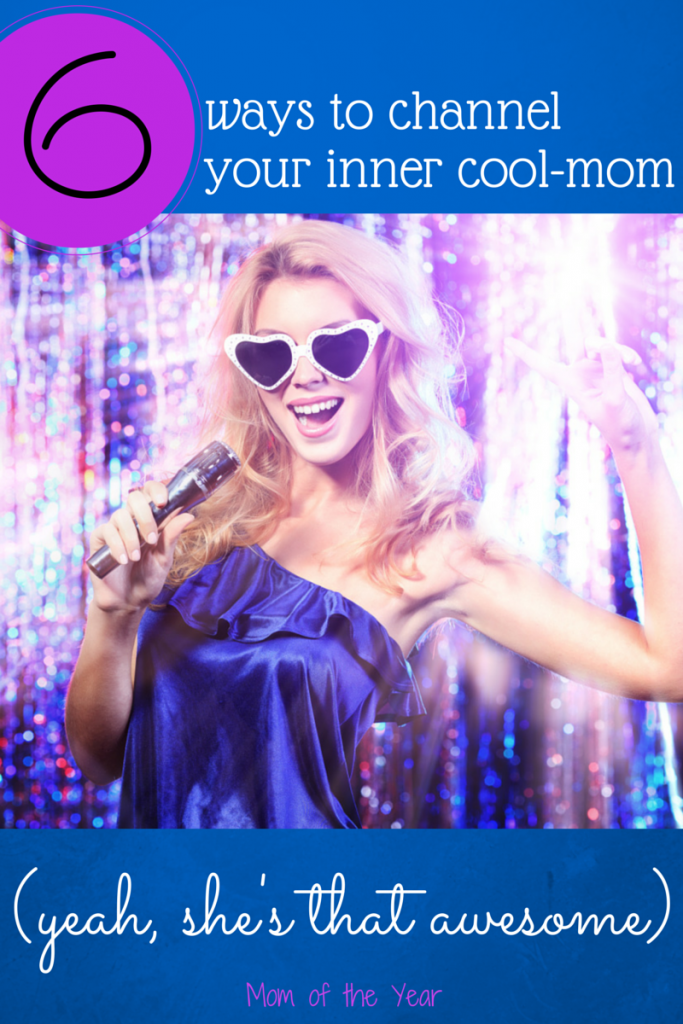 Let me be clear: I am not cool. I have never been cool. Nope, I'm solidly of the band-geek variety. Even in my 30s, which is impressive, as I haven't picked up an instrument in about 15 years.
But while I'm sitting over here, stewing in my own nerdiness, I realize that I am uncool enough to not only recognize the things that make me feel hip, but to delight in them. What makes me feel like plastic side clip on a neon tee in the 80s?
Put on Cake's "The Distance" and I rock the most boss dance moves of all time–or at least in my kitchen during dinner-prep time, which really, is the same thing…Make it Queen or any 80s power ballad, and you have yourself the same awesome. What can I say? My suburban mom hip thrusts while I heat macaroni are inspiring.
Blast a track that makes you smile and let your inner grooviness roll. Bonus? More steps on that Fitbit.
In general, I'm not a huge baby-lover, but when I hold my month-old niece I feel all the good things of this world. She is sweet, she is small, she is beautiful, and most importantly, she doesn't rage at me when I make her do her rainbow popcorn words homework. It works.
Hold a baby, preferrably not your own.
I am not a knowledgeable woman on this earth, and I will never be, but during a recent social media consult, I found myself spewing off terminology I didn't even know I knew. This latent savvy comes only from cumulative hours and hours spent absorbing know-how, even when I didn't feel like I could stomach learning one more thing.
Go ahead and school yourself in something unfamiliar. The pride is stymieing and enough to feed your day-to-day soul for days upon days.
Listen, I hate working out. I always will. Jillian Michaels yells at me and makes me do it anyway. For this, I love her. And then when I'm done, I love myself.
Do the hard workout. You will feel like you want to die, but it's worth it. Think spaghetti straps in the summer and gnaw on that celery.
I often look at my day's agenda and want to puke. There is no foreseeable way that I'm going to win this to-do list, even in my wildest imagination. You know what? My best results come from just closing my eyes and jumping in. Gracious no, I'll never get it all done, but I can make a decent attempt and then fist-pump the air for the things I did manage to cross off.
Don't focus on what you can't do; look at what you can. Then attack it with a vengeance and curl up with a book when the day is done.
I have a really, really comfy long-sleeve t-shirt that I love. It has holes, stains, and a permanent odor of sweat. I need to throw it out. This regular life doesn't always demand going fancy, but clean jeans and fresh deodorant can be very nice. I have heard rumors about some crazy thing called eyeliner.
Take a minute to spruce up. The thing is, if it makes you feel good, and is a way to care for yourself, it might just be a good thing.
It's not an always thing, but when I sometimes do some of these things, I feel kind of cool. I feel a little bit on-my-game. Best said, I feel like I'm ready to rock this thing.
What makes you feel boss? How do you find your fantastic? When are you in your groove? However you find friends, find the coolness. It's so worth it.
In the meantime, step aside friends, a cool mom is coming through.
Image credit: depositphotos.com, image ID:17616935, copyright:prometeus
The following two tabs change content below.
Meredith blogs at The Mom of the Year, where she dedicatedly earns her title one epic parenting fail at a time, offering quick, relatable laughs for fellow parents and all their empathizers. She has been part of several best-selling anthologies, featured on prominent sites such as Huffington Post, In the Powder Room and BlogHer, and loves her role as the Executive VP/Operations Manager of The BlogU Conference. When she's not breaking up fights over Legos and juice boxes, she remains fully committed to sharing a less serious look at the world of parenting.