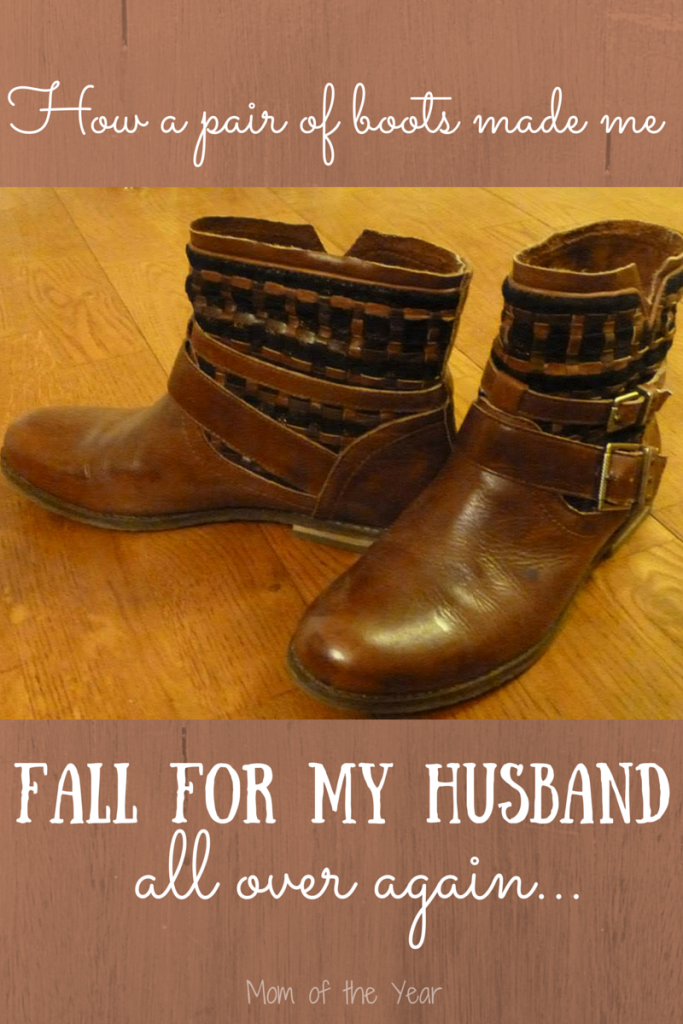 This holiday week, I'm sharing a couple of my favorite posts from the past year.  On Friday, I shared a fun one about when I met my match in a cute deathly raccoon, and today I'm hanging out with a favorite pair of boots–that defined my marital relationship a bit and reminded me of why I think my husband is such a cool guy.
So please join me, readers. Pour yourself a hot chocolate, snuggle up by the tree. ignoring the frenzy of rapidly dropping pine needles and treat yourself to a smile with one of my favorite stories of this past year…
******************************************************
Did you know that in Oklahoma it is illegal to wear your boots to bed? True story. While hitherto, I may have howled over the ridiculous of such a law, I'm now giving these mid-western legislators the benefit of the doubt.  You see, I have now witnessed firsthand the effects of boots on a marriage.  Not sure exactly what was going on in those Oklahoma bedrooms, but hey, maybe some legal intervention may have been necessary if things got stressful enough.  Boots are no joke in a relationship.
It all began when, in my blind loyalty to anything Target-branded, I snagged a pair of "leather" boots on the cheap in the fall.  They were adorable, trendy, and surely, they were meant to be.  Six months later, I'm cursing the ripped-up toes and air-leaky soles of my bargain find.  Huh.  Who knew? Quality, apparently, sometimes must be bought.
Thus started a dedicated hunt for the perfect pair of hip, comfy, top-notch kickers. Honestly, it was a smart-shoppers dream.  There were endless tabs pulled up on my laptop, promo codes were flying around, and I was riding an an adrenaline rush of excited glee as I worked out the most economical choice to the penny.  I know, it was the most fun I have in ages (not joking, sadly).
But I kept coming back to the new line of shoes from The Sak.  If you remember, I fell hard for my The Sak tote in October, and haven't put the darn bag down since.  If it ever gives out, I will cry, and cry hard.  My favorite feature of my tote is the Teak Multi leather accent–the subtle sheen is gorgeous and distinctive. So when I saw that The Sak made boots that incoorporated the same leather…
Yeah, the mixed reviews citing the beauty of the shoes, but the near impossibility to actually pull them on your foot? Be darned.  I had a friendship with this particular Teak Multi material, you see.  I alone would certainly be able to overcome the fit problem of the boots.  The other purchasers were clearly pansies.  This Mom of the Year was on it.
Rocking my coupons and discounts, I walked around for days preening my feathers for scoring my new footwear for $33.  Boo-ya! My husband was less enthused, these being the second pair of brown boots I bought in the same season and all…but…
Then the boots came. I sweated through my shirt so badly to get them on I had to put on a new outfit. And then I sobbed a little from the sheer effort.
The reviews were perhaps not written by weak lunatics.
After a week of refusing to say anything in a fierce protection of my dignity, the hopelessness of a solo dressing effort could no longer be denied. The Day of Reckoning had come. Head hung low, I went to my husband, "So you know those boots you didn't want me to buy?"
"Yeah?"
"Can you put them on for me?"
I would like to pretend it was a very Cinderella-esque scene, with the calm, gentle man putting the shoe on the delicate princess' outstretched foot.  It was not.  There was more grunting and under-the-breath comments.  Very few princesses. Some heavy "questioning" of spousal wisdom and the like–you get it.
It was a really neat scene for my neighbor to witness when she came to pick me up for breakfast the other week.  A true testament to the marital bliss that goes down around these parts.
We now find ourselves two months into ownership of the sweet boots. Things are better. I have accepted I can usually only wear the shoes on Saturdays, when my husband is here to help me dress.  They have started to stretch a teeny bit, so now there is only about five minutes of vigorous group dressing effort.  Really, it's going well.
Sunday my husband leaves very early for worship team practice. As a general rule of habit, I never dress immediately upon getting up.  This past week, I was determined to sport my boots at church, so I threw my clothes on quickly and ran downstairs, boots in hand, hoping to catch him before he peeled out the door.  He looked at me, baffled by my attire and the switch in routine, "Did you sleep in your clothes?"
And then he saw the boots. And started to laugh. "Okay," he said, holding out his hand, "Okay."
As it turns out, these boots really were an awesome deal–they just have to be donned with a heavy, heavy dose of lovin' patience.
The following two tabs change content below.
Meredith blogs at The Mom of the Year, where she dedicatedly earns her title one epic parenting fail at a time, offering quick, relatable laughs for fellow parents and all their empathizers. She has been part of several best-selling anthologies, featured on prominent sites such as Huffington Post, In the Powder Room and BlogHer, and loves her role as the Executive VP/Operations Manager of The BlogU Conference. When she's not breaking up fights over Legos and juice boxes, she remains fully committed to sharing a less serious look at the world of parenting.