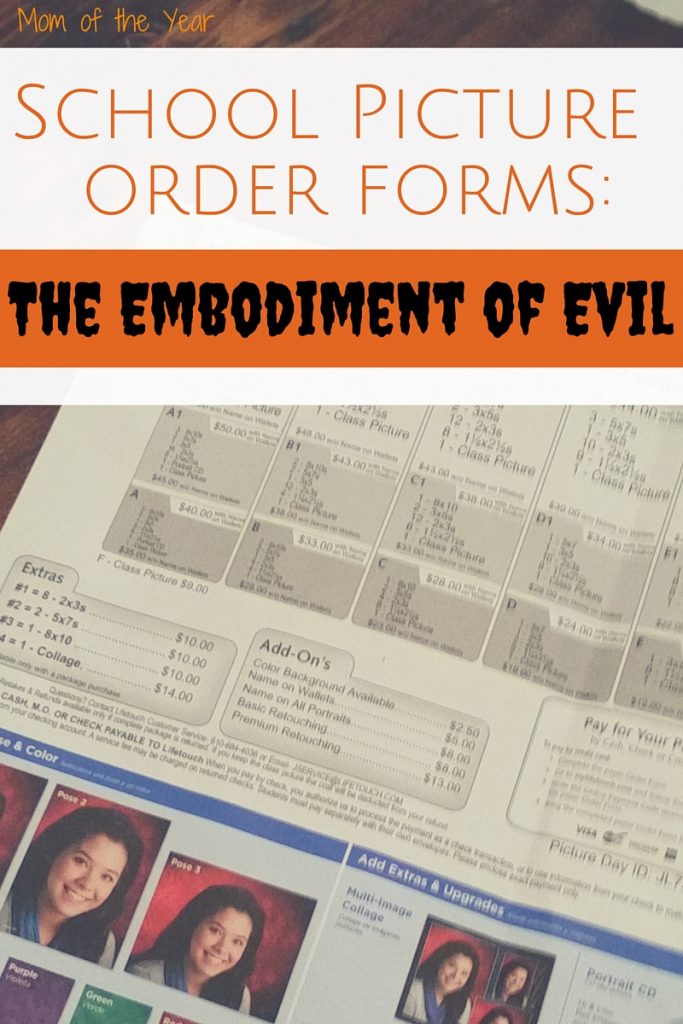 Friends, I have finally met my nemesis on this earth.  In my silly early days as mom I thought it was poopy diapers. Or bedtime. Or attempting to balance our budget while having cases of wipes and Goldfish crackers shipped to my door.
I was wrong, I was so wrong.
Enter the embodiment of evil: the school picture order form.
It arrived in the weekly Wednesday folder.  While part of me loves that our elementary school is organized enough to only pummel parents with paperwork once a week, the other part of me has started preemptive whimpering on Tuesday in anticipation of being slayed.
Being slayed by cruel beasts like school picture order forms.
The form-completion process all started positively enough.  I had woken up early one morning, while the kids were still asleep.  I gathered my coffee and checkbook, glared don't-bother-me looks at my husband, and settled in.
Gracious glory.  Clearly I had been given the wrong form.  Apparently I had been given a copy of investment options for a multi-billion dollar company.  I would have called my son's teacher to report the mix-up, but the sun hadn't yet risen, and she probably hadn't quite arrived at school.
I stared at the form, hoping some of the columns would somehow-sort-of blend together and minimize themselves. Had I missed the memo about getting my PhD in School Picture Ordering??  Why had no one told me?
No bother. I could ace this.  I mean, we figured out the school bus, surely I could order photos.  Plus, feeling like a rockstar, I had found a promo code.  I decided to just pop online, order the pics this way, and rock my coupon all at the same time.
The promo did not work.
After mutliple stubborn attempts, I acknowledged that the promo was probably not going to magically start working no matter how many times I punched in the convoluted letter/number combo.  Still, at least I was saving the effort of writing a check, right?
I then realized, as we live in the one state in the nation that the photo company requires to pay a tax for pictures, I forgot to include said tax in my non-changeable, non-cancellable online photo order.
It is possible that I was getting grouchy.
I wrote a separate check to cover the tax.
I may or may not have then called a friend, blaming her for getting me into this mess by allowing me to have children in the first place.  Clearly, if my incompetence with navigating all the previous tasks of motherhood wasn't a clear sign that I was a failure as a parent, the catatrosphe of trying to order photos was the definitive nail in the coffin.
I tabled the form as I was now losing my crap…
But hey, THIRTEEN HOURS LATER, Kahlua added to fortifying coffee, and several whiny phone calls to husband, who had since gone to work and returned home, I finished the darn form.
God knows what I ordered.  It was either about 14,000 pictures or stock in a large investment firm.
At this point, it didn't matter.  I had finished the form.
The following two tabs change content below.
Meredith blogs at The Mom of the Year, where she dedicatedly earns her title one epic parenting fail at a time, offering quick, relatable laughs for fellow parents and all their empathizers. She has been part of several best-selling anthologies, featured on prominent sites such as Huffington Post, In the Powder Room and BlogHer, and loves her role as the Executive VP/Operations Manager of The BlogU Conference. When she's not breaking up fights over Legos and juice boxes, she remains fully committed to sharing a less serious look at the world of parenting.