I've made no secret of the fact that I'm desperate to shave off a bit more of my muffin top before summer hits us with all its adorable little tees and capris, so when Yoplait asked me to give their new Yoplait Greek 100 Strawberry a taste and compare it to the flavor of Chobani Simply 100 Strawberry yogurt, it wasn't a hard gig to get behind.
I'm a huge Greek yogurt fan.  The best luck I've had with shedding pounds was during a time in my life when I was dedicated to my daily Greek yogurt.  I'm a sucker for the creamy fruitiness, but what really made me a loyalist was the protein.  If I noshed on a cup in the morning, I was able to hold myself off relatively painlessly until lunch.  But you see, that was back in the old school days.  The days when Greek yogurt wasn't just 100 calories per serving.  Now the new lower-calorie products have made the prospect of throwing the sweet stuff into your diet even more appealing.
Chobani is usually my favorite brand, so I admit I was skeptical about Yoplait's offering, but the claim to fame of this new yogurt is that in a national taste test, Yoplait® Greek 100 Strawberry beat Chobani® Simply 100™ Strawberry". Confident in their product, Yoplait encouraged me to try both and give my genuinely honest opinion.
Specifically, I was intrigued that 4 out of 5 tasters preferred the Yoplait over the Chobani. Yoplait suggested getting my co-workers on board to help with the taste-test.  Excellent, no problem.  As it turns out, they are exactly 5 people on staff at The Mom of the Year, so bring on the experiement.
Start with my son (his window of tolerance is about 2 seconds, so grab him while you can, you know?)
My daughter was insanely serious about her tasting duties:
Dr. J I think is honestly shocked that he likes Greek yogurt and is trying to cover it up with a spoofy thumbs-up:
And the dog, of course, was extremely opinionated about his favorite:
I love it when my "team" makes my job easy.  Without influence or persuasion, they unanimously went for the Yoplait vs. the Chobani.  As for myself, I admit to being sort-of on the fence.  If you are looking for a kick of strawberry flavor, Yoplait Greek 100 strawberry is the way to go, yet I still really enjoy the subtle smoothness of the Chobani.  I would eat either, but since my family obviously prefers the Yoplait, I'm off to the grocery store to stock up. And there you have it, at the The Mom of the Year headquarters, we are very scientifically 4 out of 5 for the Yoplait.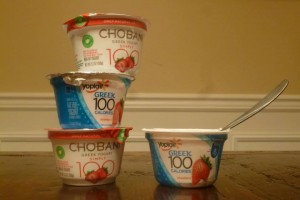 But hey don't take our word for it, go take this test yourself.  Yoplait is so pleased with their product, they are calling all testers!  Since it's available nationally in 12 flavors, you're going to find one that appeals for you.  And your co-workers.  Be them human or canine, you'll be grabbing up those 5.3 ounce cups and throwing them in your cart.
So spoon up the Greek and weigh in with your opinion!  Get ready for some creamy goodness at only 100 calories a pop, whichever brand you settle on.
*********Compensation for this post is being provided by Yoplait, but all opinions are 100% mine (or my family's or my dog's in this case).*********
The following two tabs change content below.
Meredith blogs at The Mom of the Year, where she dedicatedly earns her title one epic parenting fail at a time, offering quick, relatable laughs for fellow parents and all their empathizers. She has been part of several best-selling anthologies, featured on prominent sites such as Huffington Post, In the Powder Room and BlogHer, and loves her role as the Executive VP/Operations Manager of The BlogU Conference. When she's not breaking up fights over Legos and juice boxes, she remains fully committed to sharing a less serious look at the world of parenting.