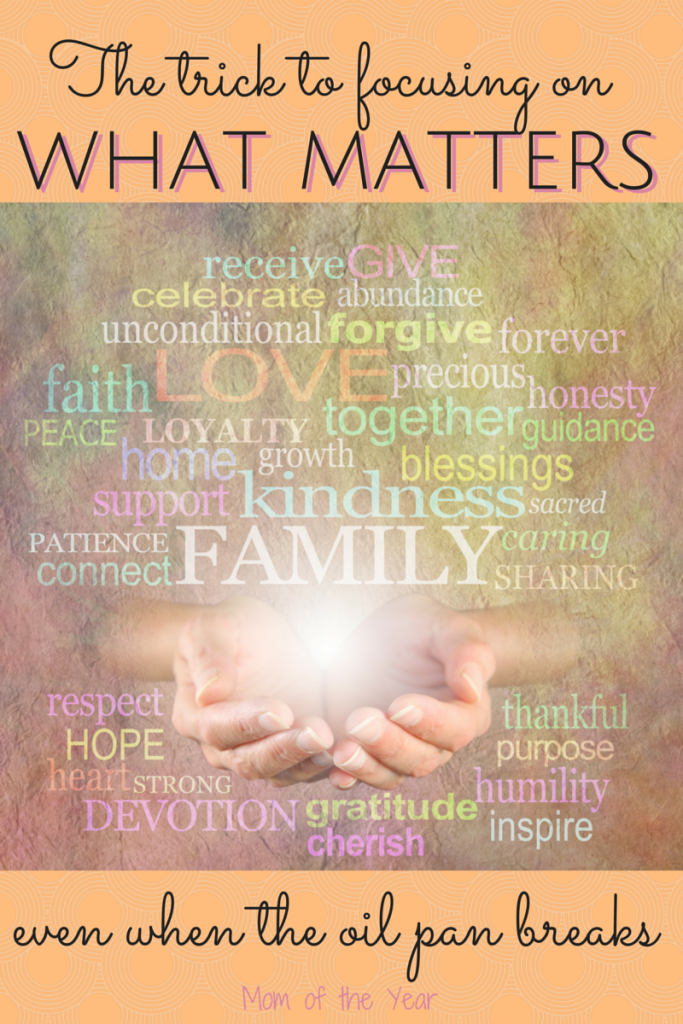 This may be a very trendy, super-modern Duck Dynasty-esque thing to proclaim, but it's true.  Here's the situation: I didn't have a definitive post required for today's date (once you get a little far into the blogging world, it's scary how scheduled things become).  There were a bunch of things I could have/should have written about, but I decided to go with what was on my heart.
You see, I jacked up our minivan.  Badly, stupidly, senselessly.  I ran over a pipe on the road, heard the pop, and upon pulling over, immediately saw the oil running.  GAH. I called my husband.  He was pissed.  Rightly so.  Rightly so.  We then both chilled for a minute on the suckiness of the situation.  We did not have money to pay for this.  I then called him back, and he said (quoting exactly), "It's only money."
See, the thing is, he's right.  It's only money.  It's not one of our kids.  No one has died. WE ARE OKAY.
We have never once reached a point in our marriage where things like a jacked-up vehicle are of no consequence.  I wish this were the case.  I watch episodes of Revenge in the very late-night corners of my life and jealously wish I had enough time for form-fitting camis with gorgeous silver pendant necklaces, but the truth is–we have no money.  We live paycheck to paycheck, despite our best efforts and despite being financially savvy.  This breaks my heart.  This is hard.  This is reality.
What does this mean?  It means when I pop our oil pan, it's a bad situation.  It means that things like this don't shrug off our shoulders.  It means that I spend the wee hours fantasizing over being rich so these scenarios don't have to rock my world.  Darn that my best-friendship with Mindy Kaling is more in theory than reality, so I can't rely on her celeb sponsorship to bail us out…
And it means that my husband, despite what monetary hardships slam themselves in our path, still loves me and respects me enough to hang with me through the popped oil pans.
Sometimes (read: ALL THE TIME) I wish we had time and money for all the romance, flowers, and fluff.  But truth is–if I have a man who sticks with me through all the bonus vehicle messes, ghastly preschool expenses, and sad blogging income, I HAVE SCORED.
Someday there may be room for roses and swooning.  Today, there is just room for embracing the acceptance of broken oil pans.  I am blessed, and I know it. I love my husband and he loves me, and today, that is more than enough. xo, babe.
Image credit: depositphotos.com, image ID:61663829, copyright:Healing63
The following two tabs change content below.
Meredith blogs at The Mom of the Year, where she dedicatedly earns her title one epic parenting fail at a time, offering quick, relatable laughs for fellow parents and all their empathizers. She has been part of several best-selling anthologies, featured on prominent sites such as Huffington Post, In the Powder Room and BlogHer, and loves her role as the Executive VP/Operations Manager of The BlogU Conference. When she's not breaking up fights over Legos and juice boxes, she remains fully committed to sharing a less serious look at the world of parenting.