Whaa??  I know, what the heck is a brew conference?  Let me clarify.  My husband is a homebrewer.  This means he brews his own beer.  And he's really good at it, as in, has won awards and stuff.  More importantly, he really, really enjoys it.  He is the King of Multiple Hobbies (while I just feel awesome if I remember to pick up my holds at the library), but this is a hobby that makes him super happy. Sure, it's grouchy trying to keep the kids away from turkey-fryer pots of boiling water on brew days, but I like beer, so this hobby is basically a win-win for everyone.
A couple of weeks ago, The National Homebrewers Conference finally hit the East Coast for the first time in years and years and years. My husband's local brew club collectively wet their pants and beat everyone down getting tickets to this Philly event.  It literally sold out in seconds.  I got in on the fun with a "social pass".  This means I got to walk around, talk to fun people, taste beer, and read books in the hotel room when I got bored.  How is such awesomeness possible when we have a 2 yr. old and a 4 yr. old.?  We have some really good friends and a sister who I force to watch my kids. xo and thank you, guys.
So we found ourselves in Philly for a couple of nights with a whole bunch of beer nerds.  These guys were fun.  They were cute (never, ever tell them I described them as such–homebrewers generally like to think of themselves as "edgy") .  It might be easy to poke a little fun at these middle-age dudes for obsessing over things like presenting the most fashionable kegging system while securing the best sanitizer for your mash tub.  Or I could easily laugh at my husband for finding a grain mill (do you know how big those things are??) on the cheap, getting all giddy over his bargain find and lugging it home on the train.  But…the thing is, I found myself looking around this super-packed convention center and I just saw joy.  On A LOT of faces.
Instead of seeing the few sloppy drunks who were there to re-live their frat days or the annoying 50+ yr. old gals who came there in halter tops to bag a man (yes, these ladies exist), I just saw a bunch of people who were really, really happy.  They had the chance to hang out with other people who pursued the same craft and delight in it.  They were thrilled to be taking a break from their every day and pursue a little fun.  Leave the cubicle and the never-ending yard work behind for 72 hrs. and embrace something outside of the usual for bit.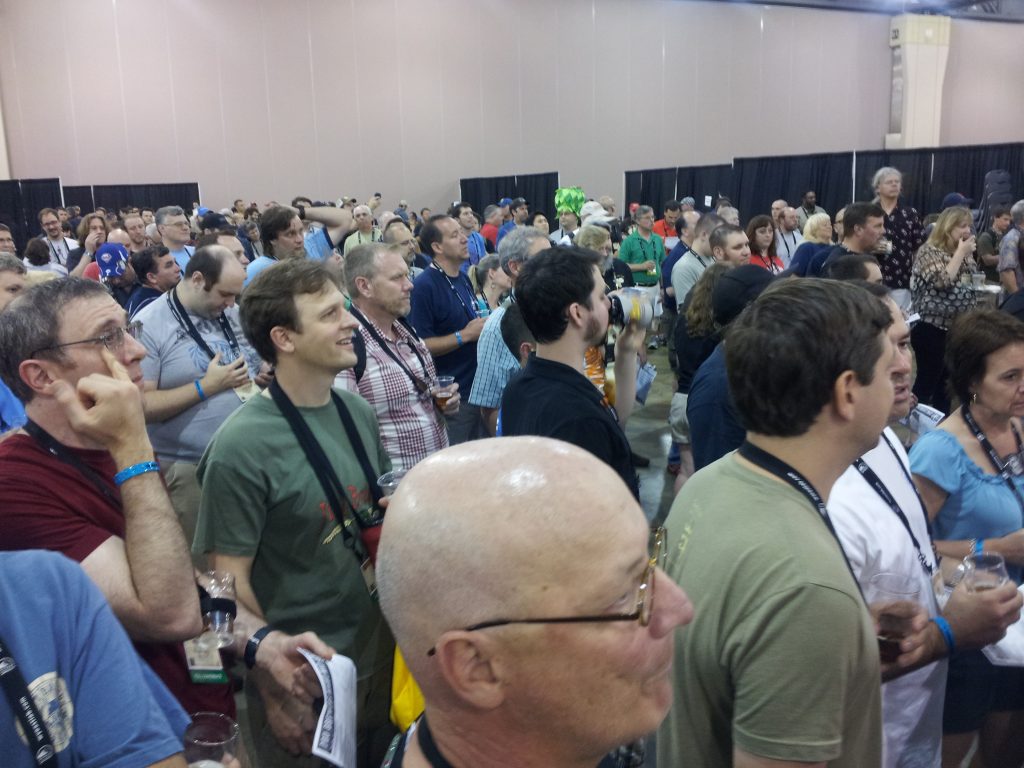 And moreover, just seeing the smile on my husband's face was a gift.  He works hard, very hard, and while kicking back doesn't usually even make his to-do list, for these few days, it topped his list.  I loved seeing his face and I love him.  Thanks for taking me along, babe.
Above all, I loved seeing this.  I can now die a complete woman because this view of the bathroom lines is a once-in-a-lifetime opportunity.
**********************************************************************
Also, a pretty please–some time this weekend please pop over to Rants from Mommyland.  The famous Lady Lydia was kind enough to feature one of my posts there.  I really don't want to look like the loser sans friends, so please go over, say hello and tell her I sent you!
Also, she described me as a "precious sparkling kitten of happiness".  Such a descriptor has never happened in my life and will never happen again, so I really want to celebrate 🙂  Thanks, readers!
The following two tabs change content below.
Meredith blogs at The Mom of the Year, where she dedicatedly earns her title one epic parenting fail at a time, offering quick, relatable laughs for fellow parents and all their empathizers. She has been part of several best-selling anthologies, featured on prominent sites such as Huffington Post, In the Powder Room and BlogHer, and loves her role as the Executive VP/Operations Manager of The BlogU Conference. When she's not breaking up fights over Legos and juice boxes, she remains fully committed to sharing a less serious look at the world of parenting.