Listen, just because I'm rockin' my 30s, does not mean I can't be served a good education once in a while.  My recent tag-along to my husband's business trip to Boston was slammed full of great lessons.  In fact, I can't think of a recent time when I learned so very much.  Since I love learning and am just chock full of extra energy for new experiences, this has to be a good thing.
What did this Mom of the Year learn on her educational foray?
1. When husband implies that The Freedom Trail is "only 2.5 miles" he really means "it will take us 3 miles to walk to the start of the trail, we will then walk the trail, and then hike the 3 miles back to the hotel" and I will feel justified looking up grounds for annulment be it as my marriage is obviously loaded with false pretenses.
2. When I discover there is no hot tub in the hotel, I will cry.  Nothing like an immobile way to heat up and relax your muscles.  Screw notions of hopping on the treadmill.
3. I don't miss my kids when I'm not with them.  I know, skewer me now.  I'm skewering me.  I'm also a mom of two 3-and-unders and I'm tired…
4. When you see really good wine on clearance at the 7-Eleven for $3, buy it in bulk.  THIS IS THE TIME TO ABANDON YOUR SENSE OF SHAME.  In fact, grab a taxi to help you haul the cases back to your hotel.  The cost will far make up for it in the end.  Did I mention the wine was good?
5. Husband will get ticked off when I see a Bath and Body Shop along the way to the Freedom Trail and want to pop in to "stock up".  How much soap do potty-training children seriously need??  And dude, Husband, admire me for the time economy.
6. You cannot overpack on cute dresses.  No, you will likely not wear ANY of them, but the sense of security with having a selection of several adorable choices cannot be overstated.  Load up the garment bag.
7. Subscribing to HuluPlus under an extraneous e-mail account does not guarantee unlimited access to the current season of Mad Men.  Not that I'm bitter.  And not that I've tried.
8. When one does persevere through severe and harsh said totalled 9 mile march to freedom, you have got cards.  Significant cards.  Yes, Husband, I can be bought off with the pitcher of margaritas at adorable cheap Mexican place we chanced upon.  As a bonus, I will continue wearing my wedding ring.
9. If the hotel offers a 10-option pillow menu, abandon your life savings now and just move in.  A water pillow??  I am in bliss.  I will also not move from the bed.  Can you pass me the remote?
10. There have been highlights and lowlights in our marriage.  If you couldn't tell, none of them will be as oft-discussed as our day on the Freedom Trail.  Yes, I will still be whining about those 9 miles a year from now.  Also, I am right and you were wrong, Husband.
Go to Boston.  There are a lot of people dressed up like Ben Franklin, and it's good for the soul.  Trust me.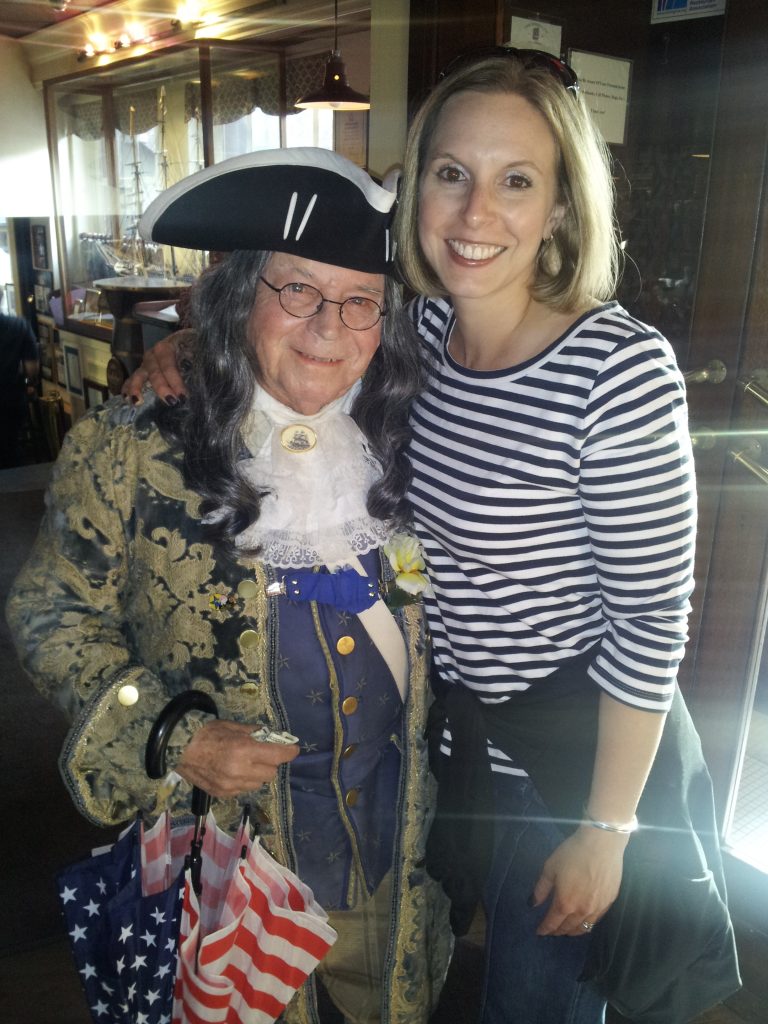 The following two tabs change content below.
Meredith blogs at The Mom of the Year, where she dedicatedly earns her title one epic parenting fail at a time, offering quick, relatable laughs for fellow parents and all their empathizers. She has been part of several best-selling anthologies, featured on prominent sites such as Huffington Post, In the Powder Room and BlogHer, and loves her role as the Executive VP/Operations Manager of The BlogU Conference. When she's not breaking up fights over Legos and juice boxes, she remains fully committed to sharing a less serious look at the world of parenting.