Welcome to anyone stopping by from the More Than Mommies link-up!  I'm glad to have you are visiting and and happy to be cohosting again this week.
Tell me I'm not alone on this. I really struggle with the fact that my husband just doesn't get it.  He is a very good man, and a very smart man, but the fact remains that our lives are just entirely different right now.
He gets to leave the house.  Alone.  Without kids and moreover, without sippy cups.  Could you imagine leaving the house without the brightly colored plastic vessels that have become the bane of your existence?
I digress.  When I get frustrated with handling the upteenth temper tantrum of the day, I try to explain things to him, but it doesn't really work.  The thing is, our day-to-day couldn't be more different.  He goes out and participates in the world and I take care of our world, who lives inside our home.
He is very active and involved with with caring for our kids, but even if he would rock out a whole Saturday alone with the kids, he would still not have the same experience as I.  Summoning up the patience for one day is unlike summoning it up for 5 days in a row.  So despite my best efforts to communicate my feelings, he can never really understand how it feels because he never really walks in my shoes.  And I never really walk in his shoes either.  I can only imagine trying to balance between work and family.  I know he works hard, so hard at this.
So are we just screwed with never really being able to understand each other?  Maybe we never will fully "get" each other, but I'm learning that this is okay.  While we may never  fully get what it's like to be someone else, whether we're married to them or not,  I don't think that's the point.  I think we each try to do the job in front of us and then just try our best to support those around us.  God gives us each the exact load in front of us that He knows we can handle.  My husband isn't ever gonna really "get" my load, but that's okay.  I'll just need him to help me carry it once in a while, right?  Especially when the laundry basket is really heavy 😉
I think a lot of people are in this boat of not feeling "got", so at least we're in it together, right?  Parenting, life in general, or whatever you have in front of you can be a tricky, lonely road.  But there are others who are are walking down it at the same time, trust me.  And in the meantime, I'm going to try not to be too insanely jealous that my husband gets to pee alone.
Link up below to hop in on the More than Mommies Mixer!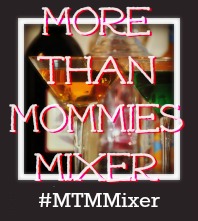 Add your Blog for GFC and RSS Subscribers:


Add your Facebook Page:


Add your Twitter Handle:


Add your Pinterest Board:


The following two tabs change content below.
Meredith blogs at The Mom of the Year, where she dedicatedly earns her title one epic parenting fail at a time, offering quick, relatable laughs for fellow parents and all their empathizers. She has been part of several best-selling anthologies, featured on prominent sites such as Huffington Post, In the Powder Room and BlogHer, and loves her role as the Executive VP/Operations Manager of The BlogU Conference. When she's not breaking up fights over Legos and juice boxes, she remains fully committed to sharing a less serious look at the world of parenting.