Ever thought of relocating to a Schengen country in Europe? It could be is one of the best decisions you will ever make! Europe is rich in history, culture, and opportunities, making it a fantastic place to start a new chapter of your life.
Before you make your big move, there are several aspects that you need to research and consider. As with most things, the better prepared you are, the better the outcome will be.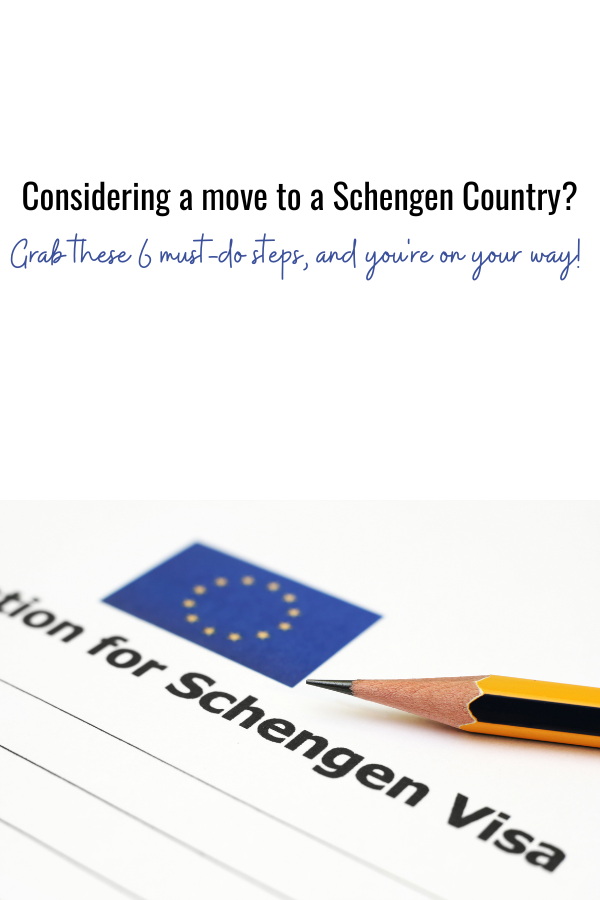 Below are six things you must do before you relocate to your chosen new Schengen country to make the move less stressful and more enjoyable:
Work Eligibility
Most people consider Europe a romantic place, filled with great food, new friends, and plenty of job opportunities. Schengen countries are consistently ranked as some of the best places to work as they are some of the most well-developed countries in the world.
The number of expats moving to European countries is increasing, with thousands of people moving annually. Europe offers multiple options for people who want to work there, and citizens of several countries (including America) do not need a work visa. If you're from a different country, such as Germany or Ireland, check and ensure your visa allows you to work there. Work visas get issued for one year, with many European countries offering the possibility of extending it once it expires.
Create A Budget
The thought of budgeting for a move to Europe might instantly fill you with dread, but creating a workable budget can be achieved if you know what you are doing. To accurately calculate the budget that is right for you and your family, there are a few aspects that you must keep in mind.
The first step is to research the cost of living in the Schengen country of your choice. The internet has made this task easy, from real estate prices to the cost of a meal at a new restaurant – everything gets documented online. Your budget needs to be based on your destination and the lifestyle you want to have once you have moved over, like how many dinner parties you intend to throw each month.
Find Housing
Start your search for housing months before you want to leave. Allowing yourself ample time to view apartments and understand lease laws in your destination country. You must be willing to change how you currently live because some countries can't provide the same property arrangements you're used to – so you need to be adaptable. Make a list of your housing requirements and start your search by browsing property websites in your new country. That will give you a good idea of what things cost and what sort of housing option you can reasonably expect to find.
Understand Visa Requirements
Different Schengen countries will have different visa requirements. The Schengen area covers 26 countries and, generally, you need to know all about insurance for a Schengen visa. It is essential to note that the Schengen visa is a short-stay visa, meaning that it is not suitable if you want to move to your destination country permanently. If you intend to work in your chosen country, you will need to explore a more suitable visa type such as a European work visa.
Explore Pet Relocation Options
If you're relocating to a Schengen Country in Europe, chances are your mind will be all over the place trying to prepare. Once you've got your housing and work requirements sorted, the next logical step is to ensure your furry friends get over without any hassles. Explore the pet relocation processes available to you and find a comprehensive guide to help you navigate the journey and ensure you and your furry friends are well-prepared for a successful move.
Research The Culture
Every decision you make from here on out will have a direct impact on your experience. Let that soak in for a minute, and then get to it -this trip isn't going to research itself. What you put into this will be what you get out, so make the time to do this right. You only get one opportunity to have a new country make a first impression on you and vice versa.
Research the culture and take a deep dive into how the locals live and love, you'll be one of them very soon. Find out what and how they eat, what they like to do in their spare time, and how they spend time with each other. Some countries have super active lifestyles, while others prefer to relax and enjoy simpler things.
Final Words on Relocating to a Schengen Country
It is always a good idea to find out which culture bracket your new country fits into before you move, that way you know what to expect before you arrive. New countries are filled with exciting prospects for work, life, and love. Without getting overly "Eat, Pray, Love" about it – these next few months or years should be the best of your entire life. You'll be making memories to reminisce about for the rest of your days.
The following two tabs change content below.
Meredith blogs at The Mom of the Year, where she dedicatedly earns her title one epic parenting fail at a time, offering quick, relatable laughs for fellow parents and all their empathizers. She has been part of several best-selling anthologies, featured on prominent sites such as Huffington Post, In the Powder Room and BlogHer, and loves her role as the Executive VP/Operations Manager of The BlogU Conference. When she's not breaking up fights over Legos and juice boxes, she remains fully committed to sharing a less serious look at the world of parenting.