It is usually such a relief when you finally outgrow apartment living and move into a house. It can be because the family is growing, or because there was a house on the market for a price that you simply couldn't pass up for its investment potential.  Whatever the reason for upsizing your home, there is one downside. You didn't have much stuff in your apartment so your big house looks really bare. When you have empty rooms that echo every sound, it can create an atmosphere that is far from cozy.  In this article, we will go over some ways that you can furnish the house but with intention so you aren't just filling up the space for the sake of it. 
1 – Furnish the most used rooms first
The bedroom is the room where we spend the most amount of time. However, we are just sleeping there and not making full use of the space. This means that it isn't really the room we use the most. All you really need is a bed and a dresser to put your clothes in for the first few weeks.
The living room and kitchen are the rooms that are used more even though we don't spend eight hours at a time there. In the living room, we tend to congregate as a family or couple to play games or watch TV together. This means that this is one of the first rooms that should be furnished and finished.
It starts with the sofa and side chairs for living room. Figure out how big the sofa needs to be by determining how many people are likely to sit on it at once. Add in another space by assuming that you will have friends and family over. The side chairs will also help when you have guests over so there isn't a scramble for seating. 
Put up some shelves for books and other items that will provide some decoration and fill the space with something useful. Lastly, the TV and entertainment center should be big enough to handle an expansion later on if you decide to upgrade the TV or stereo.
When upsizing your home, the kitchen should be next as you will be cooking and entertaining there. It needs to be comfortable but also highly functional. Don't just fill the space up without thinking about how the kitchen is actually going to be used. For instance, don't put in a kitchen island because you have some empty space and then realize that it isn't going to work in the layout of the kitchen. Focus on where you need to do prep work, the actual cooking, and where you'll be eating. If you have a dining room separate then this opens up the possibilities of how you will use the space.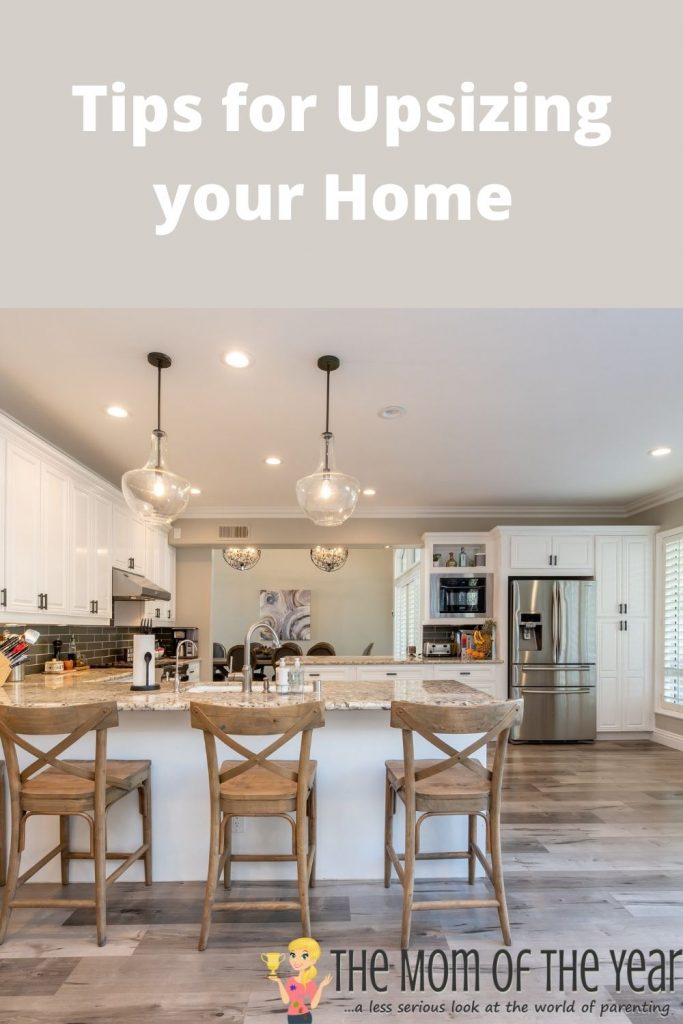 2 – Live there first
Don't go out and buy tons of furniture and decorations for the house as soon as you sign the deed. Wait a few weeks at least so you can live there and understand how the space is going to work.
This gives you a chance to understand what you actually need rather than just thinking of what will fill up the space. You may find that you've actually cluttered your house and made it less functional if you furnish it before you've had a chance to live in it first.
It's more important for a house to have the right flow rather than have every negative space filled up. Flow is how the space gets used and helps you have a transition from one living space to the next.
3 – Focus on storage
A big house can get cluttered just as easily as an apartment. This is especially true of houses that have many small rooms in them.
This is why storage is still very important. Everything should have its logical place so you aren't dealing with a situation in which you are always moving things from one spot to another only to waste time tidying up all the time.  When you have proper storage, it is easier to keep the space clean and usable as well as comfortable. When you have good storage it will free up the space to be used in a more efficient and productive way. When you are upsizing your home these are things you can focus on to make use of the extra space.
The following two tabs change content below.
Meredith blogs at The Mom of the Year, where she dedicatedly earns her title one epic parenting fail at a time, offering quick, relatable laughs for fellow parents and all their empathizers. She has been part of several best-selling anthologies, featured on prominent sites such as Huffington Post, In the Powder Room and BlogHer, and loves her role as the Executive VP/Operations Manager of The BlogU Conference. When she's not breaking up fights over Legos and juice boxes, she remains fully committed to sharing a less serious look at the world of parenting.