You're not going to have kids at home forever. Eventually, they'll leave the house and you'll finally have a chance to sit back and relax. Whether this comes before or during retirement depends on the age of everyone in the house and the state of your finances.  If you plan on retiring, it's never too early to start thinking about what you need to do to get yourself there. To help with this, we've provided a few things that you can think about to get your finances to where they need to be to prepare for retirement.
Plan your days
What are you planning on doing during retirement? If your answer is anything other than sitting on your front porch swing watching the grass grow, you're going to need money to fund your fun and your hobbies. Take into account how much money it's going to cost to travel to see the world or grandkids, dive deep into quilting or woodworking, or even play golf six days a week. Give yourself a budget for the activities you want to take part in and the places you want to see so it doesn't cut into your everyday living expenses.
Contribute to your 401(k)
If you haven't started contributing to your employer-offered 401(k), start now. Not only is this a great place to let your money grow during the years leading up to retirement, any amount of contribution that your employer matches are essentially free money. For instance, if your employer matches up to 3% of your annual income and you make $90,000 a year, you could be missing out on $2,700 each year. While that might not sound like much, to begin with, it'll add up to $40,500 over the course of 15 years, plus the accumulated interest. You don't want to leave that on the table as it can add up to a considerable sum of money in the long run.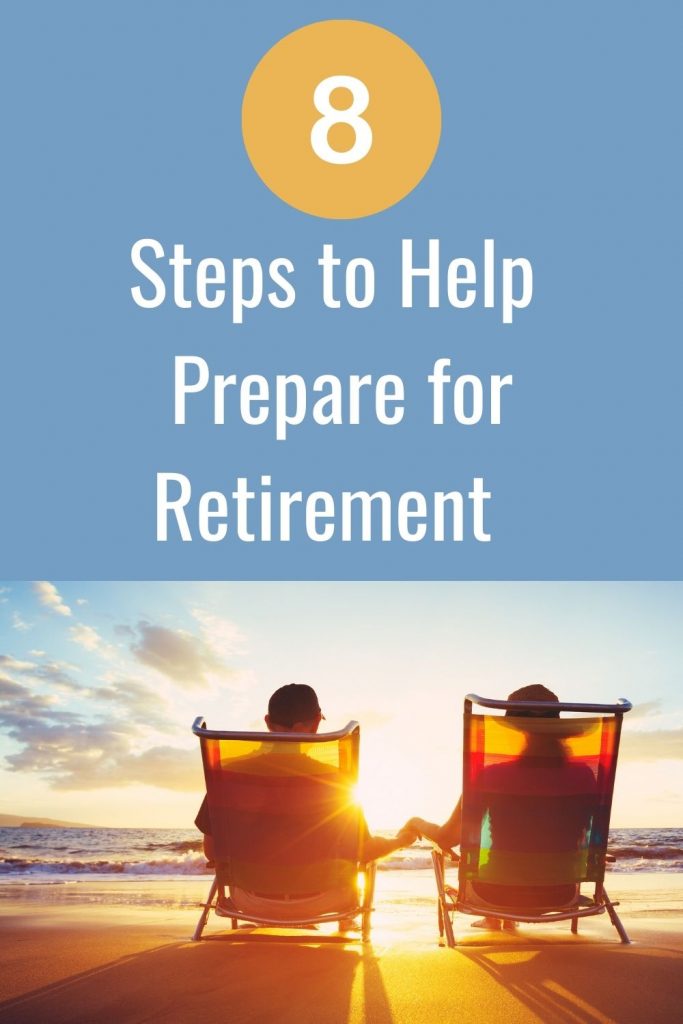 Contribute to an IRA
Whether you have a 401(k) or not, it's a good idea to diversify your funds and contribute to more than one retirement savings account. If you're not familiar with what an IRA is, it's short for an individual retirement account and comes with different features and benefits than a 401(k). You can open an IRA with the financial institution through which you already have your money. Simply go into the bank or credit union and request to open an IRA. They'll help you set up your account and walk you through how it works.
Consider a reverse mortgage
As you approach retirement age and work toward paying off your house, you can look into securing a reverse mortgage. In contrast to a traditional mortgage, a reverse mortgage is where the bank or lender pays you for the equity in your home. You can either set up these payments to come in monthly installments or a one-time lump sum. One of the major benefits of a reverse mortgage is that you're not required to pay back any portion of the loan until after you've either sold the house or passed away, in which case your heirs will be responsible for the debt. If you'd like to learn more about reverse mortgages, especially the pros and cons, you can visit this site for additional information: https://reverse.mortgage/pros-cons.
Consider investing
The key to saving for retirement is finding ways to grow your money as quickly as possible. One way you can do this is by investing. Now, if you're leery of the stock market, that's perfectly understandable. People can lose their entire retirement when it crashes. However, you can play it smart by investing bits here and there to prepare for retirement. You can afford to take small losses if you have other areas that will give you wins. What's more, you can take those small increases over time and add them to the overall pot that you're building for retirement. Every bit helps.
Get out of debt
Few things in this world will eat into your ability to save than excessive amounts of debt. If you're planning to retire, getting out of debt should be a priority because the money you're spending on credit card payments could be going right back into your pocket via a 401(k) or IRA. If you're not sure the best way to get out of debt, Dave Ramsey has recommendations for ways to effectively eliminate your debt so you can start building your retirement fund.
Choose where you want to live
When you're really starting to creep up on retirement age, it's time to start thinking about where you want to live. Are you in a good place where you can happily retire and stick to your budget? Or do you need to move somewhere that has a much lower cost of living? Take these into account when choosing where you want to live. You can save a boatload on your everyday costs by moving to a location that's more affordable and downsizing your home.
Make money on the side
Making money on the side to save for retirement is never a bad idea. This can help you get out of debt or simply have extra spending money to meet your needs without dipping too far into your primary income. You can make money from home by driving for rideshare or food delivery services. Any extra bit of income can help when you're trying to save.
Saving for retirement requires a bit of planning but with a well-thought-out process, you can easily do it. Let me know in the comments what you are doing to prepare for retirement!
The following two tabs change content below.
Meredith blogs at The Mom of the Year, where she dedicatedly earns her title one epic parenting fail at a time, offering quick, relatable laughs for fellow parents and all their empathizers. She has been part of several best-selling anthologies, featured on prominent sites such as Huffington Post, In the Powder Room and BlogHer, and loves her role as the Executive VP/Operations Manager of The BlogU Conference. When she's not breaking up fights over Legos and juice boxes, she remains fully committed to sharing a less serious look at the world of parenting.