When the weather gets warm, swimming is an excellent idea for a fun family activity. While you get to enjoy quality time with your baby, your little one will love to explore the sights and sounds of their backyard pool or community swimming center. If you are planning on traveling to a pool for the day, you will need the usual items in your diaper bag. This includes your changing items, feeding supplies and baby clothes. In addition to the typical gear, you will find it helpful to pack a special sack with what parents need for a pool day.
The following guide will give you a rundown of what to take with you. Keep the list handy throughout the summer months so you never miss an item for your baby bag. Soon, you will be a pro at packing for aquatic fun with your infant!
Sun Protection
No matter their age, babies have extremely sensitive skin. For this reason, the American Academy of Dermatology Association (AAD) recommends that infants be kept in a shaded area, like under a tree or indoors, as often as possible. If you may not be able to find shade, be sure to pack your car with an umbrella, a portable canopy or a hood accessory for your stroller. You will also want to bring a bag full of protective baby clothing, like a rash guard or lightweight long sleeve tee. Many of these garments are specially designed to block harmful UV rays from the sun.
Infants will also need a wide-brimmed cap. Pair a water-resistant swimming hat with sunglasses to protect your baby's eyes, maximize their style and enhance their level of sun protection. Many new parents are also curious if they should be using sunscreen. In general, the AAD recommends that parents minimize using these types of products on children under six months old. However, when clothing and shade are not adequate, it is appropriate to apply a minimal amount of water-resistant, broad-spectrum sunscreen.
When you are buying sunscreen at the store, look for a product that is SPF 30 or higher. Baby sunscreen products containing zinc oxide or titanium dioxide are less likely to irritate delicate skin. When using sunscreen, reapply every two hours or immediately after spending time in the pool.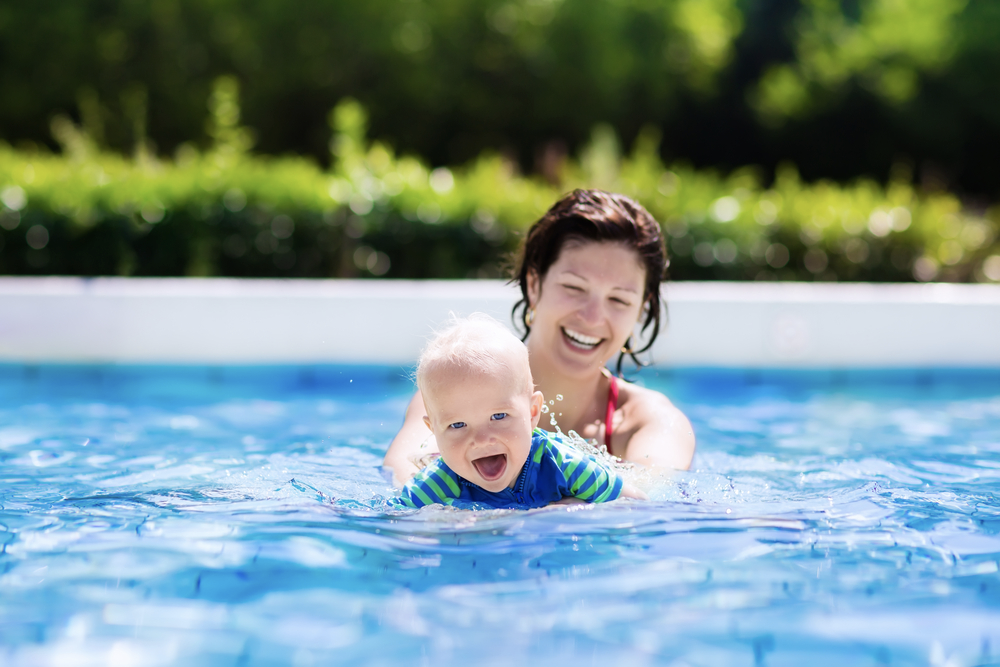 Swimsuits and Clothing
The best baby swimwear is cute and comfortable. Accessories such as swim hats and rash guards can still be adorable while offering sun protection. Some of the best pool styles to pack for baby girls include one-piece swimsuits and rash guard sets with a short sleeve or long sleeve protective top and a matching bathing suit bottom. Popular swim fashions for infant boys include swim trunks and short sleeve or long sleeve rash guard sets with shorts.
In addition to swimwear, the parents' pool bag should also include a couple of soft cotton baby towels as well as an extra change of clothes. Bodysuits are an excellent choice for dressing baby boys after they swim because they are stylish and convenient. Easy clothing choices for baby girls after the pool include terry cloth dresses, cotton rompers and one-piece bodysuits with snaps at the crotch for easy diapering. Bring swim diapers and regular diapers for changing after you get out of the water. Sandals or slip-on shoes are cute accessories to match your outfits while protecting your baby's feet from the outdoor elements.
Pool Toys
Keep the baby intrigued during your pool outing with a few bath toys or water toys for infants. To prevent clothing or food items from getting wet, bring a water-resistant bag full of small toys that are easy to hold and play with, such as soft, squirting sea animals, colorful balls or floating boats. Some stores sell baby activity centers with canopies.
Inflate the item before you arrive at the pool and then put the baby inside while you let them float around and feel the water. While you will be able to take a little break from holding the baby or chasing them around, they will also be safer in a chair with your supervision. Toddlers and older children may need more complicated toys for pool days, but your baby would like to keep it simple. Do not worry if you pack light when it comes to toy animals and beach balls. As
with life jackets and safety gear, ask your baby's doctor if you have questions about the most appropriate pool toys to pack for them.
Snacks and Drinks
As you now know, packing up baby clothes and swimwear takes a little bit of time and effort. You will focus much of your attention on toys and bathing suits, so it is important to also remember your baby's basic feeding and drinking items. Bring the usual feeding supplies and baby snacks in your bag to last for your entire outing. It is also a good idea to pack extra bottles or snacks, just in case you do not get home as quickly as you planned.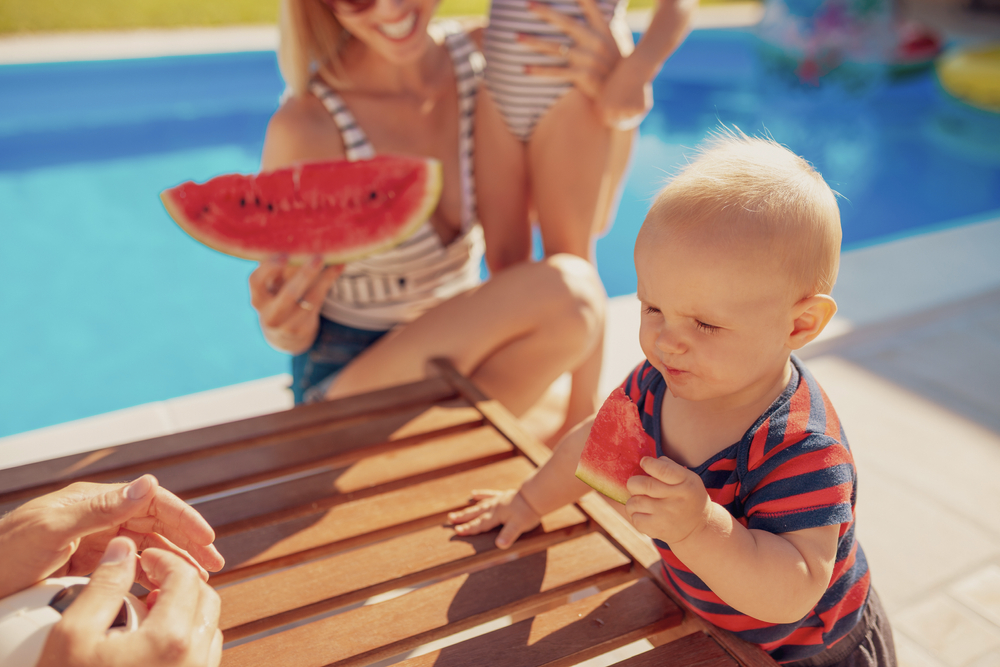 Preparing for Pool Day with Baby
A pool day can be a fun and relaxing experience for everyone in the family. Being prepared with the right baby supplies will help you to keep the event as entertaining and stress-free as possible. Remember what you need for a usual outing and then think about the special swim gear, protection and safety items that you will need for the water. Add a camera or smartphone to your list so you can capture all of the fun you are having. Quality time with babies in their infancy is a healthy way for you both to bond as you enjoy your self-care and change in scenery.
The following two tabs change content below.
Meredith blogs at The Mom of the Year, where she dedicatedly earns her title one epic parenting fail at a time, offering quick, relatable laughs for fellow parents and all their empathizers. She has been part of several best-selling anthologies, featured on prominent sites such as Huffington Post, In the Powder Room and BlogHer, and loves her role as the Executive VP/Operations Manager of The BlogU Conference. When she's not breaking up fights over Legos and juice boxes, she remains fully committed to sharing a less serious look at the world of parenting.