Staying healthy is just as important for parents as it is for their children, but finding ways to motivate everyone can be challenging. It's not easy to get the entire family involved when it comes to taking care of their physical and mental wellbeing. Luckily, there are a few things you can do to make it as exciting as possible. Below we are going to take a look at ten fun and healthy activities you can do as a family.
Go for a walk
Walking is one of the simplest healthy activities that the entire family can do together. Not only does it count as exercise, but you're breathing in the fresh air and soaking up vitamin D. While it may not be super fun at first, there are ways to keep the kids motivated. Some of which include:
– Picture challenge: Make a list of things your little one must snap along the way.
– Bug hunt: Take a magnifying glass and see what bugs you can find.
–      Nature collage: Collect leaves and flowers to create a collage. 
–   I Spy: This classic game is perfect for car trips and long walks. If your children are too young to use letters, you can use colors instead! 
Cook together
Educating your children on where food comes from is essential, so why not turn it into a cooking lesson too? Have your children help you prepare and make a nutritious meal for the entire family. From measuring ingredients to proper hygiene and kitchen safety, there is so much they can learn. Check out these kid-friendly recipes to get started.
Host a scavenger hunt
If you want to get some fresh air but don't feel like leaving the house, then a scavenger hunt is another great activity that the whole family can be involved in. It encourages children to enhance their sensory development and cognitive abilities. There are many lists that you can print off online, and the only other thing you need is a bag/container to collect the items. It also works on rainy days too as you can create your own list of things around the home.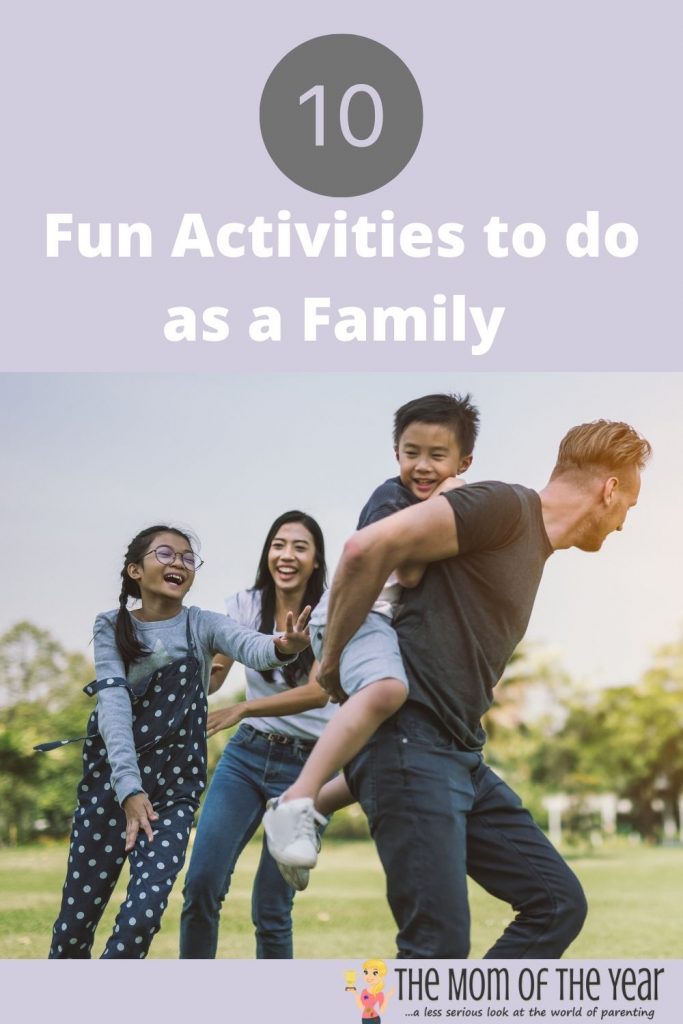 Brush your teeth
While brushing your teeth may seem like a very boring task, it doesn't have to be. There are many fun games and things that you can do as a family to encourage your children to care for their oral hygiene. Some of which include:
– Having your toddler brush their teddies teeth first.
– Playing a two-minute song instead of setting a timer.
– Purchasing a fun toothbrush.
– Offering small rewards (such as a sticker) every time they remember to brush.
Remember, it's always important to educate your children on what can happen if they don't take care of their smiles. Check out porcelain fillings vs. silver fillings for more information.
Create a vegetable garden
Above, we talked about how you can educate your children on where food comes from by cooking. Well, you can even take things one step further by choosing to grow your own vegetables. Not only will you save money on groceries, but gardening has many other benefits for the body, improving physical and mental wellbeing. If you're not sure where to begin, start off small with herbs, strawberries, cucumbers, and leafy greens.
Have a dance party
Dancing is excellent exercise, so if you want to spice up your regular routine, have a party as a family and put on your favorite tunes. It's fun, great for your health, and a fantastic way to spend quality family time. If you really want to take things to the next level, you might even consider getting a game like Just Dance to turn it into a competition! Dancing is not only fun but one of the best healthy activities you can do as a family!
Grab some chalk
Art is great for the imagination and allows us to demonstrate our creativity. Another fun activity to do as a family is to grab some chalk and head outside onto your driveway. Alongside drawing, there are many games you can play together. Have a go at hopscotch, try sidewalk twister or create a maze to walk, run or ride through.
Visit the library
Finally, the last of the fun and healthy activities to do as a family is to challenge your minds and head down to the local library. Reading is an excellent pastime, and if you're lucky, they may even have some fun competitions and events on as well. You might even set your own challenge and see how many books you can read in a week!
The following two tabs change content below.
Meredith blogs at The Mom of the Year, where she dedicatedly earns her title one epic parenting fail at a time, offering quick, relatable laughs for fellow parents and all their empathizers. She has been part of several best-selling anthologies, featured on prominent sites such as Huffington Post, In the Powder Room and BlogHer, and loves her role as the Executive VP/Operations Manager of The BlogU Conference. When she's not breaking up fights over Legos and juice boxes, she remains fully committed to sharing a less serious look at the world of parenting.