Dude, I have been cranking through the books! In the midst of these dicey days filled with family togetherness, endless board games, lots of walks, e-learning, more family togetherness, a rediscovery (husband and me)/discovery (kids) of 80s sitcoms, dishwashing upon dishwashing, cooking upon cooking and oh, did I mention family togetherness??–reading has become my ESCAPE. Books = sanity. So let's chat 'em, friends! Hop in below for our The Southern Book Club's Guide to Slaying Vampires book club discussion.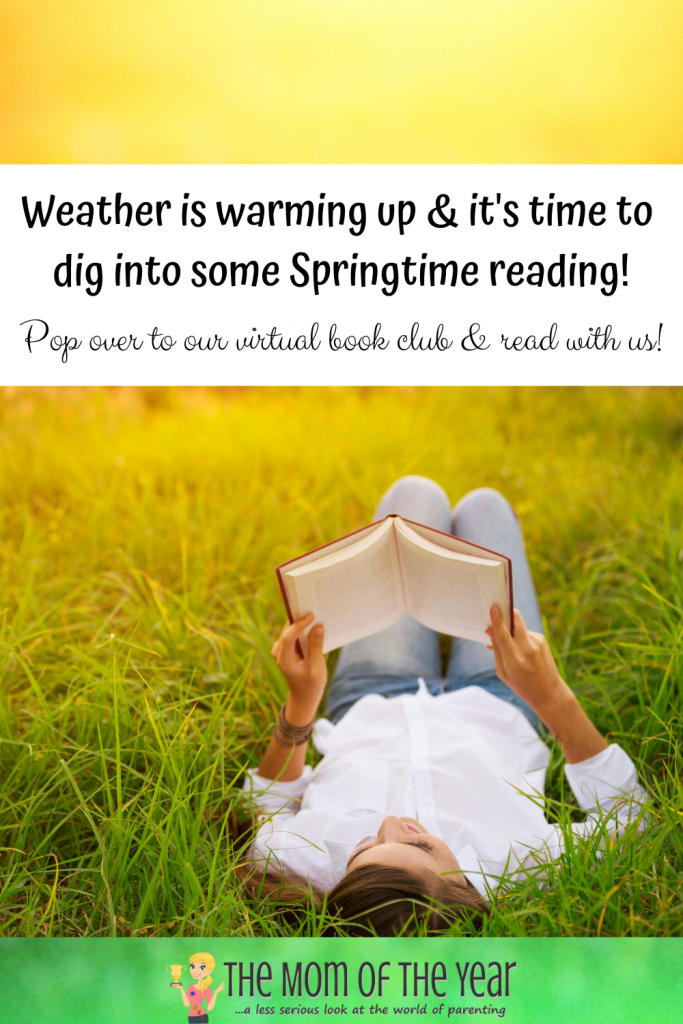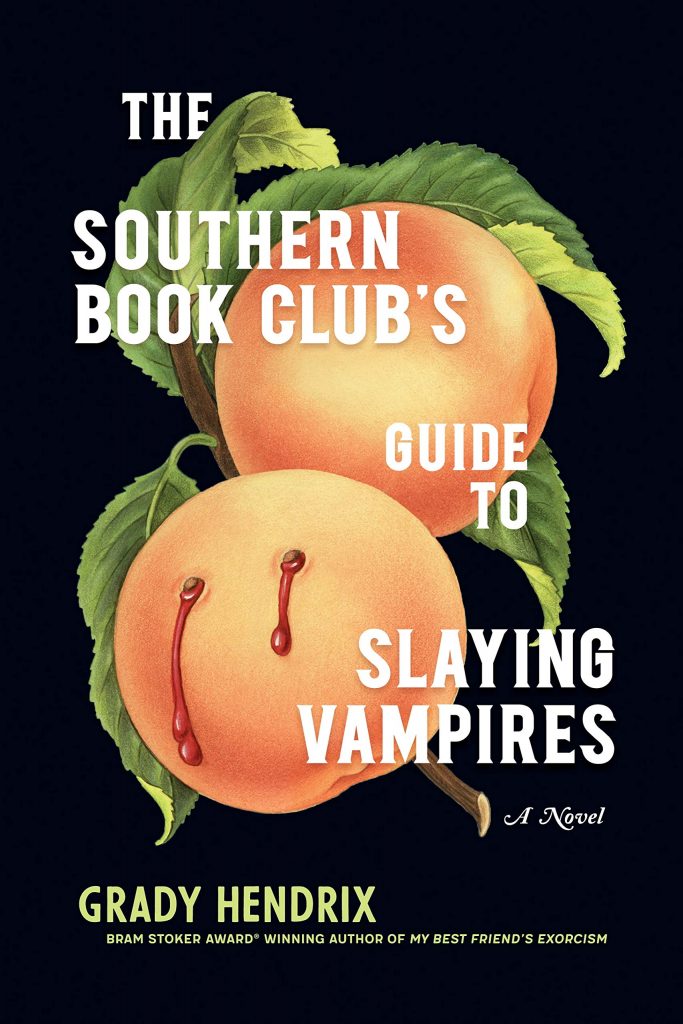 Let me lead by saying I've never read a vampire novel before. In fact, out of all the many horror/true crime books mentioned in this novel, I think the only one I read was In Cold Blood (which I enjoyed!). While I'm not versed in vampire fantasy, The Southern Book Club's Guide to Slaying Vampires is a tidy crossover between vampires, chick lit, and humor and was a perfect introduction to a new literature world for me.
Have you read vampire fantasy books before? How do you think this one compared?
What other books mentioned in the novel did you read?
I loved the chick lit elements of Patricia battling her day to day as a mom and finding such strength and camraderie with her cohorts in the Old Village, and found this to be very relatable.
Out of Patricia's friend group, to whom could you most relate?
I thought Patricia herself was pretty fantastic, and completely fell for her in the introduction–trying to lead that stuffy book club without having read the book! The state of Kitty's house also made me feel wonderfully at home 😉
Talk about the early warning signs Patricia should have seen and the mistakes she made. Have you yourself fallen into a bad situation (though likely not with a vampire!) in a slippery-slope manner?
How crazy was she to walk the whole way into her neighbor's house! And I couldn't wrap my head around her immediately lending him money and cosigning his account for him?! I do understand that it was a different time, and very safe small Southern town, but…this was still a stretch for me. While Patricia noted James mentioning so many different places where he lived and so easily lying to the banker as warning signs, I think she should have heeded them far more. I can think of a couple of friendships I should have noticed were a bad fit earlier on if I had paid more attention to my gut.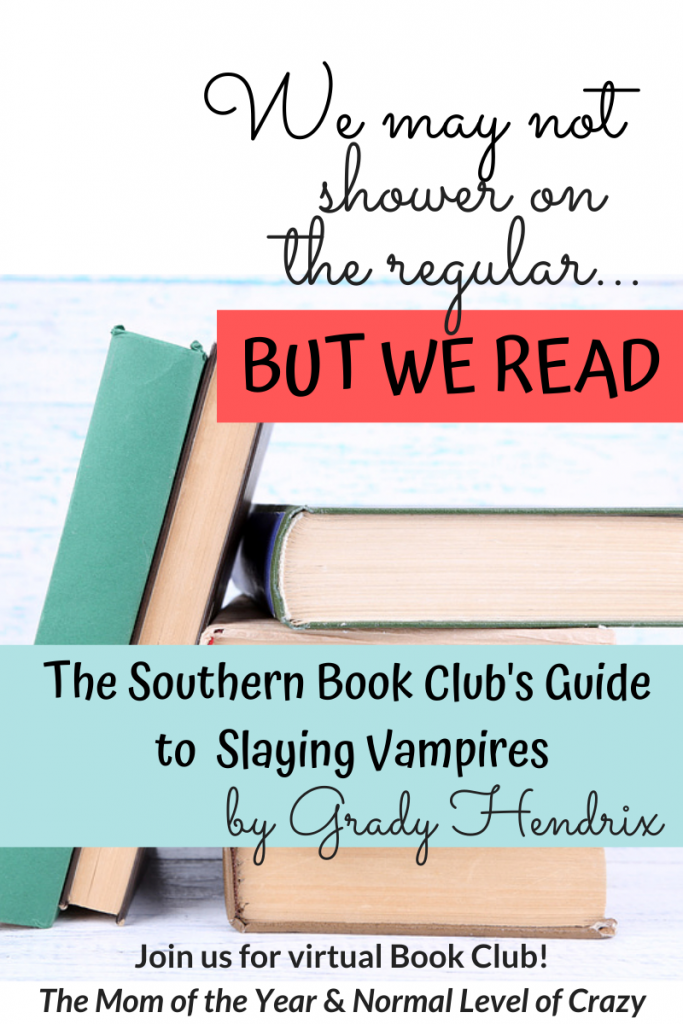 Talk about Patricia taking all of those pills and landing herself in the psych ward. How do you think she got to that point? What about the way her husband handled it?
After the book club made their concerns known, they were wholly shut down by their husbands (with the help of James), and Patricia alone was left standing with her concerns. I can't imagine how defeated she must have felt–unheard by her partner, abandoned by her friends and questioning her own judgement. At first, I felt her taking all those pills seemed capricious, it does make sense that she felt hopeless in this situation and her thoughts were entirely scattered and confused. I was completely unimpressed with Carter from the start, and his lack of compassion and genuine concern for his wife in this situation only further confirmed my regard.
Discuss the disparity in law enforcement in regards to race and class seen in the book. How do you see this play out in your own community? It was sickeningly cunning the way James used this to his advantage when selecting his victims.
Mrs. Greene so clearly saw and spelled out the situation for what it was. I grew to admire her wisdom, strength and determination throughout the book. The battle she fights is all too familiar in the inner-city areas around us.
I was so horrified by what James did to Korey. I cannot even imagine how I would have reacted as a mother seeing that. Pure, blind rage?? How do you think you would have handled this situation?
Similarly, do you think you could have done what those women did to take down James in the end?
Nope. No. I wouldn't have Patricia's strength to put herself in the situation. I would also have passed out at the first site of blood–her friends are warriors!
Lastly, I have unanswered questions–if you have the answers to any of these, please let me know!
The big one–ar James' body parts still alive?!?
Did Leland really cheat on Slick, or was James only saying this to stir things up? It makes me sad if he did!
If Slick had not been creamated, would her body have turned into a vampire?
Did James somehow turn Mrs. Savage into a vampire? This didn't appear to happen with his other victims.
How did all the rats in the house die after they attacked Miss Mary and Mrs. Greene?
Do YOU still have any burning questions? Ask them here, and we can help each other figure this out in this The Southern Book Club's Guide to Slaying Vampires book club discussion. And make sure to read on for our new pick…
The Handmaid's Tale meets Alice in Wonderland in this gripping and imaginative historical novel about a shunned orphan girl in 16th-century England who is ensnared in a deadly royal plot and must turn her subjugation into her power.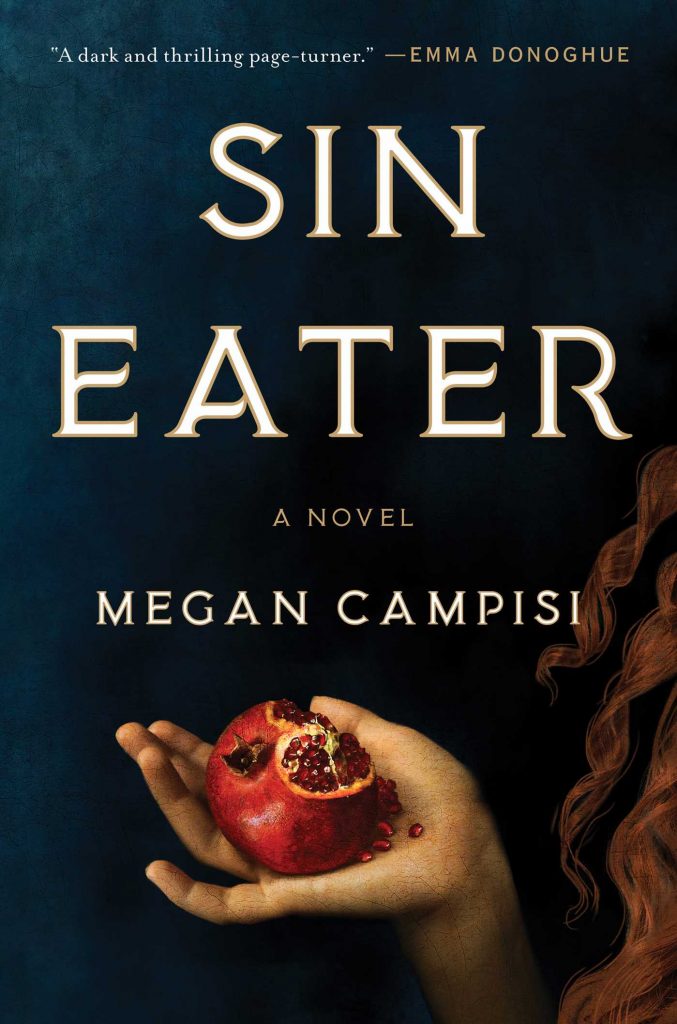 The Sin Eater walks among us, unseen, unheard
Sins of our flesh become sins of Hers
Following Her to the grave, unseen, unheard
The Sin Eater Walks Among Us.
For the crime of stealing bread, fourteen-year-old May receives a life sentence: she must become a Sin Eater—a shunned woman, brutally marked, whose fate is to hear the final confessions of the dying, eat ritual foods symbolizing their sins as a funeral rite, and thereby shoulder their transgressions to grant their souls access to heaven.
Orphaned and friendless, apprenticed to an older Sin Eater who cannot speak to her, May must make her way in a dangerous and cruel world she barely understands. When a deer heart appears on the coffin of a royal governess who did not confess to the dreadful sin it represents, the older Sin Eater refuses to eat it. She is taken to prison, tortured, and killed. To avenge her death, May must find out who placed the deer heart on the coffin and why.
"A keenly researched feminist arc of unexpected abundance, reckoning, intellect, and ferocious survival" (Maria Dahvana Headley, author of The Mere Wife) Sin Eater is "a dark, rich story replete with humor, unforgettable characters, and arcane mysteries. It casts a spell on your heart and mind until the final page" (Jennie Melamed, author of Gather the Daughters).
Intrigued? So are we! Good news for you–we are giving away a copy of Sin Eater here for FREE! As long as you are 18 or older and live in the continental United States, you are eligible to win. Leave a comment below before 5/8/20 before 5:30am EST to enter!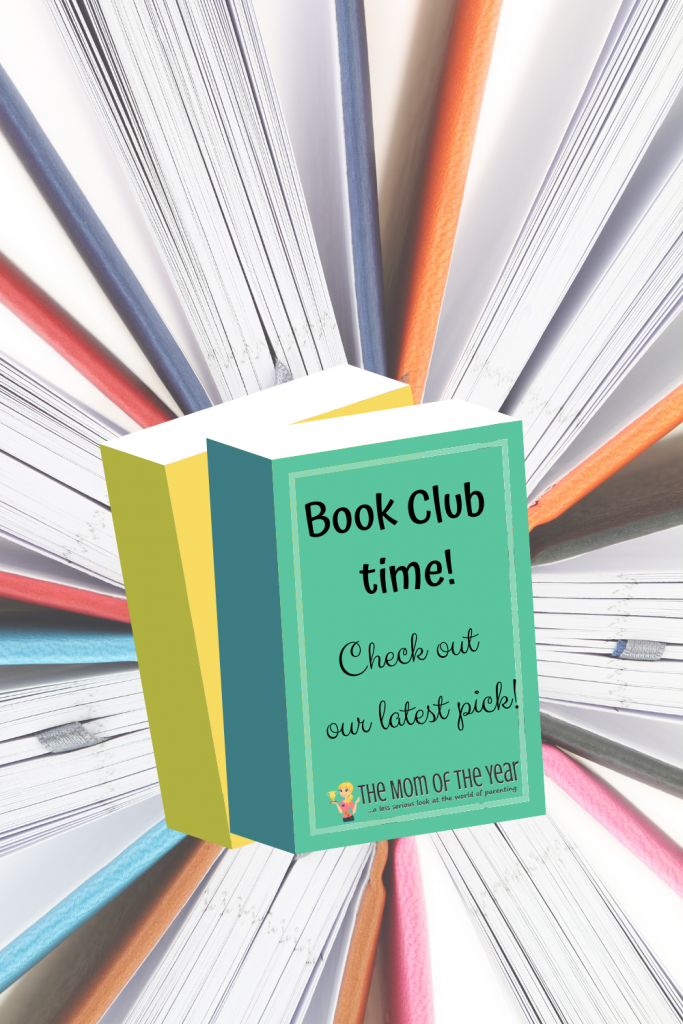 We so appreciate you joining us for our The Southern Book Club's Guide to Slaying Vampires book club, and are hoping you and yours are staying healthy and hanging in in the midst of these dicey days friends. Grab a book and get your therapy on…xoxo!
The following two tabs change content below.
Meredith blogs at The Mom of the Year, where she dedicatedly earns her title one epic parenting fail at a time, offering quick, relatable laughs for fellow parents and all their empathizers. She has been part of several best-selling anthologies, featured on prominent sites such as Huffington Post, In the Powder Room and BlogHer, and loves her role as the Executive VP/Operations Manager of The BlogU Conference. When she's not breaking up fights over Legos and juice boxes, she remains fully committed to sharing a less serious look at the world of parenting.