One of my favorite things to do when I have spare time is to cook and create recipes, and I'm eager to share this recipe of grilled gyros and vegetables with you!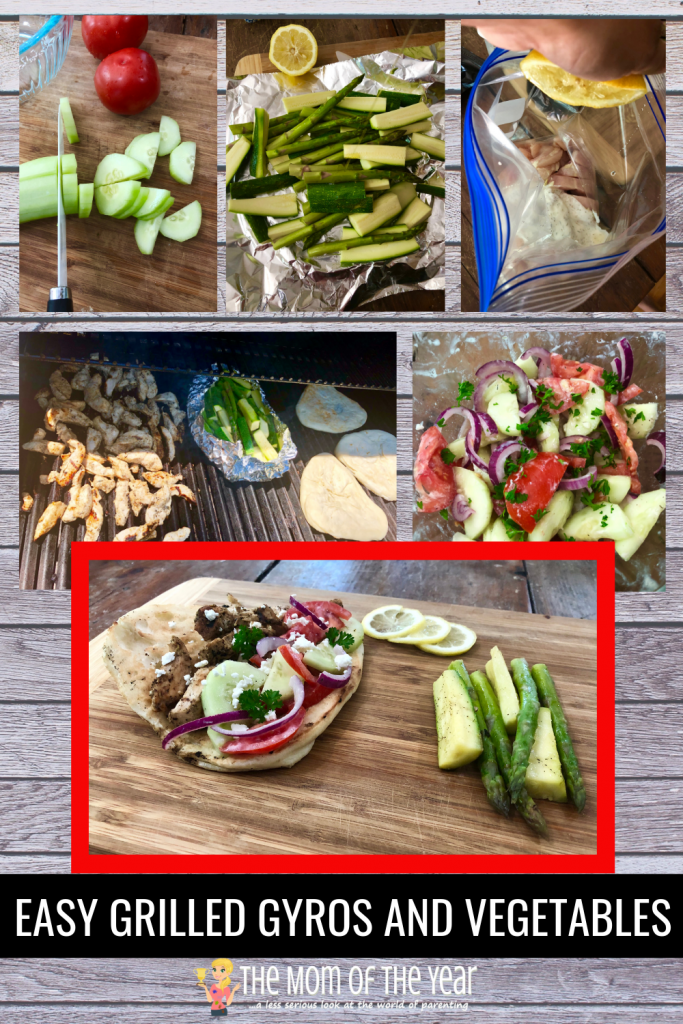 While, I could easily spend hours in the kitchen making meals but the reality is, with children at home, time is a hot commodity. For this reason, most of my recipes must be simple yet delicious, and take the least amount of clean up time possible. In the winter months, this means I resort to my trusted crockpot, but in the summer, it's grilling time! I plan entire meals to be prepped and cooked entirely on the grill. Everything cooks together and there is little to no cleanup. Not to mention you avoid the irritation of having your stove and oven heating up your house.
So when I had a recent craving for gyro, I created this easy grilled gyros and vegetable recipe that turned out delicious! The prep work was simple, my entire family gobbled it up, and all I had to do for clean up was rinse a cutting board and brush off the grill. Read on to see how you can make this perfect grilled gyros summer meal!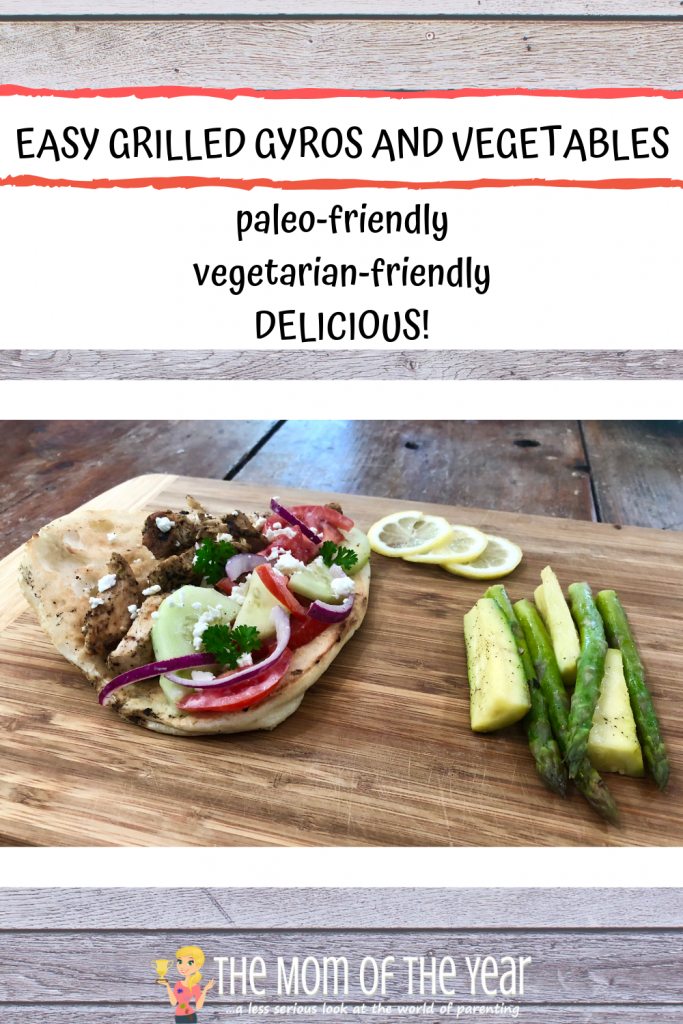 Easy Grilled Gyros and Vegetables
Ingredients:
(Leftover alert! This made two full meals for my family of four)
2 packages of thinly sliced chicken breasts
2 large zucchinis
1 bunch asparagus
2 lemons
2 garlic cloves, minced
2 cucumbers
2 tomatoes
1 red onion
Feta cheese
1 bunch parsley
Tzatziki sauce (you can make this on your own but when you're short on time, it's great to skip a step)
Pita bread or naan bread (pro tip: naan bread grills the best out of both choices)
Olive oil
Seasonings: garlic salt and pepper
Start with slicing your chicken into strips and placing it into a freezer bag.
Add in the juice of half of a lemon, 2 teaspoons garlic salt, 1 teaspoon pepper, 2 minced garlic cloves, and ½ a cup of tzatziki sauce.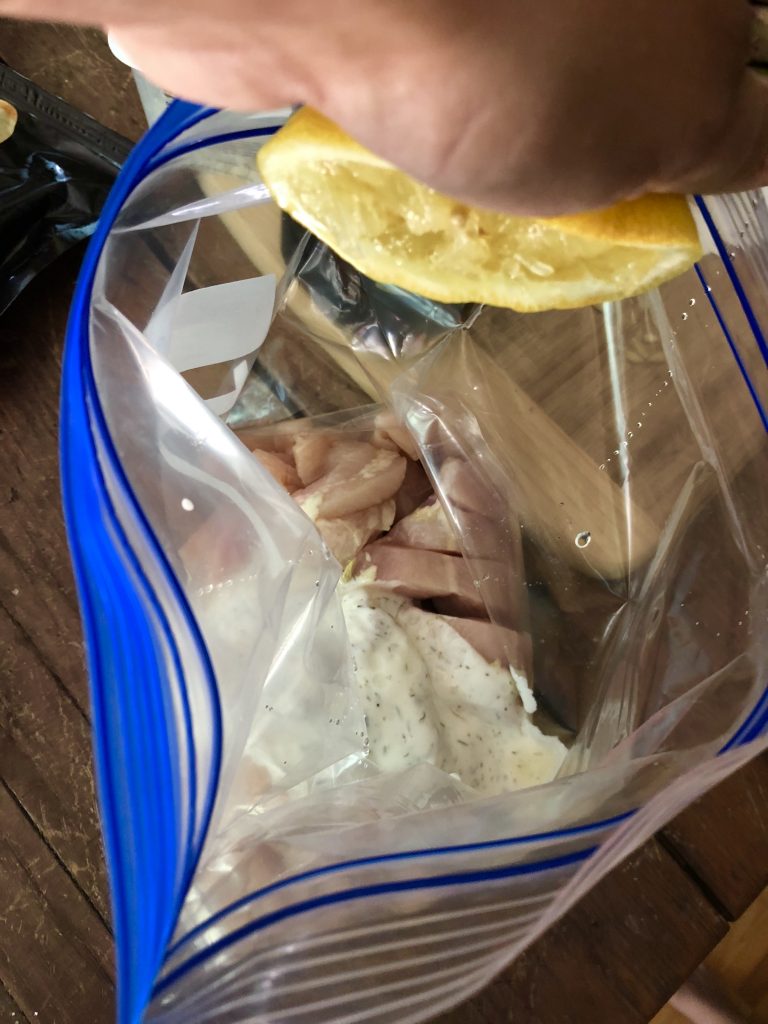 Shake the bag to mix the ingredients and set it aside. You can also make this the day prior and store in the fridge overnight for even more flavorful chicken.
Chop your zucchinis and asparagus. When I grill, I leave my pieces larger and my asparagus long.
When I chop asparagus, I always chop 1 inch off the bottom as the bottom can be tougher to chew. So as not to waste food, I take the discarded parts of vegetables and peels and place them in my compost to help my garden grow!
Place the zucchini and asparagus on a large sheet of foil and drizzle olive oil, pepper, and garlic salt on top. Create a sort of package and cover the top of the vegetables with foil so that it can steam on the grill (and cook quickly).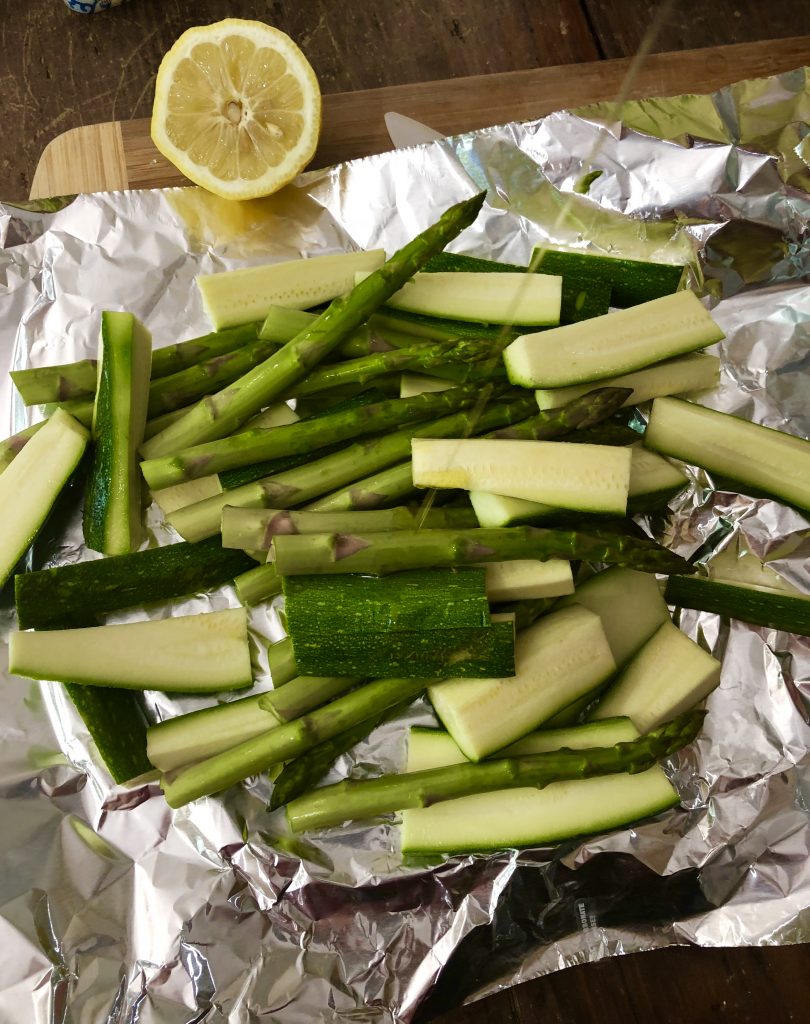 Peel and slice your cucumbers, red onion, and slice your tomatoes. Chop the desired amount of parsley as well.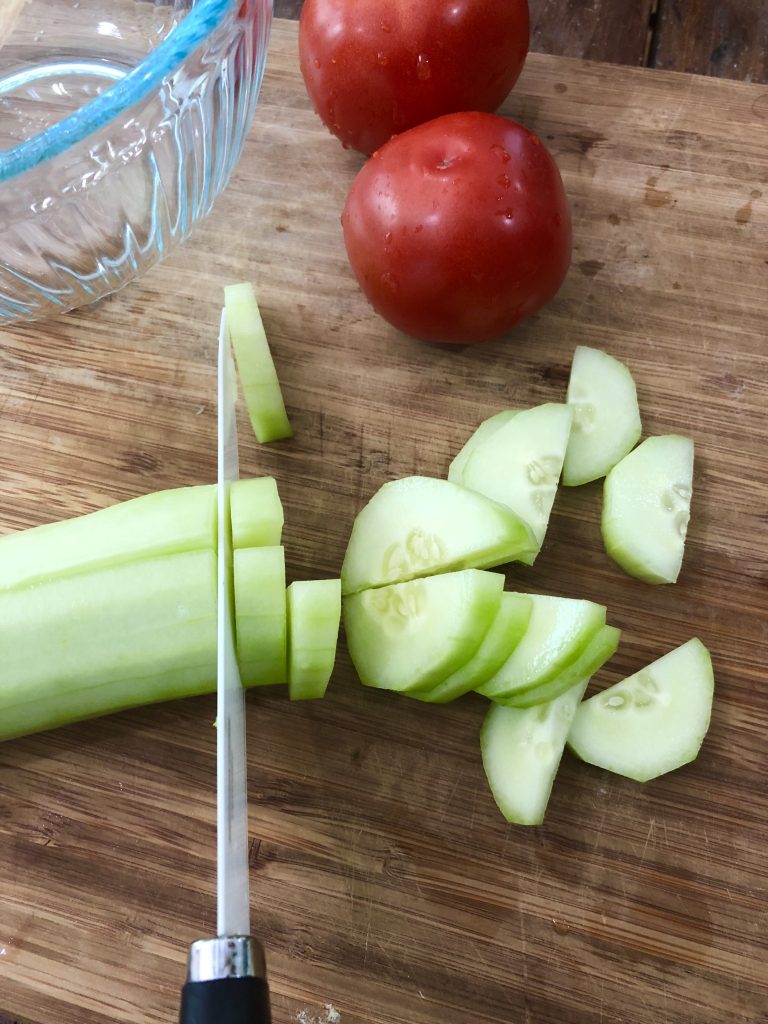 Put all of these ingredients a bowl and add the juice of 1 lemon, 1 teaspoon of pepper, and ¼ cup of tzatziki sauce. Mix together and place in the fridge until mealtime.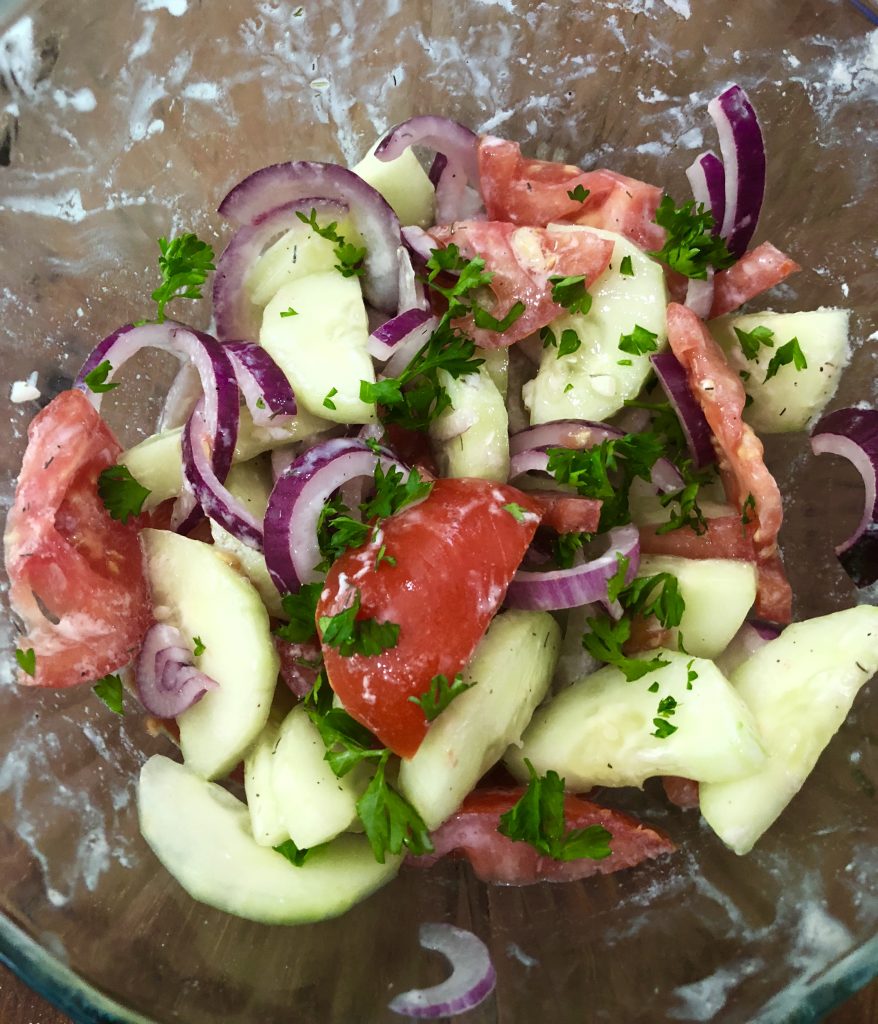 Heat your grill to medium heat and add the chicken and foil packet of vegetables. As all grills heat differently, just keep an eye on your chicken cooking evenly and your vegetables softening to let you know when they are ready. My grill took about 20 minutes to cook everything.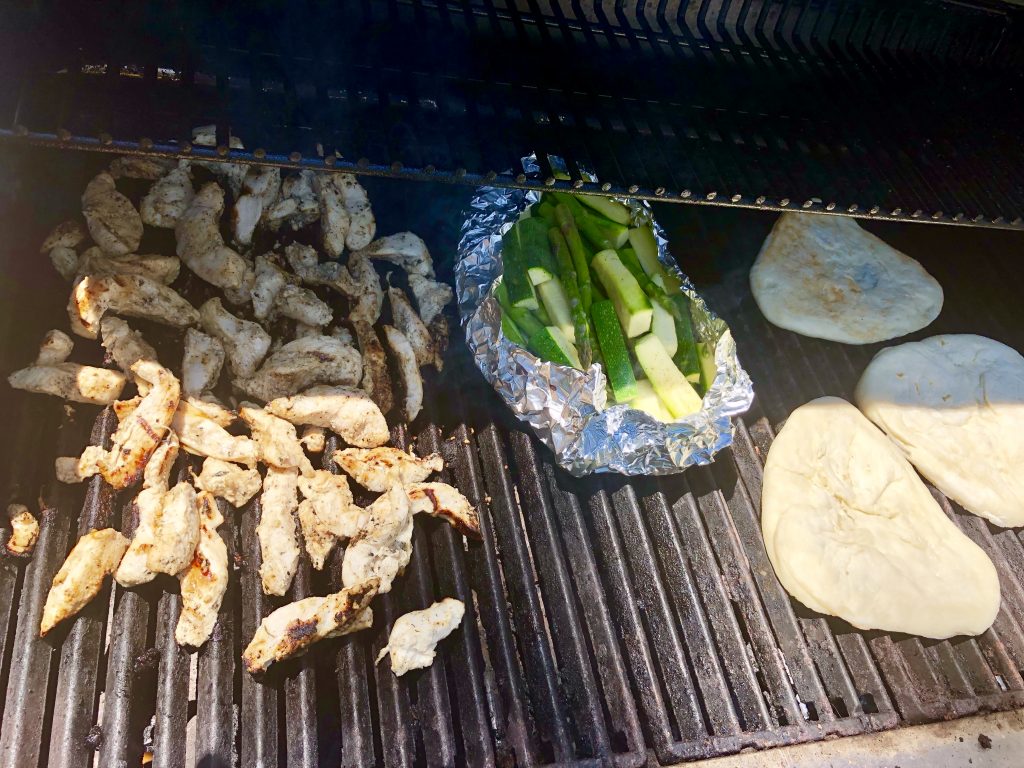 Once everything is cooked, add your pita or naan onto the grill to heat up for 5 minutes.
Your grilled gyros and vegetables are now ready! Place your chicken on top of your bread, add your cucumber and tomato salad, then shake some feta cheese on top to finish the sandwich off. On the side, add your vegetables and squeeze some lemon on top of everything (if you prefer).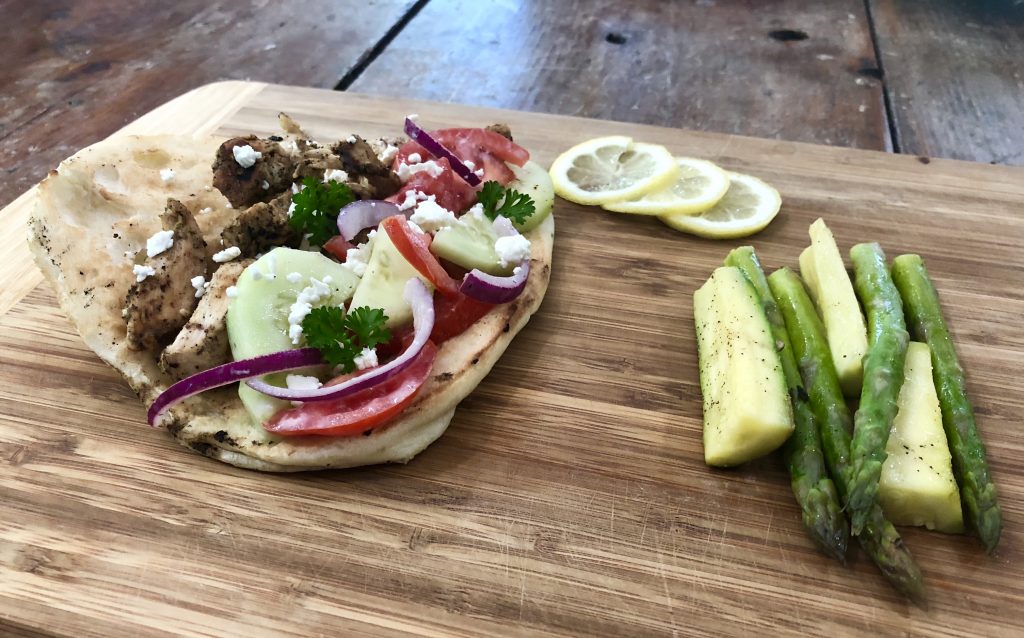 This easy grilled gyros and vegetables meal is so delicious, only needs a grill for cooking, and requires minimal cleanup. These gyros are a bit unconventional as they do not follow a traditional gyro recipe, and I think that is why I love them so much!
I also love that you can tweak this recipe to accommodate different dietary restrictions. Vegetarian? Add hummus and beans on top of your bread. Paleo? Skip the tzatziki and bread and instead enjoy a crisp lemony grilled chicken and vegetable meal.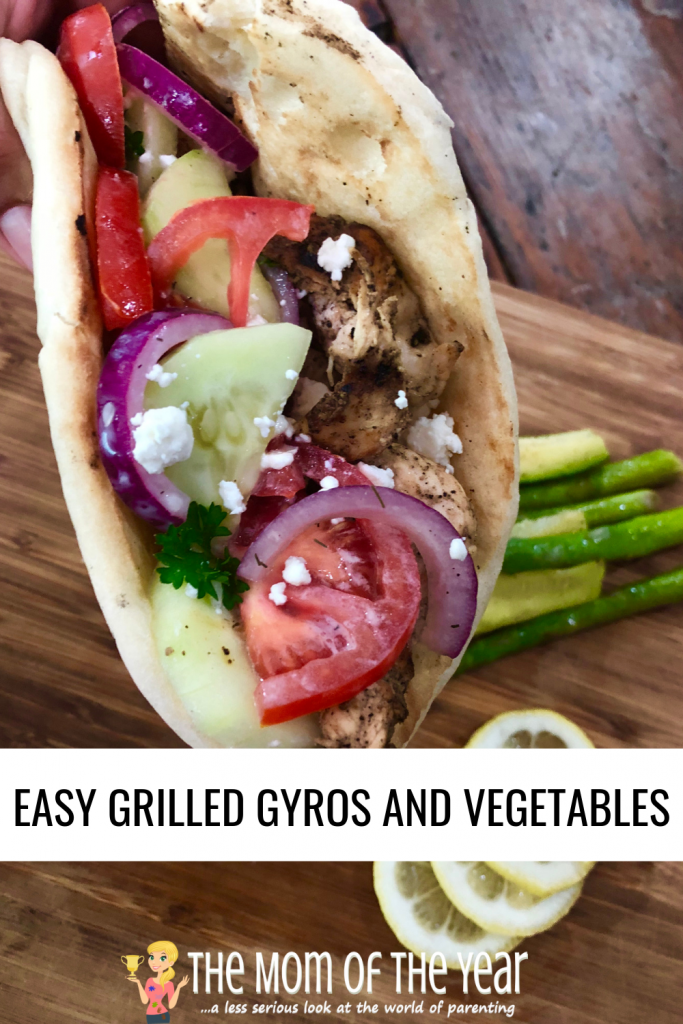 No matter which way you tweak this recipe, the freshness of the lemon and crispness of the vegetables makes these grilled gyros the perfect summer meal that all ages will enjoy.
The following two tabs change content below.
Meredith blogs at The Mom of the Year, where she dedicatedly earns her title one epic parenting fail at a time, offering quick, relatable laughs for fellow parents and all their empathizers. She has been part of several best-selling anthologies, featured on prominent sites such as Huffington Post, In the Powder Room and BlogHer, and loves her role as the Executive VP/Operations Manager of The BlogU Conference. When she's not breaking up fights over Legos and juice boxes, she remains fully committed to sharing a less serious look at the world of parenting.