*** Thank you to the family-friendly Kennedy Space Center for hosting our family so I could share this inside scoop on visiting with you.***
Long about a year ago, my son went and became obsessed with all things space. As the planets would align, I was simultaneously planning a family trip to Central Florida this summer, and…a trip to the family-friendly Kennedy Space Center bumped its way from my son's dream into reality. It was on, friends, and we were going! Planning to travel to this area yourself or thinking to pop over to Kennedy Space Center yourself? Snap up this smart know-how to plan your own family-friendly Kennedy Space Center visit!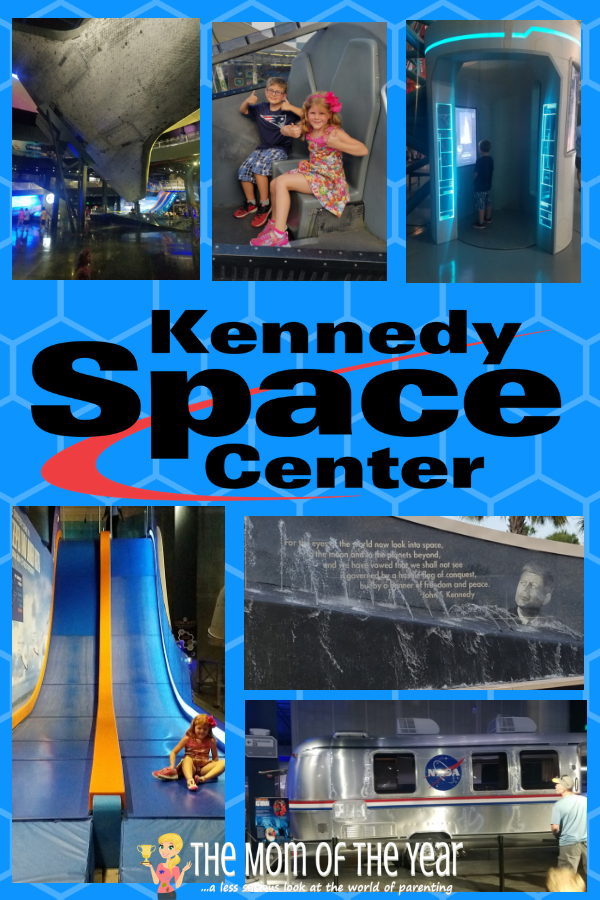 A day will do…It really will! Family-friendly Kennedy Space Center is one of the places in Central Florida that truly does work in a day. BUT…if you have two days, your visit will still be plenty full. With all of the tours, sessions, Cosmic Quest option, and other add-ons, you can well keep your family occupied for a day plus.
Speaking of add-ons, they rock! We did Lunch with an Astronaut as a gift to my son for his birthday, and it was such a treat! Getting to hear a personalized astronaut's experience and ask him questions was very cool and very unique. We also purchased the KSC Smartguide, figuring this visit was a very special occasion for our family, so we wanted to learn as much as possible.
The tours are fantastic. We did the Kennedy Space Center Complex Bus Tour Route to the Apollo/ Saturn V Center (included with admission), and I was so impressed by how well the guides used the drive time to teach and inform us on our way to our destination, the Apollo/ Saturn V Center, which in itself was so very impressive!
Cosmic Quest is fantastic, but if you are bent on completing, you need two days. My kids LOVED finding and chasing after the missions, but it felt stressful to squeeze this in with our 1-day visit to family-friendly Kennedy Space Center along with checking out everything else. I would strongly recommend purchasing this option with a 2-day visit.
Arrive EARLY. I thought we would be fine to arrive upon opening time and then enter. Not the case! It took significant time to process our Cosmic Quest badges, and our entry was significantly delayed. Should you have any add-ons or special considerations, I strongly recommend an early arrival so you can kick your day off on a smooth foot!
Plan around the highlights. Some of our favorite parts of our visit we only chanced upon while making our way out of the park! The Shuttle Launch Experience is not to be missed, and would even merit a second or even third go if you have the time–this was a hit! And while you are at this attraction, take a minute to experience your own landing by riding the re-entry slide to the first floor of Space Shuttle Atlantis. The exciting adrenaline rush brings is only a small peek at how the astronauts felt during their real space shuttle landing! On your way out, make sure to enjoy the very cool Constellation Sphere; known as a Kugel ball, this nine ton black granite sphere etched with 88 constellations floats on a fountain of water, demonstrating the science of buoyancy and friction–and is super cool to touch and watch!
Know your children's attention spans. We sat through a couple of demonstrations/chats that in hindsight, would have been better skipped. I don't think we got enough out of these talks to make the demand on focusing their attention worth it. They sucked up energy that may have been better saved for other exploration throughout the day.
Kennedy Space Center closes on the early side, so plan your trip itinerary around this accordingly. Check the calendar for exact times, but closing time is usually 6pm. This can offer a much-needed change-of-pace if you are spending other days at attractions open far later, and could use the break of an early night-in.
Leave time to simply take it all in. This was the part I most enjoyed. As we were exiting the part, we took time to walk around the Rocket Garden. The kids played and explored, and we got some great pics. A fun way to end the day!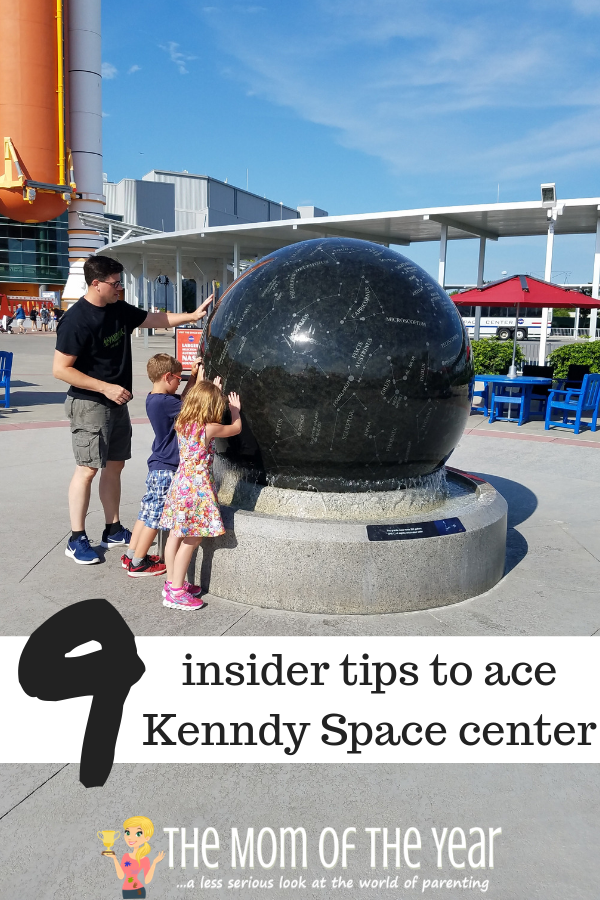 Have you been to the family-friendly Kennedy Space Center? Do you have any tips to add? We only got to spend a day there and are so looking forward to returning! If you're planning a trip of your own, grab onto this insider scoop and let us know how your visit goes. Go get your space on, friends!
The following two tabs change content below.
Meredith blogs at The Mom of the Year, where she dedicatedly earns her title one epic parenting fail at a time, offering quick, relatable laughs for fellow parents and all their empathizers. She has been part of several best-selling anthologies, featured on prominent sites such as Huffington Post, In the Powder Room and BlogHer, and loves her role as the Executive VP/Operations Manager of The BlogU Conference. When she's not breaking up fights over Legos and juice boxes, she remains fully committed to sharing a less serious look at the world of parenting.