***Thank you to the King and Prince Resort for sponsoring this post so I could fill you in on why the incredibly family-friendly King and Prince Resort is a must-visit!***
You know those magical unicorn times with kids, the rare ones when you think, "Sweet! We've got this family gig down and it's working out–it's even fun!"?! Rare for sure, but if we look under all the heavy chaos and fatigue of life with kids, those gorgeous moments are there…and they are so shiny, shiny bright. This summer my family captured such a lovely bit, and it was all because of the delightful place we were visiting, the super family-friendly King and Prince Resort on St. Simons Island in Georgia.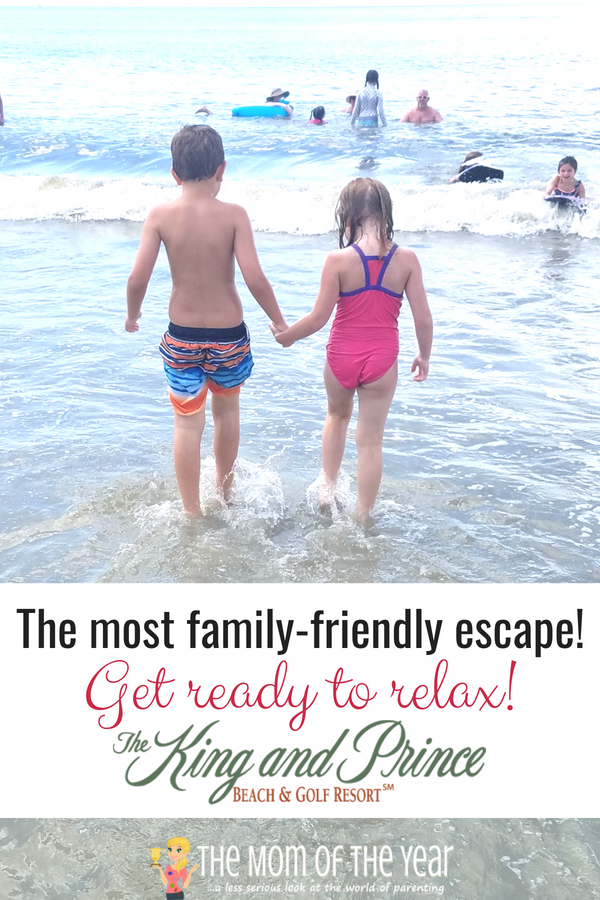 Why was it such a win? And why did we love it so? And why am I already, only a month later, fantasizing about plans to trek my family down the coast again for another visit? While we were hanging poolside one day, I got to chatting with another mom who said they specifically make plans every year to visit this resort because it's so darn family-friendly and EASY with kids. Read on to find out why this place is so perfect, friends…
10 Reasons the Incredibly Family-Friendly King and Prince Resort is a Must-Visit
All in one. Sifting through all the reasons I love this resort, this one naturally rises to the top. Kids are great (sure, let's go with that 😉 ), but life with them is not easy by any stretch. A single stop where we can sleep, play, and eat? Win, win, win. The family-friendly King and Prince Resort has all of this in spades with a gorgeous outdoor pool area, comfy room, and a dining area that blends around the fun.
The dining area. I say dining area because it is not a room or a contained restaurant, but rather an area stretching from air-conditioned crispness to seaside-watching chill to poolside bar tops to lounge-chair service. Whether you are in the mood for a more formal dinner or just want to grab a bite and a bev while watching your kids splash in the pool, ECHO and the Sea Shack Bar have it covered. Pull up a lounge and kick back, my fellow parents. The living is sweet!
Entertainment delivered. The right way. We are big fans of encouraging our kids' use of their imaginations and social skills to entertain themselves, and the family-friendly King and Prince Resort is so very on par with this. With three different pools and an afternoon kid activity station, there is plenty of novelty coolness to fuel excitement as well as plenty of space to allow kids to create and enjoy their own fun.
Coffee. If you're a fellow parent, you'll get why this deserves its own bullet point. Here are your first-thing-in-the-morning-as-soon-as-the-kids-start-to-crawl-on-you options: make your own in the room with the lovely in-room brewer, pop down to the bar for a free cup, or gather up the family and head down to ECHO for a hot meal, loads of magical coffee, and a gorgeous morning beach view.
Leave the heavy beach-gear lugging for the sad Northerners. Admittedly, I've never been to a Southern beach before. Ever. So the concept of taking a short staircase from the pool deck down directly into the ocean was new to me! And it was wonderful…no endless miles of parking lots, streets, and beach over which to drag beach chairs, sand toys and the like. It was a miracle. Throw in the option to rent beach chairs and an umbrella directly on the beach and this road-tripping family sans room for beach gear were goners. You simply walked a few steps onto the beach, sat down and enjoyed.
The lovely, lovely rooms. Beyond comfortable beds, individual pool patios, and a cozy couch area for relaxing (along with an "art desk" my daughter claimed as her own 😉 ), it was a convenient, welcoming spot for my family to kick back in amidst the fun.
Extra fun a block away. Should you want to explore beyond the resort, I can't say enough about St. Simons Island. The town is adorable and full of sweet shops and places to grab a bite. The lighthouse is too cool to explore–my kids were fascinated! Bikes are readily available to rent for the day, and there is an incredible community pool/water park area.
Relax. No really, I get it. This is tough with kids. But…the family-friendly King and Prince Resort has a kick-back vibe that allows you to chill in the pockets of chasing after those kiddos. If your kids are old enough, chill on your solo pool-view patio and watch them play. If they're a bit younger like ours, a margarita delivered to your lounge chair while the kids get their fun on makes you feel like a princess! And with Georgia's gorgeous beaches, letting them splash and sand dig in the low tide while you keep an eye from your chair is perfect fun for everyone.
Incredible deals. So, my family is very budget-forward (read: we can't play around and must stick tightly to what is coming in/going out). Now that I've been following along with the King and Prince resort for a bit, I am truly wowed by the offers they share–more fuel for my fodder to get my family back there ASAP!
A year-round destination. I think we may have visited one of the most perfect times of the year–in the very early blush of summer. But, with all the amenities of both the resort and St. Simons Island, coupled with the lovely Georgia weather, there is no need to limit your visit to the summer months–go whenever best suits your family!
We're sadly home now and not hanging out at my new favorite family-friendly King and Prince Resort, but I was most sincerely taken with this getaway! Whether on the way to or from Florida or when my family most needs a breath of fresh Georgia ocean air, we will be back. I LOVED the King and Prince Resort, and am certain you will too!
The following two tabs change content below.
Meredith blogs at The Mom of the Year, where she dedicatedly earns her title one epic parenting fail at a time, offering quick, relatable laughs for fellow parents and all their empathizers. She has been part of several best-selling anthologies, featured on prominent sites such as Huffington Post, In the Powder Room and BlogHer, and loves her role as the Executive VP/Operations Manager of The BlogU Conference. When she's not breaking up fights over Legos and juice boxes, she remains fully committed to sharing a less serious look at the world of parenting.