Happy August, friends! Before we get to our book club's All We Ever Wanted Book Club Discussion, let's pause a moment to take stock. How's your summer season going? If your neck of the woods looks anything like ours, things are hopping! I saw this someecard the other day and could completely relate!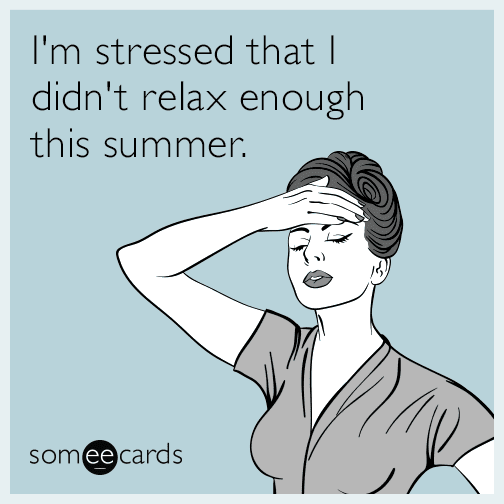 Despite all the chaos, the one thing I have aced is reading. I've been devouring books (my handy-dandy insomnia helps a teensy with this 😉 ), and I've found some true gems! The Couple Next Door, How to Walk Away and How to Find Love in a Book Shop have been favorites, and my nightstand is toppling over with more titles waiting to be read. Topping that pile is our next pick–read on to get the scoop and make sure to comment on this post for a chance to win a copy for free!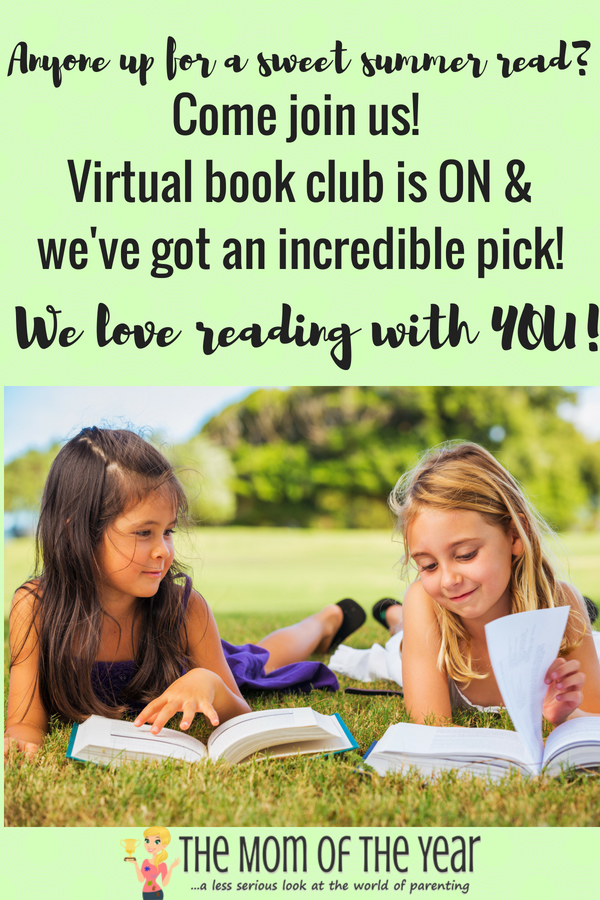 But before we get to that, hop in with Carrie and me as we chat one of the summer's most buzzed-about novel's, Emily Giffin's latest, All We Ever Wanted.
So, I'll be honest, this book wasn't my favorite. After rating it 3 out of 5 stars on Goodreads, I was asked what I thought about it. I had trouble sorting my thoughts and explaining why I didn't enjoy it more. Giffin's writing is skillful and effortless, but the plot felt overly singular, for lack of a better way to put it. While fully acknowledging the magnitude of what happened to Lyla, it felt strange to have the entire novel continuing to loop back to this one event without notable forward motion,
Character development as a whole was significantly lacking. This made it not only difficult to relate to the characters, but to find their actions plausible. I especially struggled with the tremendous leap Nina made. While it is understandable one could make such a huge life decision, Giffin forewent the build to her choice, which made it seem capricious and offered the reader no empathy for Nina's walk. This is a shame because a rich beauty and strength might have been found in such growth.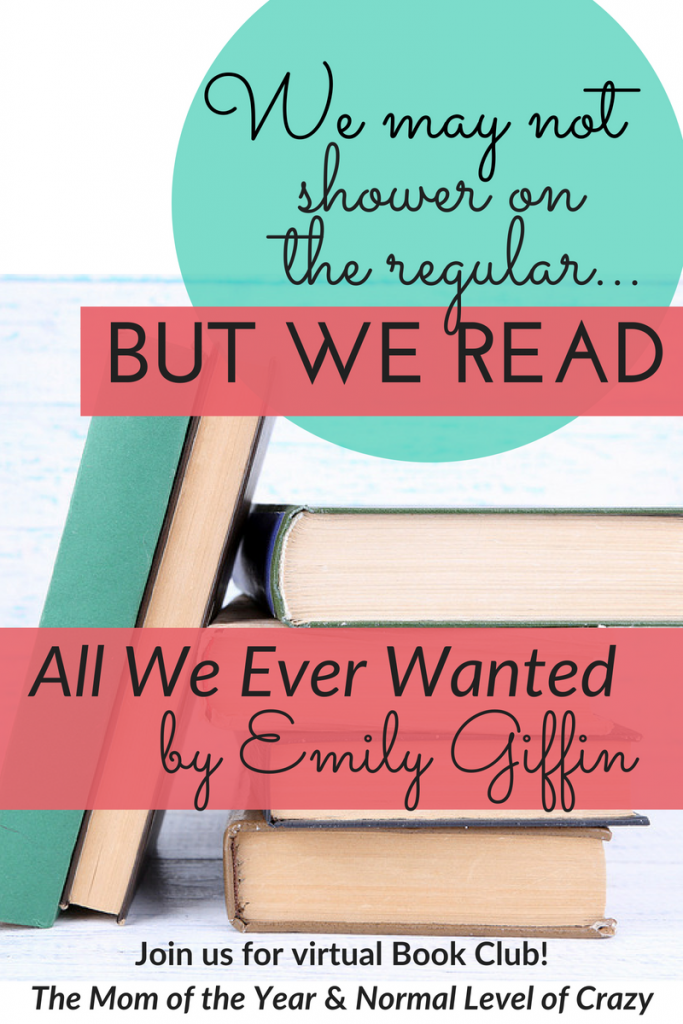 Share your general impressions of the book. Did you like it? If so, why? If not, what were your objections?
What did you think of the characterization? Did you find the characters relatable? If so, who were you most able to relate to? Why? Lyla was another difficult character for me. I understand she was a teen, heavily lead by emotions, but without better character development, her actions felt shallow.
Talk about the ending. Were you happy with it? Was it realistic? I always love a feel-good ending, but it didn't make sense to me why Nina and Tom wouldn't have ended in a romantic relationship. While I appreciate the value of friendship, and this was sweet, after all the hints throughout the novel that the two had feelings for each other, the ending felt disasociated.
How do you see Lyla and Finch moving on in the years after the event? I found it unrealistic they would be friendly towards each other, but I supposed if their parents were so close, they had little choice? Success for Lyla, especially with the support of such a dedicated father, but I have serious concerns about Finch's future. His actions showed almost sociopathic tendencies, not only with the horrible acts he committed to girls but that he so blatantly concocted such involved and detailed lies to cover his path–and told them with such effortless emotional manipulation.
How does this book compare to Giffin's other books? Did you enjoy it more or less than others? Compare and contrast the writing style, plot, and/or characterization. I haven't read nearly all of her books, so I am not the best to speak on this, but All We Ever Wanted felt oddly lacking in character development compared to Giffin's other books. I found other characters she created to be far more relatable and likeable!
And P.S. I am now terrified to let my children have their own phones, a reality I realize I must contend with in the near future, but Godspeed to all you parents who are already in these shoes and sorting it!
***************************************************
Now get ready to dig into next month's pick with us! After hearing sooo much buzz about A Place for Us, we knew it had to be a book club selection. Read on below to learn more about it, and make sure to leave a comment on this blog post before 8/10/18 at 5:30am EST for a chance to win a copy of our next pick. As long as you are 18 or older and live in the continental United States, you are eligible to win!
The first novel from Sarah Jessica Parker's new imprint, SJP for Hogarth, A Place for Us is a deeply moving and resonant story of love, identity, and belonging.
As an Indian wedding gathers a family back together, parents Rafiq and Layla must reckon with the choices their children have made. There is Hadia: their headstrong, eldest daughter, whose marriage is a match of love and not tradition. Huda, the middle child, determined to follow in her sister's footsteps. And lastly, their estranged son, Amar, who returns to the family fold for the first time in three years to take his place as brother of the bride. What secrets and betrayals have caused this close-knit family to fracture? Can Amar find his way back to the people who know and love him best?
A Place for Us takes us back to the beginning of this family's life: from the bonds that bring them together, to the differences that pull them apart. All the joy and struggle of family life is here, from Rafiq and Layla's own arrival in America from India, to the years in which their children—each in their own way—tread between two cultures, seeking to find their place in the world, as well as a path home.
A Place for Us is a book for our times: an astonishingly tender-hearted novel of identity and belonging, and a resonant portrait of what it means to be an American family today. It announces Fatima Farheen Mirza as a major new literary talent.
Thank you for joining us and sharing your thoughts in this All We Ever Wanted Book Club Discussion. We truly love hearing from you! Here's to the last month of summer–and finding some of that magical relaxation time, friends!
The following two tabs change content below.
Meredith blogs at The Mom of the Year, where she dedicatedly earns her title one epic parenting fail at a time, offering quick, relatable laughs for fellow parents and all their empathizers. She has been part of several best-selling anthologies, featured on prominent sites such as Huffington Post, In the Powder Room and BlogHer, and loves her role as the Executive VP/Operations Manager of The BlogU Conference. When she's not breaking up fights over Legos and juice boxes, she remains fully committed to sharing a less serious look at the world of parenting.