My family is very lucky in that my husband is very successful at deer hunting every year. This means many pounds of (practically free!) meat for our freezer and many useful deer parts like skin and antlers. For years I have been swooning over a gorgeous deer antler chandelier from Cabelas but can never justify the price point. Instead, I have been collecting antlers for years now and accumulated quite a box I could use to make my own DIY deer antler chandelier!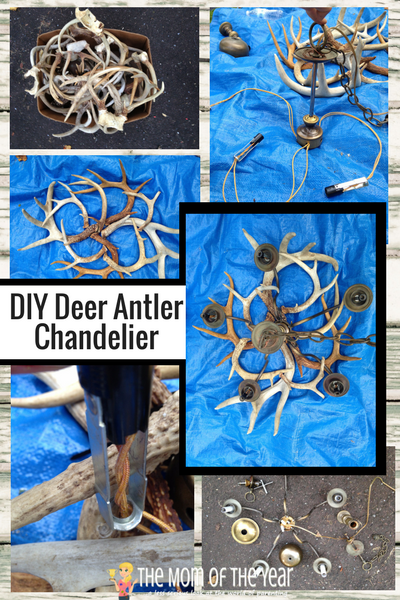 Not a hunter? Keep in mind that bucks shed their antlers every year. If you live near the woods where deer frequent, take a walk (January is prime shed time, but you may be able to find other times as well) to search for dropped antlers. Or, you can purchase the faux version online.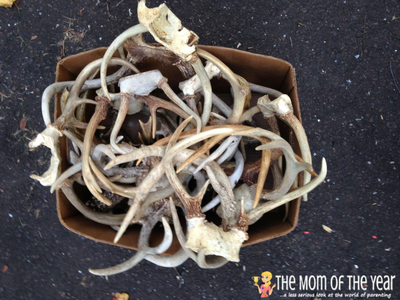 With my overflowing box of antlers, it was finally time to make my deer antler chandelier dream a reality! I snagged a free used chandelier from a friend to use as my base and was ready to begin. As far as the lighting and wiring goes, you can either start from scratch with wires you purchase, strip the chandelier and use the wires from that, or use an already built chandelier as a base for your project.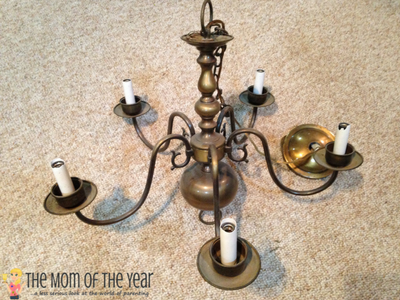 For your DIY deer antler chandelier project you will need:
antlers
a chandelier (or the wiring to make one)
long screws
spray paint (optional)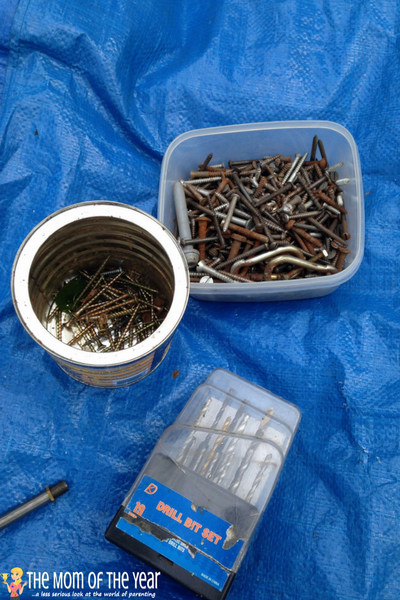 Let's begin!
Strip the chandelier. Every light is different, but with most you can twist off all of the excess pieces that you won't need. Once you start taking off pieces, it is relatively straight forward on which piece comes off next. I stripped mine down to only the wires, electrical box, and hanging equipment, since I wanted minimal metal showing through my antlers.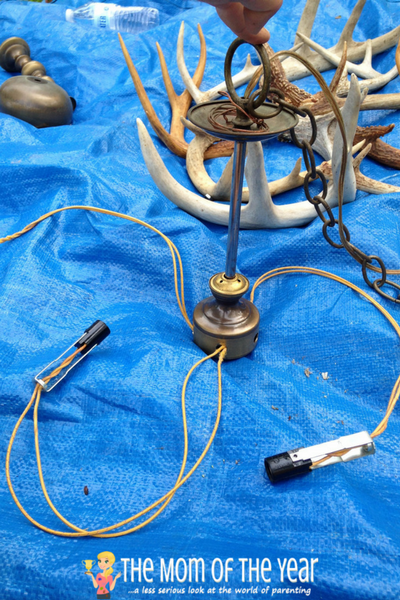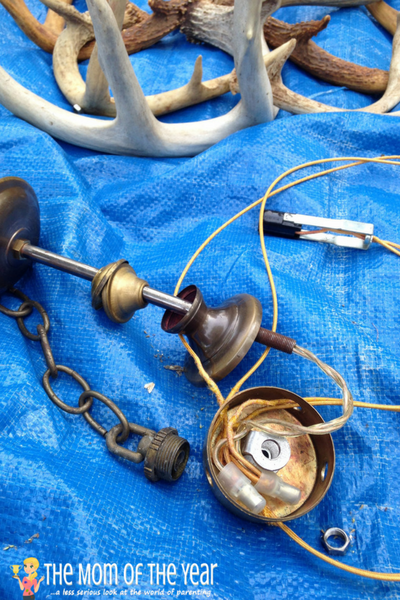 If this is too tedious for you, you could alternatively strip down to the part housing the lights so that it will be mostly hidden underneath the antlers and you won't have to deal with wires.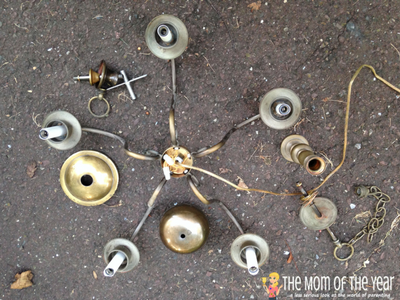 Paint your chandelier and antlers (optional). I prefer a more natural look so I skipped this step. If you are crushing on the newest style of rustic chic with white or colored antlers, this is the time to paint your chandelier base and antlers any color you want! Find a good spray paint that will stick to all surfaces and give it a coat or two of a nice even spray. Then let it all dry for a full day before continuing. Make sure to tape off the light bulb housings before you spray so that it doesn't interfere with the lighting.
Sort your antlers
Take out your collection and figure out what will it best where. The best part about a custom project is it's up to you! Generally speaking, however, the largest antlers work best on the base. You will want to begin with designing your base so that your chandelier/electrical box can be placed in and more antlers can be added to disguise it as you work your way up to the top of your light.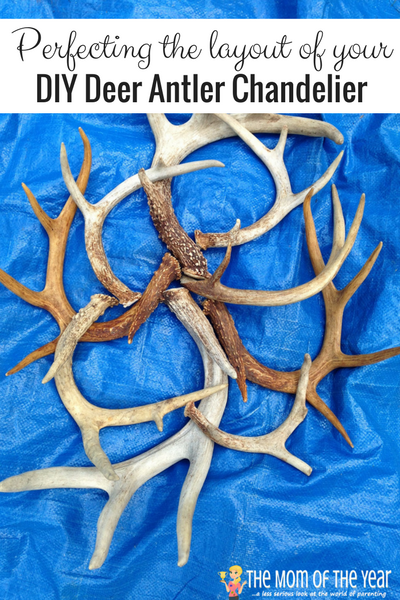 Begin connecting antlers
Get out your drill and add in a drill bit similar in size to your screws. Anywhere the antlers overlap is where you will want to pre drill holes so that your screws go in easier and do not break. Antlers smell rotten when drilled or cut so this part really needs to be done outside! Once the holes are pre-drilled, put in the screws to hold everything together. Keep working your way up until the base is disguised enough or the antler chandelier is large enough. If using only wires, attach the light bulb housings on whichever antlers you want and run the wire along the antlers into the electrical box.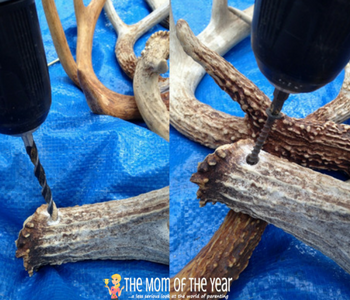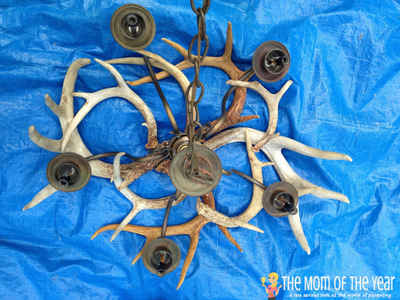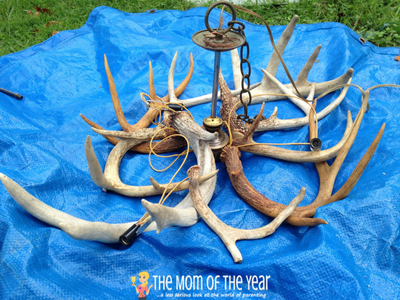 Finish the chandelier
Put the light bulbs in, hang it up and you have a beautiful accent light for your home! I chose to make my light smaller as I do not have much room in my foyer, but the more antlers you collect, the larger you can make it.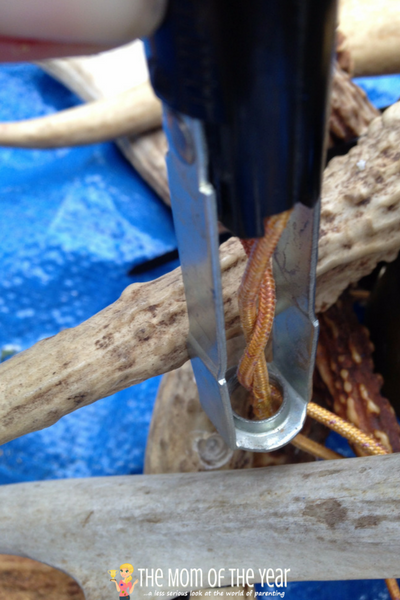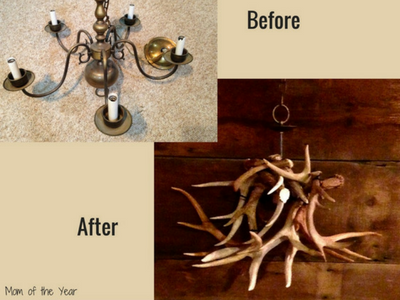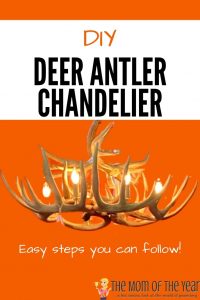 Antler chandeliers are a beautiful rustic décor that goes with any style home. Before you take the plunge to pay a hefty fee for one already made, take a shot at making a DIY deer antler chandelier on your own–it's easy and cheap!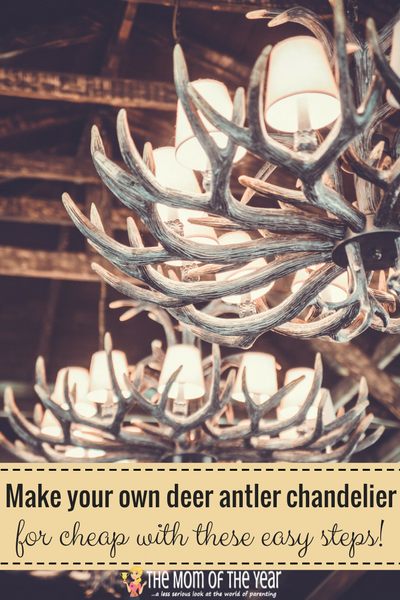 Disclaimer: Before doing any electrical work or wiring please consult an electrician!
Fifth image credit: depositphotos.com, image ID:5468580, copyright:amoklv
Last image credit: depositphotos.com, image ID:58008981, copyright:Bajneva
The following two tabs change content below.
Lindsay Houser
When Lindsay isn't fielding three-nager temper tantrums and scraping Play-Doh off the floor, her passions are the great outdoors, cooking, creating, and healthy, holistic living.
Latest posts by Lindsay Houser (see all)