I am delighted to introduce Tessa to you! Tessa has been my family's mother's helper and very dear friend for four years now, and I couldn't feel more blessed to have her in our lives. She's only fifteen, but impresses me daily with her savvy wit, maturity and gorgeous kind spirit. When she more recently expressed her interest in writing, I was thrilled! Even cooler, I have the chance to share her words here with all of you. Please join me in giving Tessa a very warm welcome as she shares her inspiration for a teen girl bedroom re-do!
************************************************************************
If you're anything like me, every year when your birthday rolls around, you have no clue what you really want. So when my fifteenth birthday sneaked up on me this past summer, I didn't know for what to ask. And the annual back and forth dance of asking about birthday gifts between my parents and I began…and ended with the classic case of the I-don't-knows!
When I finally thought of a gift a fifteen-year-old incoming high school freshman would enjoy, I realized dreaming about the gift was the easiest part. And wow, if I had that much trouble just thinking of an idea, how in the world would this gift actually transpire?
After deciding I wanted a bigger desk for my birthday (something practical for high school, but also something I'd enjoy doing craft projects on), the problem became that a bigger desk wouldn't fit in my room. But with a little imagination and those creative gears running, my parents and I had an idea in no time…
Welcome the loft bed and a whole teen girl bedroom re-do!
Soon, I was redoing my entire room. I got rid of the small school desk stowed away in the corner of the room (as well as the dust bunnies that hidden under that furniture!).
I was glad to get rid of the dresser with drawers that shut crookedly. As I said goodbye to that old marked up furniture that had been passed down to me years ago, I felt excited. Yet before I got too excited, I had to tackle my room. Cleaning my room was a whole job on its own. As much as I'd like to tell you it needed nothing but a little dusting, I'm not going to lie–it was a big job. Yet the show must go on, so I spent quite a few hours in my room, just me and the vacuum.
With the cleaning part out of the way, the fun began–shopping! We went to Ikea to buy my loft bed and other furniture to match my room. Ikea is a great place to find good quality for a better price, the only catch is you must build it yourself. After walking around the store till my feet hurt, and headaching trying to decide between two beds, two desks, and two dressers, I finally I chose the right combination for me. You can buy loft beds with desks attached, but I chose to buy these items separately so as to have the option of moving my desk around freely. Now with a receipt in hand, and the car filled with boxes, we headed home.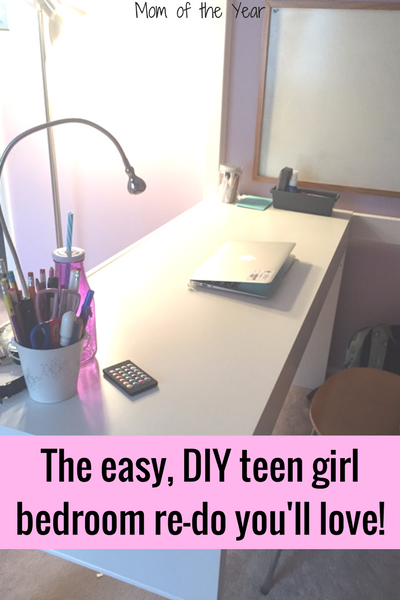 Now, it was time to break out the tool box and get this furniture built for my teen girl bedroom re-do! Since I'm not that handy, I was lucky to have some help. My sister and I sorted a routine in no time; I hunted for the right screw and tried to explain directions to her as she manned the screwdriver and before we knew it, it was time for dinner! And after dinner? We stayed up and got it done! We went to bed with smiles on our faces, because we built a dresser in one night, and were ready to start the bed the next day.
As for the bed, I trusted myself with the ladder but left the bigger parts for my dad. I built the bed, but I feared it would crash in the middle of the night! By night three, it was all was built and the only battle scar was a blood blister on my sister's finger. The dresser and the bed took some teamwork mainly because they were bigger objects, but for the most part, we made lots of happy, productive memories putting my room together.
The desk was the easiest part and I was able to pound it out within the day. Yes, there were still lots of directions and hunting for screws, but I pulled it off and still had ten fingers to show after it!
After a couple of nights of hammers, drills, teamwork, some redirecting, a little frustration, under-the-breath cursing (classic of most dads) and no major injuries we were ready to celebrate the our teen girl bedroom re-do success with ice cream in hand.
Next came one of my favorite parts, decorating! Since I now had so much space on the other corner of my room, I wanted to put something that I could sit on with friends and easily put away if I need more space. I found a foldable Papasan Sofa, which is perfect to relax on and is really easy to fold up and hide away in case of company.
I also scored an alarm clock approved by my hip college sister that fits perfectly in my little loft, letting me know it's time to climb down the ladder and start my day. Thank you Dormco for helping make my new space fabulously functional with this find!
Now, with all these sweet changes in place, I can relax and kick back in my amazing new teen girl bedroom re-do!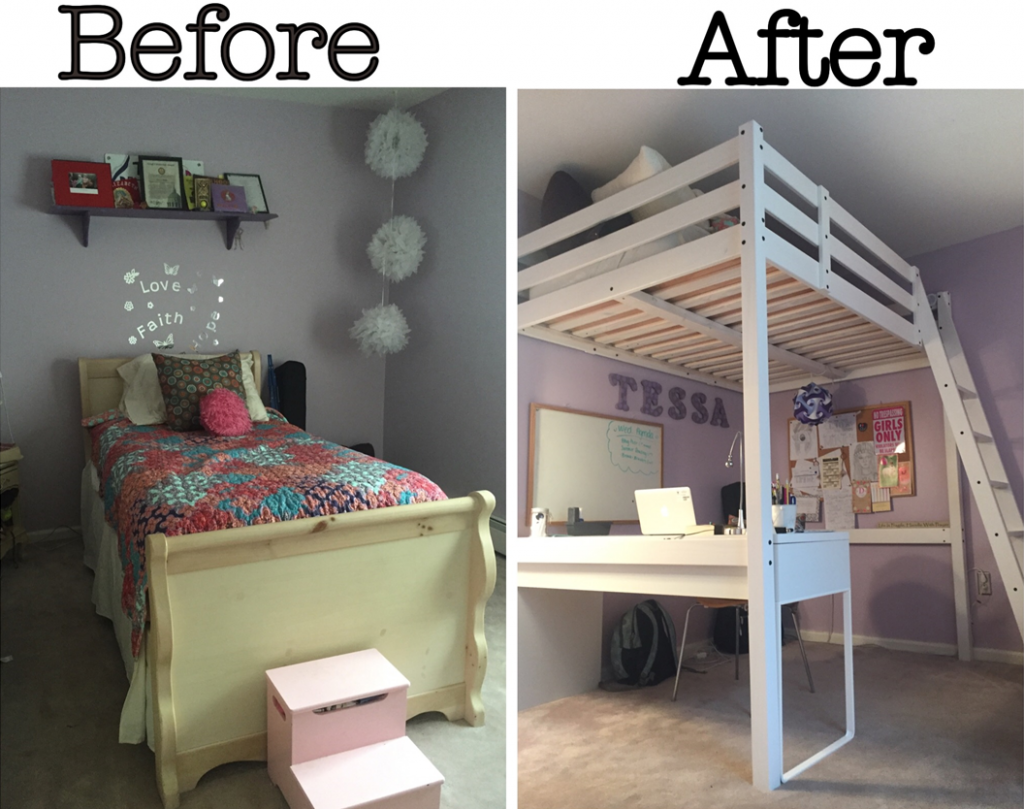 Can't wait to see what I'll think of for next year's birthday!
The following two tabs change content below.
Tessa Datte
Tessa Datte is a fifteen year old girl in her freshman year at the Downingtown Stem Academy. She is a proud babysitter for some amazing kids. She loves to babysit and can't help but laugh at their ridiculously cute remarks along the way. When she isn't busy reading stories to little kids or tackling a huge hunk of homework, she likes to hang out with friends, write, and go on bike rides with her twin brother. Tessa also loves baking in the kitchen and taking on crafty projects. She loves a challenge and is so excited to be writing for MOTY.
Latest posts by Tessa Datte (see all)