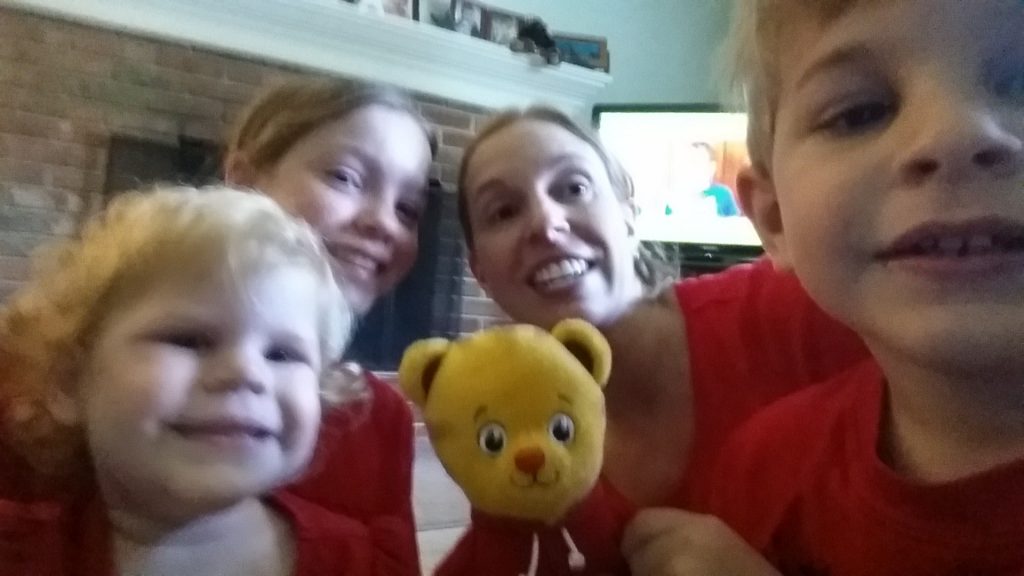 In my very particular world of parents with young kids who maintain a intense-to-insane dedication to Daniel Tiger's Neighborhood, the event of the century went down last week. Daniel Tiger's little sister Margaret was born.
PBS pulled out all the stops for this one.  Somehow, my kiddos, who exclusively fan-crush on Daniel through Netflix, still managed to catch wind of the big day.  August 18.  AUGUST 18.  Forget our family day at the amusement park this summer or the start of school, a new baby was coming to the 'Hood, and the calendar was marked.
The thing about all this hype?  I loved it.
You see, parents adore Daniel Tiger's Neighborhood. Give it up for public television; they hit it out of the ballpark with this one.   It's a sweet show.  A kind show.  A non-annoying show.  The characters are cute, and aside from the fact that they are talking animals who wear clothes and adorable hair bows, they tread pretty closely to reality.  They deal with very real little-kid issues.  They get grouchy, they get impatient, they have to learn to use the potty, and go to bed.  And they have adults actively involved in their lives trying to help them figure it all out.
I wrote about the show last year, when we were first becoming acquainted.  I thought it was fantastic then; now we've gone and fallen in love.
The show is known for its catchy little tunes that stick in your head while reinforcing an important lesson.
"If you have to go potty, STOP! And go right away."—My daughter has actually made it to the bathroom on time more than usual after watching this episode.
"If you're feeling mad, like you're going to roar, take a deep breath and count to four"—When my kids sing this to Mommy when she is feeling roar-y, I can't say that she's amused.
"Keep trying, you'll get better"(with a considerable break, added syllable and up-note in the middle of "better")–Listening to my son hum this under his breathe while working on getting the basketball in the net, I looked at my husband and said, "You do realize Daniel Tiger is raising our children, right?"  We were both cool with it.
So when The Show of our Children's Childhoods decides to unveil a new addition…yeah, it's time to make a big deal out of it.  Being a huge fan of celebrating the non-events in life in a big way because they are, in fact, the stuff of life, I understood a party was in order.
I began by texting my Mother's Helper's mom to tell her we would all be wearing red for the event (Daniel always wears his red jacket).  Being that my Mother's Helper is the most wonderfully tolerant young lady on this earth, no one blinked an eye.  It also helped that she had hung out with us all summer and understood the mounting importance of this event all too well.
I then left the red-shirted crew and ran to the grocery store.  I was uncertain what the proper foods were to celebrate a tiger's birth.  My eyes then landed on Baby Goldfish, and I knew a "baby shower" was the way to go.  Mini Oreos, the teeny-tiny baby-baby carrots, mini oranges (mandarins) and pizza bagel bites seemed like the solution…it was on!
Not a "go me!" situation at all–I only thought to shower-it-up very last minute and most of what I purchased for the event was processed crap, but…listen, I can't promise not to go stupid over future silly stuff with my kids, and I can't promise to do it well when I do, but I can promise to always get silly excited over occasions to wear red/buy mini carrots when I realize them for all that they are.
Everything is better in miniature, after all…
And I know everyone swoons after a baby is born, but really, Margaret is the cutest animated baby tiger I have ever seen…
The following two tabs change content below.
Meredith blogs at The Mom of the Year, where she dedicatedly earns her title one epic parenting fail at a time, offering quick, relatable laughs for fellow parents and all their empathizers. She has been part of several best-selling anthologies, featured on prominent sites such as Huffington Post, In the Powder Room and BlogHer, and loves her role as the Executive VP/Operations Manager of The BlogU Conference. When she's not breaking up fights over Legos and juice boxes, she remains fully committed to sharing a less serious look at the world of parenting.