****This post is sponsored by Clorox® Regular-Bleach so I can scoop you why you need to reach for the bleach and its powerful disinfecting power.***
Let me fill you in on a the potty-talk scene around our home. And no, I don't mean when my 5 old and my 7 year old say "poopy" sixteen times in one minute and leave me wondering if they will ever grow into normal human beings. No, I mean the Saturday morning house cleaning ritual that goes down at our home. While my husband vacuums up a storm, I make for the bathroom with my nifty go-to all purpose cleaner and a massive stack of paper towels…only to have him holler after me (every week!), "If you're going to clean, you HAVE to use the bleach!"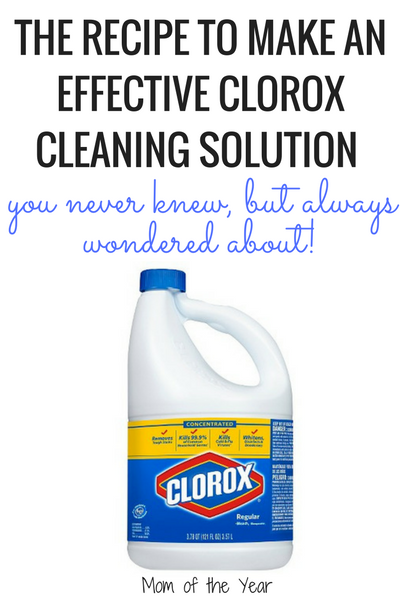 He is so darn on his game with cleaning. And…he's right. I know this. It's time to stop going the lazy route, change into some old duds that won't mind the bleach stains, and make a proper pass at disinfecting with Clorox® Regular-Bleach.
Why you need to reach for the bleach:
Clorox® Regular-Bleach is ALWAYS in our home. We have purchased it in bulk as a cost-effective way to shock our pool during the summer, used it to tackle that nasty mold that builds up in sippy cups and water bottle straws, fought particularly gross bathroom mildew with it, and occasionally whip it out to give all-white laundry loads a much-needed freshening up.
But bleach isn't just for these "special", occasional cleaning jobs. Nope, despite our habits and routines of using other cleaners as our go-to products, it's time we take a cue from my husband's playbook and reach for the bleach whenever we are cleaning our homes. Clorox® Regular-Bleach has the unique power to kill 99.9% of germs and bacteria. Truth told, any cleaning regimen that doesn't include bleach? Not up to snuff.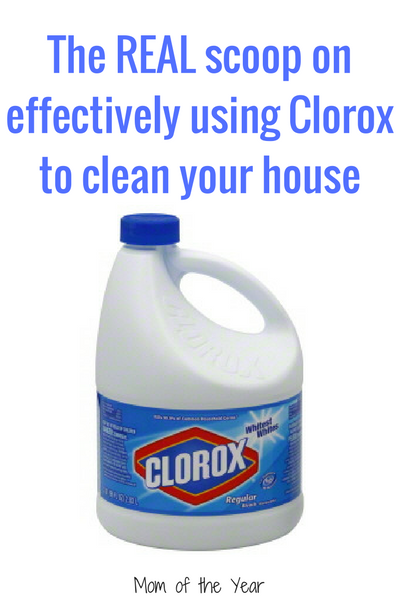 The horror that transpires when we don't reach for the bleach, or, more appropriately titled, The 7 Stages of Gross in our Bathroom:
Toothpaste smeared on the bathroom counter. This isn't particularly offensive, as toothpaste itself is a hygiene product. Still, it's gross.
Finding non-sink items in the sink. In my house this includes, but is not limited to: socks, dolls, Angry Birds, cotton balls, and granola bars. While this skeezes me out, this one can be passed off as "crazy kids" and Mommy can still remain hopeful that no major germ-transgressions have transpired.
The sink is plugged and filled with…an unidentifiable fluid. Yeah, now we're getting to the gross, friends. It's yellow-ish. It's bad.
And now we move on to the floor…which is strewn with wet tissue paper. What is wetting it? We don't know. And does it even matter?
Welcome the toilet. I'm going to just let this one marinate as is. Hey, let's be honest. Toilets are gross. Add in two relatively-recently potty-trained kids–they are super-gross.
The toilet, and all of the 1 foot surrounding area is splashed with pee. I'm sorry, there is no way to report this gently. Welcome to parenthood. No take-backs allowed.
And finally, the WORST. THE HORROR. Behold my belfie (bathroom selfie!).
The truth is, friends, a belfie lies within each one of us and our homes. BUT–forget the tragedy of the horror, thanks to Clorox, you can turn your bathroom grossness into a thing of beauty! Clorox is offering a sweet sweepstakes: share your own belfie photo (the face you make when finding a bathroom mess that has you reaching for the Clorox Bleach) with hashtags #sweepstakes and #CloroxMeansClean on your Twitter or Facebook page or in a comment on the Mom of the Year Tweet or Facebook post about this contest.
I'll randomly select a winner who will score a $100 gift card, Clorox Bleach products and some bathroom goodies (e.g., new white towels). Sweet, right? Get snapping those belfies!  
Short Rules: NO PURCHASE NECESSARY. Open to legal residents of the 50 U.S. /D.C., 18 and older. Starts12:00AM ET on 10/1/2016 and ends 11:59PM ET on 10/31/2016. Void where prohibited.  SEE HERE FOR OFFICIAL RULES.
In the meantime, get cleaning, loves! Turn those belfies into victory shots with Clorox® Regular-Bleach.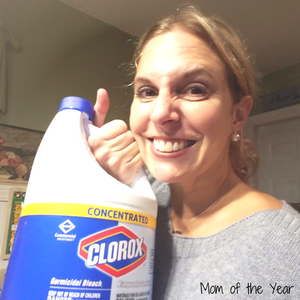 How to do easy, everyday cleaning with bleach (and prevent major messes from building up!)
Keep Clorox® Regular-Bleach handy
Routinely check potential problem spots (e.g. Bathroom, laundry, mechanical room, etc.) for moldy odors, and disinfect often with a solution of 1/2 cup of Clorox® Regular-Bleach diluted in 1 gallon of water.
Create a Clorox® Regular-Bleach solution and pour a preventative glug down the drain or into the toilet every few days.
Use Clorox® Regular-Bleach at home to clean and disinfect frequently touched hard surfaces, such as the bathtub, bathroom sinks and light switches:
Mixing 1/2 cup of Clorox® Regular-Bleach in 1 gallon of water.
Thoroughly wet surface with the solution and allow it to remain on the surface for five minutes.
Rinse with clean water and dry.
Remove mold and mildew with Clorox® Regular-Bleach on hard non porous surfaces and items.
Use a solution of 1/2 cup of Clorox® Regular-Bleach diluted in 1 gallon of water.
Let the solution stay on the surface for at least 10 minutes before rinsing with clear water or allowing to dry.
Use Clorox® Regular-Bleach at home to sanitize sippy cups, teething rings and bath toys
Make sure to select nonporous toys that are washable.
Clean toys weekly according to instructions, keeping in mind that many toys can be easily washed in the dishwasher.
Disinfect washable colorfast plastic toys with a solution of ½ cup Clorox® Regular-Bleach per gallon of water. Soak for 5 minutes, rinse and air dry.
Clorox® Regular-Bleach works to sanitize pet crates, bowls and toys too!
Disinfect hard non-porous surfaces and accessories with a solution of 1/2 cup product in 1 gallon of water. Pre-wash surfaces, soak or wipe with bleach solution. Allow solution to contact surface for at least 10 minutes to kill parvovirus. Rinse well and air dry.
To sanitize pet food containers, wash bowls with detergent and rinse. Fill bowls with a solution of 2 tsp of Clorox® Regular-Bleach 1 per gallon of water. Let stand 2 minutes, drain and air dry.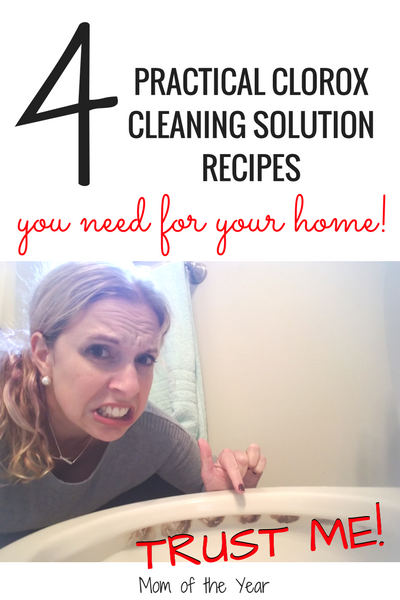 Feel empowered and ready to properly give those germs a take-down? I'm with you! Clorox® Regular-Bleach is fantastic, powerful stuff. But don't forget to take and share those belfies first. The winnings are awesome and you might as well let the grossness work for you!
Here's to putting those germs in their place, friends!
The following two tabs change content below.
Meredith blogs at The Mom of the Year, where she dedicatedly earns her title one epic parenting fail at a time, offering quick, relatable laughs for fellow parents and all their empathizers. She has been part of several best-selling anthologies, featured on prominent sites such as Huffington Post, In the Powder Room and BlogHer, and loves her role as the Executive VP/Operations Manager of The BlogU Conference. When she's not breaking up fights over Legos and juice boxes, she remains fully committed to sharing a less serious look at the world of parenting.