Happy summer! Can't believe it's finally here, friends. After we settle this nasty business of school and endless end-of-the-year festivities, this mama is grabbing a book and kicking her feet back! (read: fantasizing heavily about the time her children will be old enough to swim by themselves and she can peacefully lounge poolside. In the interim, I'll continue to sneak in a few pages every time they break for popsicles. Yup, it's the dream life.)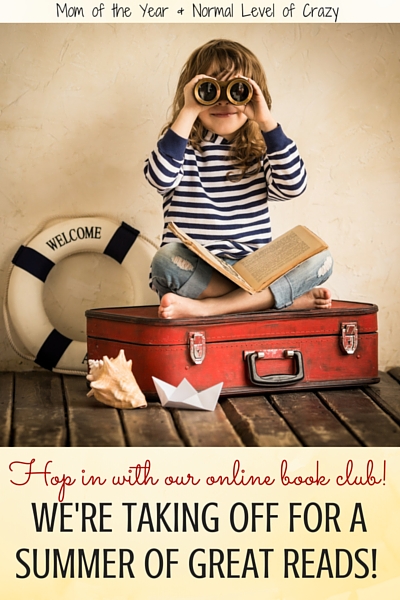 And what is on my list this summer? Stay tuned next month for a whole list of top summer picks that have been well-vetted by Carrie of Normal Level of Crazy, me, and a bunch of our favorite writer friends.
In the meantime, let's chat our most recent selection, Crazy Rich Asians by Kevin Kwan, and make sure to grab the announcement for what our June pick is–there will be a free copy up for grabs, as always!
***********************************************
I loved Crazy Rich Asians. The kind of can't-put-down love that blissfully swept me into the pages of the book. The kind of love that makes me nervous for the movie to come out in case it falls short of the book's delightfulness.
Why did I love Crazy Rich Asians so much? It FASCINATED me.
The characters' world was unlike anything I've ever experienced, and as a cultural buff, this was wildly appealing. The depth of their old money wealth and tradition, cultivated over centuries, cannot be fathomed in a country as young as America, and reading about it was mind-boggling.
What was most interesting to you about the lives of these wealthy Asians? Have you ever been exposed to this level of wealth? Were you put off at all by their excessive richness; for example with the extreme display of Colin's wedding?
Yet, while their world was wholly unrelatable to mine, Kwan told his tale with such fantastic detail and realism that I related to the characters themselves. I could relate to their trials, joys, and the rawness of their family dynamics as I read about their private jets and couture wardrobes. To clarify, I have no private jets or couture pieces–we still swoon over things like low-mileage minivans in these parts.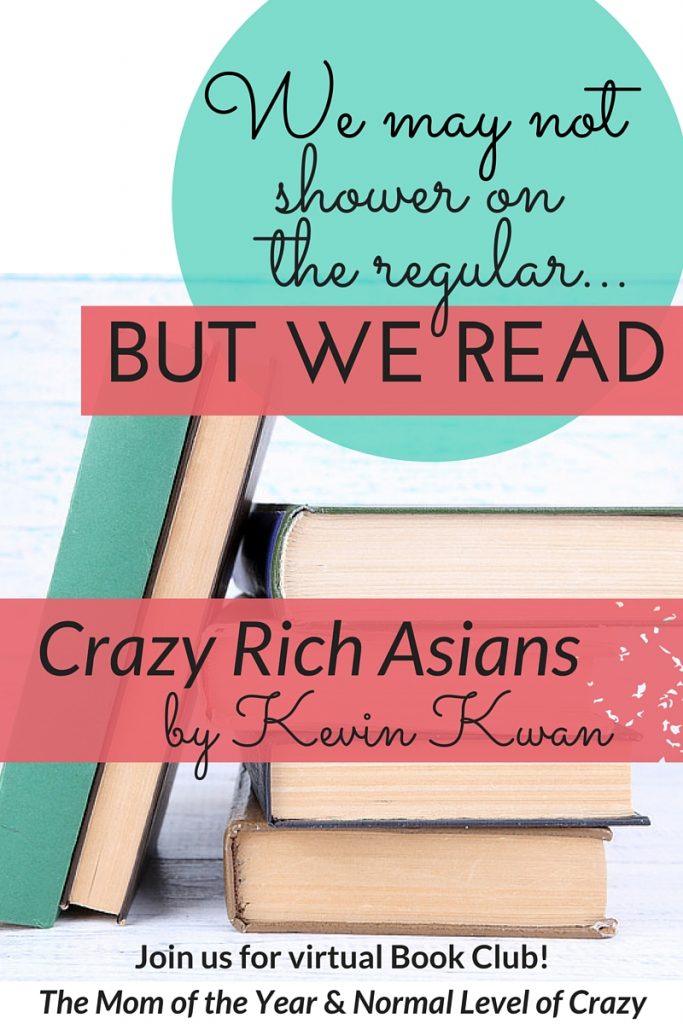 Were you able to relate to the characters despite their dramatically distinct lifestyles? Do you think there is a universality of certain family dynamics regardless of economic bracket?
Despite the heart Kwan wove into the characters' stories, I was partly so taken with Crazy Rich Asians as it provided such frothy escapism from my day-to-day. Things around here have been a bit busy and overwhelming of late (anyone else?), and it was a really sweet treat to read something soapy with a touch of humor. I found so much of the humor to be in Kwan's footnotes.
How did humor play a role in the novel? What were the function of the footnotes? Did they give you a feel for what Kwan personally thought of the characters' lifestyle, or to how much he was part of this world? What ethical implications were made behind this satire?
Having a friend who grew up in Singapore, I peppered her with questions. Largely she confirmed that yes, this novel is an accurate representation of life in this culture. Knowing this and learning so many details from the novel leaves me to ask THE BIG QUESTION:
Could you ever live your life this way? Why or why not? Did reading this book lead you to analyze/consider your own choices in life?
And really, there is another final big question: Will Nick and Rachel make it?? To get the scoop, grab the next novel in the series, China Rich Girlfriend. After you blaze through that, rest assured that the third novel is due out next summer, so the tale will continue!
*******************************************************
What's on tap for our first pick of the summer? Eligible: A modern retelling of Pride and Prejudice by Curtis Sittenfeld. I'm a goner for Pride and Prejudice, so I'm eager for this one!
"NEW YORK TIMES BESTSELLER • Wonderfully tender and hilariously funny, Eligible tackles gender, class, courtship, and family as Curtis Sittenfeld reaffirms herself as one of the most dazzling authors writing today.
This version of the Bennet family—and Mr. Darcy—is one that you have and haven't met before: Liz is a magazine writer in her late thirties who, like her yoga instructor older sister, Jane, lives in New York City. When their father has a health scare, they return to their childhood home in Cincinnati to help—and discover that the sprawling Tudor they grew up in is crumbling and the family is in disarray.
Youngest sisters Kitty and Lydia are too busy with their CrossFit workouts and Paleo diets to get jobs. Mary, the middle sister, is earning her third online master's degree and barely leaves her room, except for those mysterious Tuesday-night outings she won't discuss. And Mrs. Bennet has one thing on her mind: how to marry off her daughters, especially as Jane's fortieth birthday fast approaches.
Enter Chip Bingley, a handsome new-in-town doctor who recently appeared on the juggernaut reality TV dating show Eligible. At a Fourth of July barbecue, Chip takes an immediate interest in Jane, but Chip's friend neurosurgeon Fitzwilliam Darcy reveals himself to Liz to be much less charming. . . .
And yet, first impressions can be deceiving."
As always, friends, leave a comment below telling us you'd like to snag a copy of our next read, Eligible: A modern retelling of Pride and Prejudice. We will randomly select a winner from comments left before 6/10/16 at 5:30am ET. As long as you are 18 or older and live in the continental United States, you are eligible to win!
Happy summer and happy reading, friends!
First image credit: depositphotos. com, image ID:42609443, copyright:Yaruta
The following two tabs change content below.
Meredith blogs at The Mom of the Year, where she dedicatedly earns her title one epic parenting fail at a time, offering quick, relatable laughs for fellow parents and all their empathizers. She has been part of several best-selling anthologies, featured on prominent sites such as Huffington Post, In the Powder Room and BlogHer, and loves her role as the Executive VP/Operations Manager of The BlogU Conference. When she's not breaking up fights over Legos and juice boxes, she remains fully committed to sharing a less serious look at the world of parenting.