As families go, we're sold-out amusement park aficianados in general, but Dorney Park holds a very special place in our hearts. Years ago, my father had his first ever job collecting ride money at Dorney Park (yup, that was a thing!), and my sister and I have fond memories of visiting the water park there after I was old enough to get my licence and drive us–what a treat! So when Dorney Park offered us tickets to visit with our kids for a #DorneyFirstTimer family visit so I could share our experience with you in this sponsored post, I was delighted for the opportunity!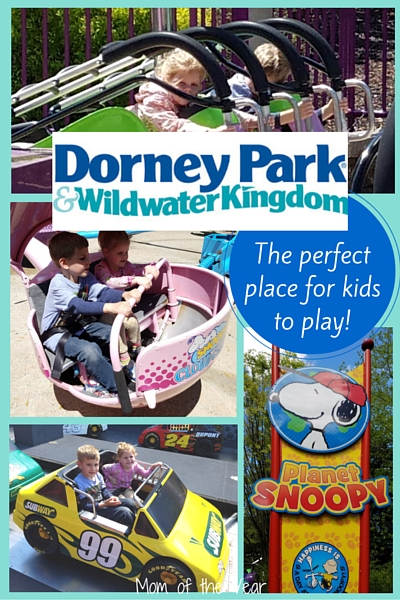 Since it had been ages since my last visit, I remembered very little about Dorney Park, so I spent some time online before we left checking out attractions that might appeal to our kids. I saw that Planet Snoopy, an area featuring the characters from The Peanuts Gang, was there and thought it would be cool to check out. HaHA! What an understatement!
After arriving at the park and making a quick stop to ride the carousel, my kids bee-lined for Planet Snoopy, where we basically set up camp for the day. They loved it! Plant Snoopy was definitely our family's big #DorneyFirstTimer experience–a true highlight! This area of Dorney Park is filled with fantastic rides perfect for little ones. And it is far larger than I had envisioned–there is easily enough to keep a young family busy for an entire day if the water park is closed (as it was when we visited).
Why is Planet Snoopy at Dorney Park such a win?
Aside from loads of fun rides, there is a live show featuring Peanuts characters, a dedicated gift shop, a full family care center, food vendors, and opportunities to meet and greet the characters all within Planet Snoopy.
ALL of the rides are kid-friendly  = no upset kiddos who are too short to get on certain rides
The rides are all in close proximity to each other = no dragging tired children from one end of the park to the other just to find the kiddie rides
The theming of Peanuts is top-notch! Every ride is adorably fashioned around a component of the characters' lives or one of the characters themselves (i.e. The Kite Eating Tree, The Camp Bus, Sally's Swingset). There are loads of adorable signs and life-size figures throughout Planet Snoopy that make for prime photo opps, and all of the bright and cheerful colors are very appealing to children.
While we spent most of our day in Planet Snoopy, we did venture to a few other attractions throughout the park. My son thought Wild Mouse was a blast, and I loved hearing my daughter's endless giggles on the Tilt-a-Whirl. My son also enjoyed his #DorneyFirstTimer experience of trying–and loving!–his first pretzel dog. I can't imagine how we would have squeezed all the fun into one day had Wildwater Kingdom been open or if we had visited Dinosaurs Alive, the interactive and immersive experience with animatronic dinosaurs within Dorney Park.
We also enjoyed a very special treat by attending the Mother's Day Food and Wine Festival (a fun #DorneyFirstTimer experience for my husband and me!), hosted by one of the restaurants within Dorney Park. Before you go, make sure to pop by the website to see what special events are scheduled–Dorney Park is a busy place with loads of fun things happening. In fact, make sure to check out the Battle of the Bands, a three-week event taking place now and ending with a finale on May 27th.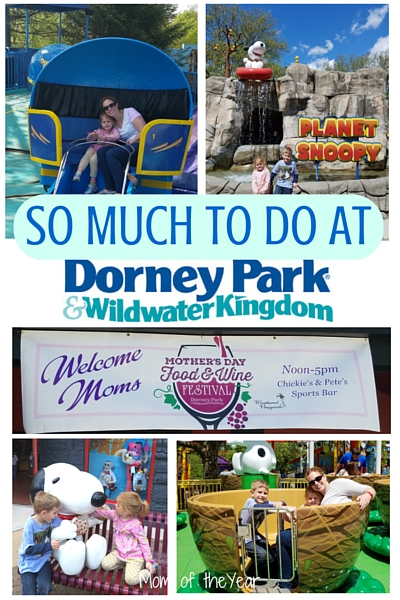 Our day at Dorney Park was one we'll long remember, full of fun #DorneyFirstTime moments. My most cherished one? Watching my kids grab each others' hands like the best of friends and race from ride to ride together as they were now big enough to to go on things by themselves. Be still my mom heart!
Go scope out the fun for yourselves, friends. Make sure to grab your tickets online, as there are is serious savings on admission only at DorneyPark.com. Then get ready for a day of fun and loads of your own #DorneyFirstTime Moments!
****Disclosure: This post is sponsored by Cedar Fair Entertainment Company in conjunction with Blog Meets Brand, and I have been compensated for my participation. All opinions are my own.****
The following two tabs change content below.
Meredith blogs at The Mom of the Year, where she dedicatedly earns her title one epic parenting fail at a time, offering quick, relatable laughs for fellow parents and all their empathizers. She has been part of several best-selling anthologies, featured on prominent sites such as Huffington Post, In the Powder Room and BlogHer, and loves her role as the Executive VP/Operations Manager of The BlogU Conference. When she's not breaking up fights over Legos and juice boxes, she remains fully committed to sharing a less serious look at the world of parenting.