Before we share this virtual book club meeting with you, Carrie of Normal Level of Crazy and I always meet in person to chat up our picks. It's my favorite monthly calendar date. Recently, Carrie has take a dramatic turn for the healthy (true story: I mistook her for a fit young teen when I saw her at the mall because she looks so fantastic!) and has boosted our book club to the next level: we walk our meeting. That's right, we walk and talk our books and sort the world in the corners of a weekday night and it's fabulous.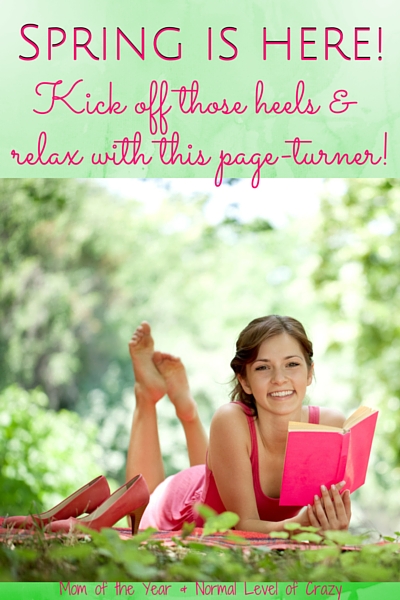 The park we most frequent is on the teeny side, and our repetitive walking of the short loop might lend to a bit of dizziness–except we are talking books. So it wouldn't matter if we were on a treadmill, we are in our bliss zone, we are happy and we've found our match: another soul on this earth with a passion for reading.
While you may not be local enough to be physically privy to our chatty evening sweat sessions, I know some of you are also kindred passionate reading souls. So won't you read with us? Share your thoughts, love on books, and pop a comment on this post telling us you'd love to win a copy of our next month's pick so you can keep reading with us!
**************************************************
I desperately wanted to love Miss Peregrine's Home for Peculiar Children. Really. Before I'd even finished this first book in the series, I put the other two on hold. I'd heard such wonderful things. It was being made into a movie! Surely, I'd love it…but I didn't.
That said, it is highly likely something is wrong with me. While that is strongly a possible/definite truth, I think this is a case of a book that strongly speaks to the Young Adult SciFi genre that is overtaking our world. It may be that my quota for this genre is burned out, or that simply, I'm too old for it. I believe my perspective would drastically shift if I had a young adult in my own home: I have heard multiple times that this book is the perfect find for the parent and child who enjoys reading together.
Another possibility for my distaste? I am so solidly mainstream and Miss Perengrine's Home for Peculiar Children is a reach. My sister noted it best: "Oh, the movie is done by Tim Burton?" Exactly. My husband and other intelligent folk of the world watch Burton's movies and delight in them, while I find my sadly straight-and-narrow self covertly crushing on the latest romantic comedy in the neighboring theatre. Burton is simply not my jam.
And neither was Miss Peregrine's Home for Peculiar Children. But that's okay. It's still a good book, just not my book.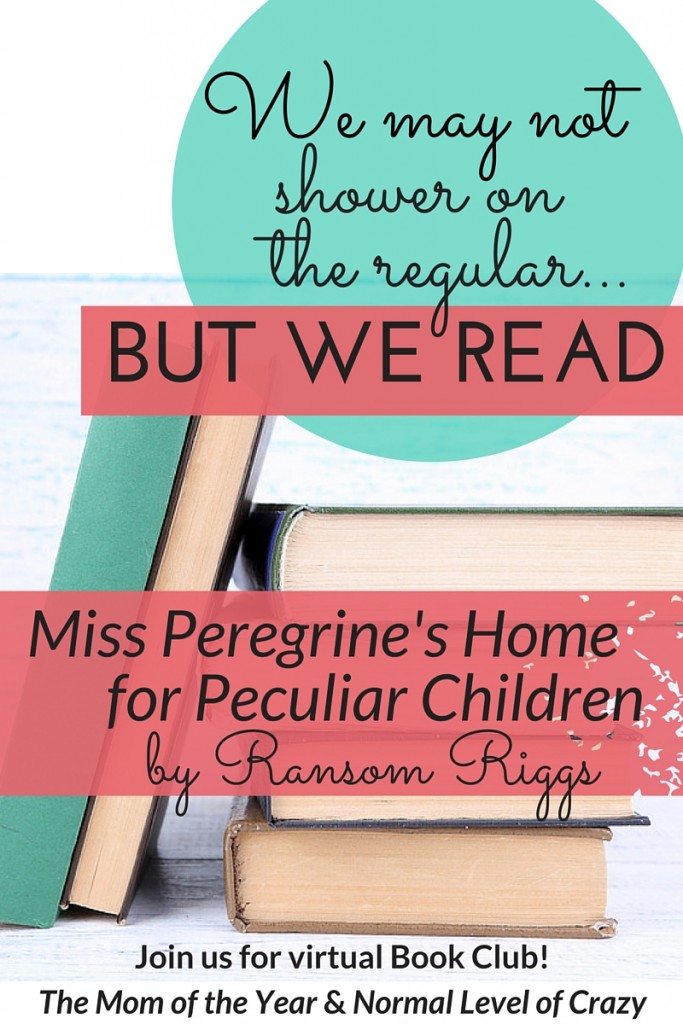 Was it your book? Did you like it? Why or why not? I've said my peace already.
Are you jonesing to read the next two in the series: Hollow City and Library of Souls? Are you booking tickets for the movie release? Again, my thoughts on this are clear.
What was most fascinating to you about this book? I waffled between the awe of having children exist with such abnormalities (being made of bees, especially) and the fact that while time didn't age, they did (i.e. an 86-yr. old identifying as a child).
What did you think of the potential romance between Jacob and Emma? For me? Disturbing. Not because he was creeping on his grandfather's girlfriend, but because, despite physical appearance, she was six times his age.
The story was fantastically developed and crafted: did this leave you longing for more or ready for a ceasefire? I simply couldn't wrap my head around all the many developments. Again, perhaps I'm too far removed from this genre: I understand how it could be captivating for the more open soul. For me? My head hurt in the attempt to grasp it all.
************************************************************
Up next? We are ringing April in with a book that has gotten thousands upon thousands of rave reviews, Take Me With You by Catherine Ryan Hyde.
From the Amazon synopsis:
August Shroeder, a burned-out teacher, has been sober since his nineteen-year-old son died. Every year he's spent the summer on the road, but making it to Yellowstone this year means everything. The plan had been to travel there with his son, but now August is making the trip with Philip's ashes instead. An unexpected twist of fate lands August with two extra passengers for his journey, two half-orphans with nowhere else to go.
What none of them could have known was how transformative both the trip—and the bonds that develop between them—would prove, driving each to create a new destiny together.
Intrigued? I know. So are we! And, as always, there is a free copy up for grabs! Thanks to Amazon Publishing, one of you will score a copy of Take Me With You! As long as you live in the continental United States and are 18 years or older, you are eligible to win. To enter, leave a comment below before 4/8/16 at 5:30am ET telling us why you'd like to win a copy and a winner will be selected at random from all entries.
We love our books, friends, and we love reading with you! Let's go meet Take Me With You together!
****Thanks to Amazon Publishing for providing copies of Take Me With You for review and giveaway purposes! We can't wait to check it out chat our honest opinions!****
The following two tabs change content below.
Meredith blogs at The Mom of the Year, where she dedicatedly earns her title one epic parenting fail at a time, offering quick, relatable laughs for fellow parents and all their empathizers. She has been part of several best-selling anthologies, featured on prominent sites such as Huffington Post, In the Powder Room and BlogHer, and loves her role as the Executive VP/Operations Manager of The BlogU Conference. When she's not breaking up fights over Legos and juice boxes, she remains fully committed to sharing a less serious look at the world of parenting.