I'm almost scared to type these words, lest I spook some evil lurking flu spirit, but so far this year, we have not plagued by the nasty virus in this house. Wa-hoo! I know, knock on wood. Yet the horror of what we went through last year still runs fresh enough that we maintain big-time preparedness mode. Topping the list on our "brace yourself" plan? Pedialyte.
We've stocked up, friends. And I feel pretty smart for doing this. While the flu hasn't touched down, we have had a few short-lived stomach bugs where my Pedialyte stash has come in handy. When my kiddos' stomachs first settle after an upset, Pedialyte is my go-to to reintroduce fluids and get electrolyte and hydration levels in good check. As the #1 pediatrician-recommended oral electrolyte solution and #1 pharmacist recommended brand for hydration, I know we're in good hands with relying on Pedialyte to get us through our bouts of sickness.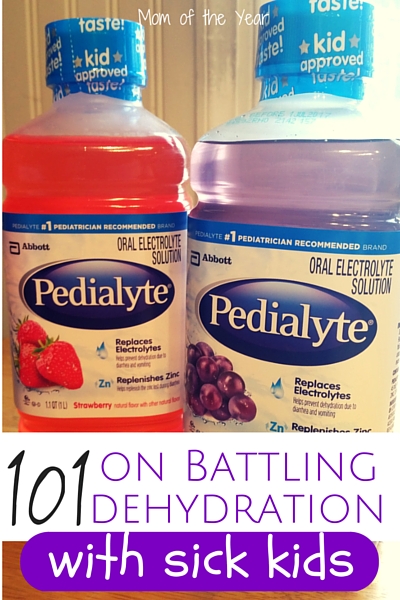 Even better, did you know that adults can use Pedialyte too? True story! Pedialyte is medically formulated with an optimal balance of sugar and sodium to prevent dehydration due to vomiting and diarrhea in both children and adults. As a long time sufferer of migraines, I know too well that they are triggered when I become dehydrated. I have learned when I am sick to my stomach, I must be especially vigilant about getting fluids in, but this can be really tough when I'm really struggling! Pedialyte is the a better choice for me than water because it has just enough sugar in balance with sodium to more effectively promote fluid absorption.
The genius of Pedialyte is this sugar/sodium balance. Other beverages, like sports drinks, juice, and soda don't meet the medical guidelines for helping to prevent dehydration due to diarrhea and vomiting. These drinks are too high in sugar and too low in sodium, an important electrolyte lost when you're sick to your stomach. And Pedialyte works for dehydration beyond sickness, too. If your family's overdone it a bit with exercise, heat exposure or travel, Pedialyte is a smart solution.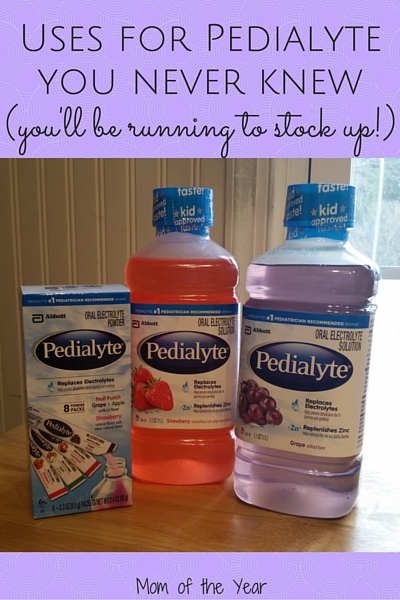 The kids might fight me over medications I try to get in them while they're sick, but there are no battles when it comes to Pedialyte. Why? Simple. They like the way it tastes. There's no medicine-y taste and it comes in a bunch of different flavors they like. I usually buy it in the liquid bottles, but I've learned stashing a few powder packs in my bag for on-the-go or traveling, is a smart move (nothing like having your child end your Disney vacation by puking on the hotel carpet!). Freezer pops are also available too–nothing like a popsicle to soothe a sick child's spirit!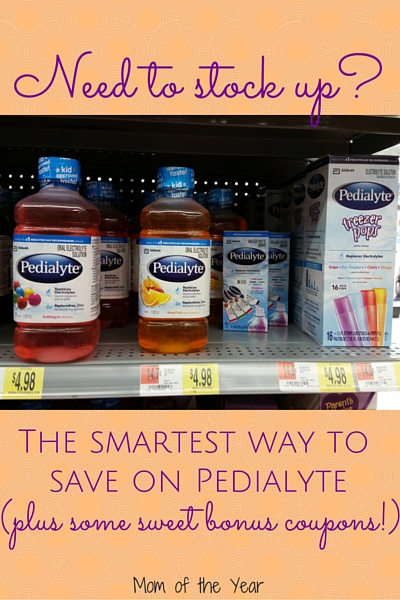 Where do we grab the Pedialyte goods? Walmart. Cheap prices and easy to find in the baby section when my scattered mama's mind is trying to juggle a bunch of tasks, Walmart is my store for making sure we have a ready supply of Pedialyte on hand for whatever bugs come our way. Plus, since Walmart sells everything, it's easy to roll our Pedialyte purchasing into a one-stop shopping trip!
Make sure to use this Ibotta offer for some savvy savings on buying this must-have at Walmart!: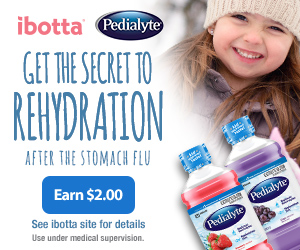 Kids are going to get sick, it's just the way of the world. And since you love them and snuggle up with them even when they feel crappy, you probably will too. Even if you're having a lucky no-flu year, it's time to stash up on Pedialyte so you can take care of your family whenever the bugs touch down. Dehydration has met it's match, and you've got this, mama!
***I have been compensated by Pedialyte for this post; however, I am sharing my own thoughts. All opinions are my own.***
The following two tabs change content below.
Meredith blogs at The Mom of the Year, where she dedicatedly earns her title one epic parenting fail at a time, offering quick, relatable laughs for fellow parents and all their empathizers. She has been part of several best-selling anthologies, featured on prominent sites such as Huffington Post, In the Powder Room and BlogHer, and loves her role as the Executive VP/Operations Manager of The BlogU Conference. When she's not breaking up fights over Legos and juice boxes, she remains fully committed to sharing a less serious look at the world of parenting.